Welcome to the Business & Management (LEAD) Pathway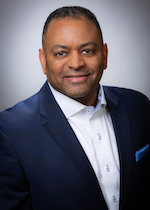 Whether your goal is to earn a technical diploma or associate degree; transfer to a four-year college, or start a business or career, MATC's Business & Management Pathway programs, along with our industry-experienced faculty and staff, will prepare you to lead, manage, supervise and influence in business and financial occupations. According to the 2019 U.S. Bureau of Labor Statistics report, employment of individuals in business and financial operations careers is projected to grow 7% from 2018 to 2028. At MATC we offer dynamic instruction and state-of-the-art classrooms, labs and equipment to provide you with experiential learning and hands-on education. MATC's Pathway programs allow you to earn certificates and technical diplomas on your way to completing a degree, as you gain real-world industry work experience, and join a community of business and financial professionals.
Carl C. Meredith, MBOLQ, MSL, MDiv
Dean, Business & Management (LEAD) Pathway
About the Pathway
Is your goal to develop the skills, knowledge and training to make you competitive in the rapidly changing business and financial services industries? As a student in the Business & Management Pathway, you will have the opportunity to earn industry-recognized certifications, technical diplomas and associate degrees in accounting, banking and financial services, business management, marketing, human resources, entrepreneurship, real estate, hospitality and event management, office technology, medical billing, leadership development, supply chain management, transportation logistics and more.

Whether your goal is to own your own business, work for a corporation, a nonprofit organization or a small startup – or to develop the necessary abilities to advance and expand your leadership influence – the Business & Management Pathway will equip you with the skills, tools, experience and confidence to succeed.

PATHWAY Office LocationS
West Allis Campus
Room 103
414-456-5323 
leadpathway@matc.edu
Downtown Milwaukee Campus
T Building, Room T200
414-297-8903 
leadpathway@matc.edu
READY TO TAKE THE NEXT STEP? 
Check out our degree, diploma or certificate programs below, or, if you're ready, use the buttons below to apply now or get more information. 
Programs
Not Sure What Program is Right for You? 
Meet with a Career Coach  or use the Pathway locator tool.