2022-23 MATC DISTRICT BOARD
BOARD CHAIRPERSON
Lisa Olson, Superintendent, Whitnall School District
Current Term: 07/01/20 - 06/30/23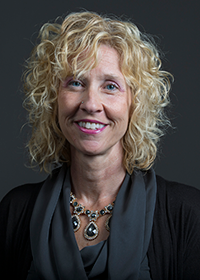 Lisa Olson is an educational leader with extensive local experience. Dr. Olson began her career as a business and information technology teacher and department chair for Hartford Union High School. She was concurrently employed as a business and information technology education consultant and Future Business Leaders of America state chair for the Wisconsin Department of Public Instruction. Dr. Olson became a supervisor of technology services at Hartford Union High School and then the director of teaching, learning and technology; she ended her tenure at the high school as a district administrator. Since 2016, Dr. Olson has served as the superintendent of the Whitnall School District.
She holds a doctorate in leadership, learning and services from Cardinal Stritch University, a master's degree in office systems from the University of Wisconsin-Whitewater and an undergraduate degree in comprehensive business education from the University of Wisconsin-Eau Claire. As a superintendent, Dr. Olson has advised the college on strategically growing its high school initiatives such as Youth Options and the Dual Enrollment Academy. She joined the board in 2017 as a School District Administrator.
BOARD VICE CHAIRPERSON
Erica L. Case, Human Resources Director, Harley-Davidson Motor Company
Current Term: 07/01/21 - 06/30/24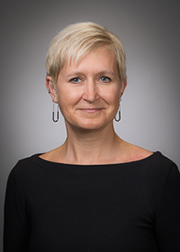 Erica L. Case is an experienced human resources professional who has worked at several Fortune 500 companies, including AT&T (SBC), Kraft Foods and Harley-Davidson Motor Company. She has experience in labor relations, talent management, organizational development, change management, HR information systems, employee relations and employee engagement. Ms. Case is currently the director of field human resources, Global Product Development & Manufacturing at Harley-Davidson, where she and her team provide holistic human resources support.
Ms. Case holds Master of Business Administration and Bachelor of Arts degrees from Alverno College. Her extensive work with MATC and Milwaukee Public Schools to build the pipeline of skilled tradespeople in the Milwaukee area demonstrates her commitment to education and workforce development. Ms. Case has helped develop a youth apprenticeship program between Harley-Davidson, Lynde and Harry Bradley Technology and Trade High School (Bradley Tech) and MATC. She joined the board in 2018 and represents an Employer (100+ employees).
BOARD SECRETARY 
Citlali Mendieta-Ramos, Owner/Director of Special Events, Antigua Latin Restaurant LLC
Current Term:  07/01/22 - 06/30/25
Citlali Mendieta-Ramos has 20 years of experience in the culinary industry and owns Antigua Latin Restaurant LLC where she employs several MATC graduates. She has served on the boards of the Wisconsin Restaurant Association, The Business Council and the West Allis Chamber of Commerce. She is recognized as an emerging leader in our community, including as a Milwaukee Business Journal 40 Under 40 honoree and a recipient of the city of West Allis & West Allis/West Milwaukee Chamber of Commerce Citizen of the Year award.
Ms. Mendieta-Ramos has a Master of Business Administration degree from Alverno College and a Bachelor of Science degree from the University of Wisconsin-Milwaukee. She has served on the MATC Culinary Arts and Management Advisory Committee since 2016 and is a part-time instructor at Waukesha County Technical College. She joined the MATC District Board in 2019 and represents an Employer (15+ employees).
BOARD TREASURER 
Nikki Moews, Human Resources Business Partner, Children's Wisconsin.
Current Term: 07/01/20 - 06/30/23

Nikki Moews has more than 20 years of experience in human resources in the financial, manufacturing and service industries. She is a human resource business partner for Children's Wisconsin. Previously Ms. Moews was director of human resources for Pioneer Transformers in Franklin.
She holds a bachelor's degree from Carroll College and a French studies certificate from the University of Caen in France. She has served on the Greendale Village Club Inc. Board of Directors and the Greendale Fire and Police Commission. She champions MATC's vital role in preparing individuals to meet the region's workforce needs and her connections to the college include a close relative, who was an instructor for 33 years. She joined the board in 2020 and represents an Employer (15 + employees).
Lauren Baker
Current Term: 07/01/21 - 06/30/24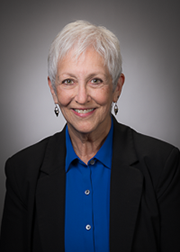 Lauren Baker began her career as a journeyman printer and worked more than 20 years in that industry as a tradesperson and educator. She was the first woman in the country to serve as a printing apprenticeship director. Ms. Baker spent 10 years as the coordinator of Career and Technical Education for Milwaukee Public Schools before serving as executive director of the Milwaukee Teachers' Education Association. Her numerous awards include the University of Wisconsin-Milwaukee Alumni Association Graduate of the Last Decade, MATC Apprenticeship Program Distinguished Service award and Milwaukee Business Journal Women of Influence award.
She holds several educational distinctions, including a Master of Science in Administrative Leadership and Supervision in Education from UWM. Her work and leadership experiences as a journeyman printer and educator provided her foundational understanding of the value of opening doors to non-traditional students and the remarkable advantage that education and training can provide. Her extensive community service includes 20 years as a member and leader of the MATC District Board. She also served two terms on the national Board of Directors of the Association of Community College Trustees and received the Wisconsin Technical District Boards Association Member of the Year award in 2010. Her most recent MATC District Board appointment began in 2021, when she joined as an additional member.
Antonio Diaz, General Manager, Van Horn Latino LLC, 
Current Term: 07/14/21 - 06/30/23
Antonio Diaz has significant experience in the auto industry and has held positions of increasing responsibility. After working as an automobile sales associate and insurance agent, he joined Van Horn Automotive as general sales manager in 2013. Two years later, he became general manager of the entrepreneurial Van Horn Latino LLC in 2015. He is responsible for the success of the dealership and oversees 17 employees.
He holds a Bachelor of Arts degree in business administration from the Autonomous University of Durango in Mexico. While employed at Van Horn, he completed the NCM Associates General Management Executive program. Mr. Diaz is committed to workforce education and employs graduates of the MATC auto technician and office technician programs, some of whom he also mentors. He enthusiastically supports the college's efforts to become a Hispanic-Serving Institution and is active in the Hispanic/Latino/a community. Mr. Diaz has volunteered as an MATC Advisory Committee member. He joined the board in 2021 and represents an Employer (15+ employees).
Mark F. Foley, Attorney, von Briesen & Roper s.c.
Current Term: 07/01/21 - 06/30/24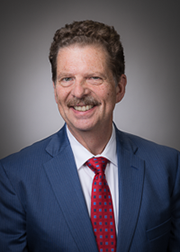 Mark F. Foley has more than 25 years of experience meeting the business and legal needs of clients ranging from individual business owners to industry trade associations and Global 500 companies. Mr. Foley has successfully argued appeals to the Wisconsin Supreme Court and the U.S. Courts of Appeals for the Seventh and Eighth Circuits. He is a shareholder with von Briesen & Roper s.c., whose practice encompasses four primary areas: commercial and business litigation; information technology, data privacy and security; financial and bankruptcy; and product liability.
Mr. Foley holds a Juris Doctor degree from the University of Michigan School of Law and a bachelor's degree from Yale University. He is a member of various bar associations related to his practice areas and has been listed in one or more categories in The Best Lawyers in America© since 1995, among other distinctions. He joined the board in 2015 and represents an Employer (100+ employees).
BOARD TRUSTEE
Supreme Moore Omokunde, Wisconsin State Representative for District 17, Wisconsin State Assembly
Current Term: 07/01/22 - 06/30/25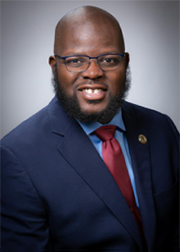 State Rep. Supreme Moore Omokunde has served in the Wisconsin State Assembly, representing District 17, since 2020. He sits on the assembly committees for Energy and Utilities, Mental Health, Regulatory Licensing Reform, Transportation, and the Legislative Council Study on Occupational Licenses.
In 2015, he was elected to the Milwaukee County Board of Supervisors in a special election and was re-elected in 2016 and 2018. Before serving on the county board, Mr. Moore Omokunde worked for several community groups including the Sherman Park Community Association, where he established the Friends of Sherman Park group and helped formulate a Neighborhood Improvement District. 
Mr. Moore Omokunde serves on the Milwaukee Public Museum Board of Directors. He was appointed to the MATC District Board in March 2022 as an elected official member.
BOARD TRUSTEE
Bria Burris, Housing Integrity Specialist, Milwaukee Housing Authority
Current Term: 07/01/22 - 06/30/25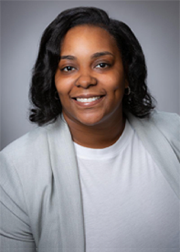 Bria Burris graduated from MATC's Human Service Associate program and is the first college graduate in her family of 11. Ms. Burris, who experienced homelessness while a student, has extensive experience working with low-income and economically disadvantaged families. She is currently a housing integrity specialist for the Milwaukee Housing Authority and a consultant with Community Advocates. Previously she was employed by the Milwaukee Social Development Commission as a lead intake specialist. She also held a quality assurance position for Community Advocates and was the initial contact for official enquiries and legal aid.
While attending MATC, Ms. Burris served on the Student Senate and was active with the Black Student Union and the Latino Student Organization. She also completed an internship with the Local 212/ MATC Believe in Students FAST Fund. Ms. Burris promoted voter engagement as a student and continues to be active with Souls to the Polls. She is the secretary of the Local 212/MATC FAST Fund Board and serves on the Black Strings Triage Ensemble Board. She joined the MATC District Board in July 2022 as an additional member.