Rave Alert Login
Rave Alert
MATC uses the Rave Alert system to provide emergency and school closing alert messages to students and employees via text, voice and email messages.
Students and employees
Contact information for the Rave Alert system is directly transferred from college systems at the time of new student registration or employee onboarding.
To add or update contact info, visit Self-Service, login, choose 'User Options' from the left-side or mobile menu and then select 'User Profile.' There is also a quick link to this feature on the myMATC student and employee portals.
All users also have the option of logging into their RaveAlert accounts to add or update email contact information at https://www.getrave.com/login/matc.
Visitors
Campus Visitors can also receive Rave Alert messages. Individuals on campus temporarily can text MATCRaveAlert to 226787. This enables them to receive the same emergency messages that are sent to students and employees. When their time at MATC ends, they can text STOP to remove themselves from our Rave Alert system. Please share this with your campus visitors.
Message and data rates may apply. Text messages are sent on an as-needed basis. This service is provided per the Terms of Use and Privacy Policy. Text STOP to 226787 to cancel or HELP for tech support.
Rave Guardian
Use your mobile phone to stay safe on campus!
The Rave Guardian app is an optional companion to the MATC Rave Alert communication tool. It allows us to enhance safety on campus through mobile technology features that create a virtual safety connection between you and Public Safety. Providing personal safety to students and employees is one of our top priorities and we're always looking for ways to improve the safety of our college community. Rave Guardian provides a great solution by improving communication.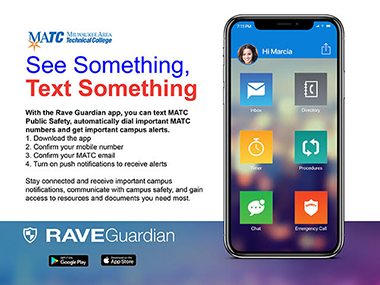 Rave Guardian App FAQs 
What Is Rave Guardian?
Rave Guardian is a free app for your iOS and Android devices that provides safety services to MATC students and employees. 
How Does Rave Guardian Work?
The Rave Guardian app provides several tools you can use to enhance your safety on campus:
Texting – Two-way text messaging with Public Safety
Emergency Dialing – Connect directly to the Public Safety emergency line
Safety Tips - Provide tips, including photos, to Public Safety about an unsafe situation on campus.
Campus Safety Resources – Links to emergency response guide and student handbook
Call Directory - Important campus numbers
Inbox – Receive campus safety alerts
Safety Profile - Share key information about yourself, including your location, photo and information about medical conditions or safety concerns, in the event of an emergency. 
How Can I Get Rave Guardian?
You can download the Rave Guardian app from the iOS App Store or Google Play. 
What about privacy?
All personal information you use to setup your MATC Rave Guardian profile is stored privately and securely within Rave Mobile Safety's databases. Your profile can only be viewed by Public Safety when you send a text message or contact us through the app.
Can Rave Guardian track my location?
No, your privacy is important to us. You can only be located if you have asked for help and have chosen to share your location.
What should I include in my profile?
We recommend including a recent photo of yourself, emergency contact information, vehicle information, and any medical or safety concerns that you might have. Ultimately, the decision is yours. You decide how much or how little you want to share and when you want to share it.
How Do I Set Up Rave Guardian?
The Rave Guardian app walks you through each of the setup steps. Here is a brief overview of the steps you'll take when you open and configure the Rave Guardian mobile app for the first time.
Step 1: Enter your mobile phone number.
Step 2: Verify your mobile phone number with a verification code sent to your phone and agree to terms and conditions.
Step 3: Confirm your account information. In this step, you'll confirm information about yourself and your Rave Guardian account pulled from your MATC Rave Alert account.
Step 4: Begin using Rave Guardian. Tap any of the icons to explore and use the app's features.
What if the Rave Guardian App Doesn't Install Correctly?
If you've downloaded the Rave Guardian app but it won't open on your mobile device, consult instructions for managing apps on your iOS or Android devices.
What if the Rave Guardian App Doesn't Recognize My Number?
1. Check for an update in your App Store. If none, then go to next step.
2. Force quit the app, then restart your phone. Still experiencing the problem, then go to the next step.
3. Delete the app and re-install.