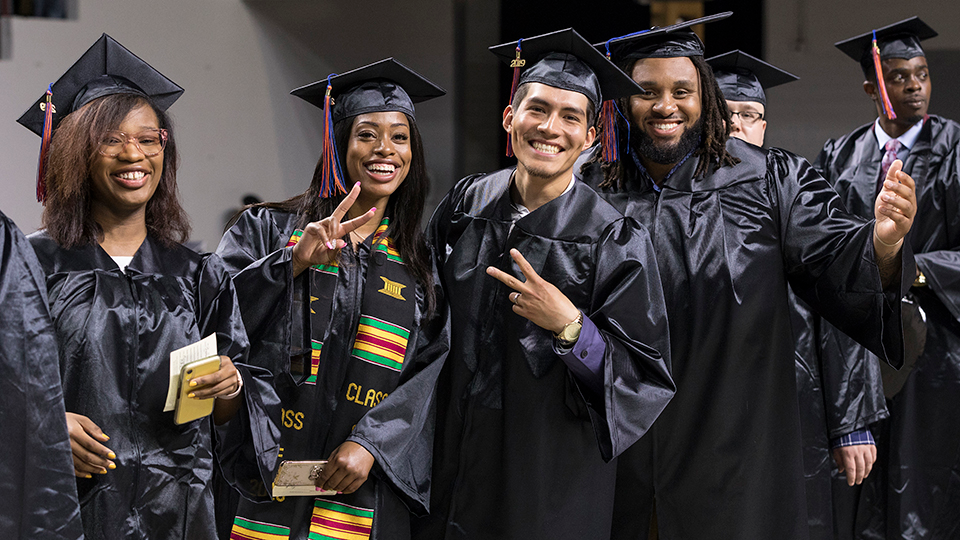 Future students can start an application online (see above) to begin an MATC degree or diploma program. 
If you want to take classes or start a certificate but are not interested in receiving an associate degree or technical diploma, sign up above.

Why do 30,000 students choose MATC?
170+ affordable, high-quality programs preparing you for a career in as little as 1-2 years
A less expensive path to a four-year degree through 35+ college and university partners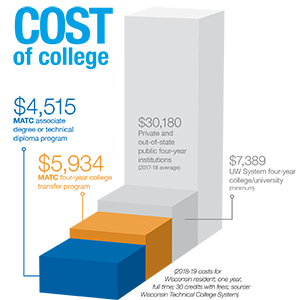 Hands-on learning led by instructors with industry experience
Small class sizes
Daytime, evening and online options
Accelerated course options
Active campus life including student groups, athletics and housing opportunities
Child care available to students
Already an MATC student?
It's time to see your advisor and prepare for registration. Learn more here >>
---
The MATC Promise: Free tuition for eligible students
High School Seniors
For eligible Class of 2020 graduates, the MATC Promise will pay the tuition and program course fees for up to 75 credits, after federal and state financial grant aid has been applied. The cost of books is not covered by the Promise program.
The application deadline is February 7, 2020.
Adults
The MATC Promise for Adults provides eligible students up to 75 credits of free tuition – after other scholarships and grants are applied – to complete an in-demand associate degree or technical diploma.
The priority application deadline is April 17, 2020.
The final application deadline is July 17, 2020.
For more information or to apply, visit matc.edu/promise
---
Choose your pathway
Our 170+ high-quality academic programs are organized into seven Academic and Career Pathways:
Business & Management

Community & Human Services
Creative Arts, Design & Media
General Education
Healthcare
Manufacturing, Construction & Transportation
STEM (Science, Technology, Engineering & Math)
---
Hours For On-CAMPUS SERVICES
All students will complete a temperature check before entering and must wear a mask that covers their nose and mouth on campus. Please note that students may need to wait outdoors or 6 feet from the next student in line to maintain social distancing.
EFFECTIVE MONDAY, AUGUST 10
8 a.m.-6 p.m. Monday-Thursday
8 a.m.-4 p.m. Fridays
Except where noted otherwise
Admissions & Financial Aid
Downtown Milwaukee Campus, Room S115 (closed August 17-20 due to DNC 2020)
Mequon Campus, Room A110 (8 a.m.-4 p.m., Monday-Friday)
Oak Creek Campus, Room A106
West Allis Campus, Room 114 (8 a.m.-4 p.m., Monday-Friday)
Walker's Square Education Center
Registration/Academic Advising
Downtown Milwaukee Campus: Room S203
Mequon Campus: Room A108
Oak Creek Campus: Room A121
West Allis Campus: Room 103
For more detailed information, including hours for Pathway offices, libraries, tutoring/academic support, counseling, food service, bookstores, child care and more, visit matc.edu/fall.
---
Connect with us
Visit an MATC ADmission Center for in-person assistance!
Downtown Milwaukee Campus
700 West State Street
Room S115
414-297-6282
Monday - Thursday: 7 a.m. - 7 p.m.
Friday: 7 a.m. - 4 p.m.
Mequon Campus
5555 West Highland Road
Room A110
262-238-2300
Temporarily closed
Oak Creek Campus
6665 South Howell Avenue
Room A106
414-571-4500
Monday - Thursday: 7 a.m. - 7 p.m.
Friday: 7 a.m. - 4 p.m.
West Allis Campus
1200 South 71st Street
Room 114
414-456-5500
Temporarily closed
---
Our graduates succeed
Guaranteed transfer options: UW-Madison, UW-Milwaukee, Marquette and more
Our JOBshop connects graduates to careers