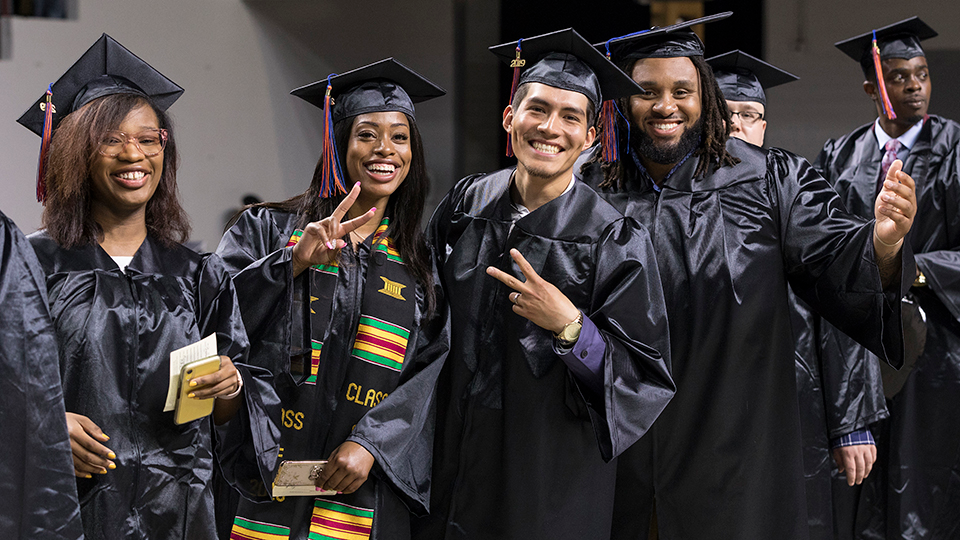 Want to start a degree or diploma program, earn a certificate, learn English, finish high school (GED/HSED) or just take a class? The first step is creating an account to start your application!

(NOTE: To help verify future student identities, MATC charges a $2 processing fee on all applications. Learn more about this fee here.)

Why do 30,000 students choose MATC?
170+ affordable, high-quality programs preparing you for a career in as little as 1-2 years
A less expensive path to a four-year degree through 35+ college and university partners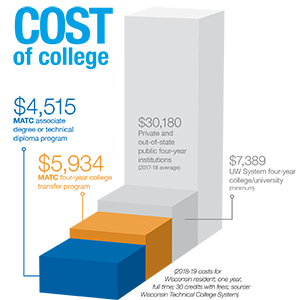 Hands-on learning led by instructors with industry experience
Small class sizes
Daytime, evening and online options
Accelerated course options
Active campus life including student groups, athletics and housing opportunities
Child care available to students
Undecided on Your Program?
If your goal is to complete an Associate Degree or Technical Diploma but you need help choosing a program of study or finding your career path, a Career Coach can help. Career Coaches are available to talk to you about your interests, goals and skills prior to choosing a program. If this sounds like you, follow these steps:
Apply for a program and select the "Undecided" option on the application.
Connect with a Career Coach. When you apply "undecided," watch for an email with ways to connect to the Career Coaching team.
Make a Career Decision and Select Your Program! (This step is also required for financial aid eligibility.)
Please note "Undecided" is not a program or degree option. Career Coaches will work with you to choose a program. Once a program is selected, your admissions application will be processed further.
Already an MATC student?
It's time to see your advisor and prepare for registration. Learn more here >>
A Former Student?
If you've been away from MATC for two or more semesters, you are a "returning student" and should complete the re-admissions application. Learn more here >>
---
The MATC Promise: Free tuition for eligible students
High School Seniors
For eligible graduates, the MATC Promise will pay the tuition for up to 75 credits, after federal and state financial grant aid has been applied. The cost of books is not covered by the Promise program. And now, MATC has reopened the application window for the Class of 2020!
Adults
The MATC Promise for Adults provides eligible students up to 75 credits of free tuition – after other scholarships and grants are applied – to complete an in-demand associate degree or technical diploma.

For more information or to apply, visit matc.edu/promise
---
Choose your pathway
Our 170+ high-quality academic programs are organized into seven Academic and Career Pathways:
Business & Management

Community & Human Services
Creative Arts, Design & Media
General Education
Healthcare
Manufacturing, Construction & Transportation
STEM (Science, Technology, Engineering & Math)
---
---
Our graduates succeed
Guaranteed transfer options: UW-Madison, UW-Milwaukee, Marquette and more
Our JOBshop connects graduates to careers
---
¿Quiere comenzar un programa de título o diploma, obtener un certificado, aprender inglés, terminar la escuela secundaria (GED/HSED) o simplemente tomar una clase? ¡El primer paso es crear una cuenta para comenzar con su solicitud!
(NOTA: Para ayudar a verificar la identidad de los futuros estudiantes, MATC cobra una tarifa de tramitación de $2 a todas las solicitudes. Obtenga más información sobre esta tarifa aquí).
¿POR QUÉ 30,000 ESTUDIANTES ELIGEN MATC?
Más de 170 programas asequibles y de alta calidad que lo preparan para una carrera profesional en tan solo 1 a 2 años
Un camino menos costoso para un título de cuatro años a través de más de 35 universidades asociadas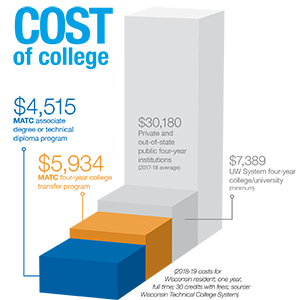 Aprendizaje práctico a cargo de profesores con experiencia en la industria
Clases con grupos pequeños
Opciones diurnas, nocturnas y en línea
Opciones de cursos acelerados
Vida activa en el campus, incluidos grupos estudiantiles, deportes y oportunidades de residencia
Guarderías disponibles para los estudiantes
¿TODAVÍA NO SE DECIDE POR UN PROGRAMA?
Si su objetivo es completar un título de asociado o un diploma técnico, pero necesita ayuda para elegir un programa de estudio o encontrar su trayectoria profesional, un instructor vocacional puede ayudarlo. Los instructores vocacionales están disponibles para hablar con usted sobre sus intereses, objetivos y habilidades antes de elegir un programa. Si se siente identificado con esta situación, siga estos pasos:
Inscríbase para elegir un programa y seleccione la opción "Undecided" (No decidido) en la solicitud.
Contacte a un instructor vocacional. Si se inscribió como "No decidido", recibirá un correo electrónico con las maneras de contactarse con el equipo de instructores vocacionales.
Tome una decisión sobre su orientación profesional y elija su programa. (Este paso también es obligatorio para ser elegible para recibir ayuda económica).
Tenga en cuenta que "No decidido" no es una opción de programa ni de título. Los instructores vocacionales trabajarán con usted para elegir un programa. Una vez que elija uno, su solicitud de admisión se seguirá procesando.
¿YA ES ESTUDIANTE EN MATC?
Es hora de ver a su asesor y prepararse para la inscripción. Obtenga más información aquí >>
¿ES UN EXESTUDIANTE?
Si ha estado fuera de MATC durante dos o más semestres, es un "estudiante que regresa" y deberá completar la solicitud de readmisión. Obtenga más información aquí >>
---
PROMISE DE MATC: MATRÍCULAS GRATUITAS PARA ESTUDIANTES ELEGIBLES
ÚLTIMO AÑO DE LA ESCUELA SECUNDARIA
Para los graduados elegibles, Promise de MATC pagará hasta 75 créditos de la matrícula, después de que se haya aplicado la subvención financiera federal y estatal. El programa Promise no cubre el costo de los libros. ¡Y ahora MATC reabrió el plazo de solicitudes para la clase de 2020!
ADULTOS
Promise de MATC para adultos les brinda a los estudiantes elegibles hasta 75 créditos de matrícula gratis (después de que se asignen otras becas y subvenciones) para completar un título de asociado o un diploma técnico de alta demanda.
Para obtener más información o presentar una solicitud, visite matc.edu/promise.
---
ELIJA SU ITINERARIO
Nuestros más de 170 programas académicos de alta calidad se organizan en siete itinerarios académicos y profesionales:
Negocios y Administración
Comunidad y Servicios Humanos
Artes Creativas, Diseño y Medios
Educación General
Atención Médica
Fabricación, Construcción y Transporte
STEM (ciencia, tecnología, ingeniería y matemáticas)
---
NUESTROS ESTUDIANTES QUE SE GRADÚAN TIENEN ÉXITO
Opciones de transferencia garantizadas: UW-Madison, UW-Milwaukee, Marquette y más.
Nuestro JOBshop conecta a los graduados con carreras profesionales.