Transformations MAgazine:  Fall 2020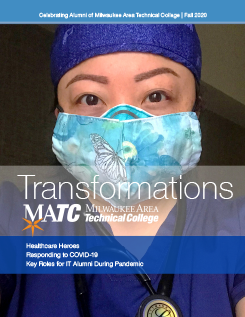 "This is an academic year unlike any in our lifetimes, presenting both remarkable opportunities and profound challenges. At MATC, we have responded by ensuring health and safety is our first priority while continuing to provide career-focused education that connects students with family-sustaining wages and provides the talent pipeline our community urgently needs.


As we implement the Pathways framework for all students, we will have more stories of student success to share. As our region and the world adapt to the realities of COVID-19, our graduates will be ready to succeed."

Vicki J. Martin, Ph.D.
President, Milwaukee Area Technical College


Transformations: Fall 2020

In This Issue:
Response to COVID-19 Focuses on Adaptability and Commitment to Students and Community
As COVID-19 spread across the globe, MATC faculty and students have been forced to re-examine how they teach and learn. The college community adjusted to offering primarily online instruction within a matter of weeks. For each student, instructor, dean or staff member, this transition looked a little different.
MATC Healthcare Heroes: Respiratory Therapist Instructor and Alumna Answer Calls to Help in Early COVID-19 Hot Spot
New York Gov. Andrew Cuomo's televised plea in April 2020 begging medical professionals to join New York's fight against COVID-19 haunted MATC Respiratory Therapist alumnus and instructor Mike Christman. The city and state of New York were under siege and exhausted staff could not care for the flood of patients. "I'd never seen anything like that before," he said. "I knew I could help."
IT Alumni Keep Networks Reliable During Pandemic
Who keeps Milwaukee networks functioning efficiently for remote workers and virtual classrooms? The answer may surprise you. MATC alumni are key. They play crucial roles as the hardworking, information technology (IT) professionals our community relies on every day.
Alumna's Child Care Center Aids Essential Workers
When Carmen Hernandez started Precious Moments Family Child Care in Milwaukee 13 years ago, she never anticipated working under the circumstances placed by the coronavirus pandemic. After the initial shock, she was able to recalibrate and assess the situation. More than ever, children with working parents needed to have reliable support.
New 'Pathways' Point Students to Success
Their paths to MATC were different, but Andrea Hamer and Melissa Morris have this much in common: The college's new Academic & Career Pathways helped put them on a track toward success.
MATC and Legislature Remove Barriers to Meet the State's Need for Funeral Directors
An MATC instructor found himself advocating for his program far beyond the classroom last year, regularly traveling to Madison to push for new state legislation. Program coordinator and instructor Gabriel Schauf was a key driver in the legislature's approval of an improved set of requirements for students entering the college's Funeral Service program.
Alumnus Gives Back With 'Recipe for Sobriety'
Joe Moeller credits good nutrition for putting him on the path to sobriety four years ago. Determined to help others in their recovery, he enrolled in MATC's Dietetic Technician degree program (now Nutrition and Dietetic Technician) in August 2018 and graduated in May 2020.
No. 1 Ranked Team Scores On and Off the Court
Consistently ranked No. 1 in the nation in their division, the MATC Stormers men's basketball team achieved excellence on and off the court in the 2019-20 season.
Alumni Accolades
It is our privilege to recognize our talented alumni and their inspirational accomplishments. These updates are gathered from news outlets and from notes sent by graduates themselves. You can be proud that tens of thousands of MATC alumni are transforming our region, state and world.
PAST ISSUES
Spring 2020: MATC Annual Report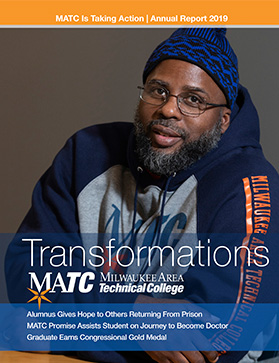 "As we close our 2019-20 academic year, our commitment to student success took on a new shape in both expected and unexpected ways.

We hope you enjoy these stories of student success and look forward to sharing more of them with you. In the meantime, we extend to the entire MATC community — our students, employees, alumni, partners and friends — our thoughts during this difficult and unprecedented time."

Vicki J. Martin, Ph.D.
President, Milwaukee Area Technical College


Mark F. Foley
MATC District Board Chairperson


MATC is Taking Action | Annual Report 2019 
---

Transformations Magazine: Fall 2019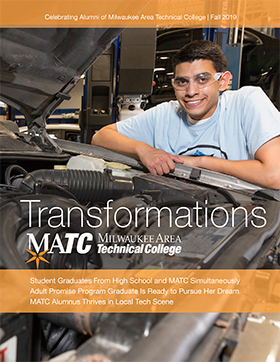 "Milwaukee Area Technical College alumni are engaged in our community in ways that are as diverse as the 170+ programs we offer and the 30,000+ students we serve.

Alumni highlighted in this issue include a nursing graduate launching a business to combat infant and maternal mortality, a four-year transfer student who led two major Wisconsin corporations, and a 2019 graduate who utilized the new MATC Promise for Adults to realize her dream of college. Our alumni carry forward the college's vision, which is to enrich, empower and transform lives."

Vicki J. Martin, Ph.D.
President, Milwaukee Area Technical College
Transformations: Fall 2019 (pdf)
---

Spring 2019: MATC Annual Report
"As college leaders, we hear inspiring stories about our students' learning journeys every week and we are eager to share a few with you in this year's annual report. 

We invite you to read their stories of resilience, commitment and hope — and those of others throughout this publication."

Vicki J. Martin, Ph.D.
President, Milwaukee Area Technical College
Transformations: MATC Annual Report (pdf)
---

Fall 2018
"As the proud president of Milwaukee Area Technical College, I am heartened to hear how our graduates' MATC experience helped them attain success, how it resonates to this day and how it inspires them to support the next generation of students.

Vicki J. Martin, Ph.D.
President, Milwaukee Area Technical College
Transformations: Celebrating Alumni of Milwaukee Area Technical College | Fall 2018 (pdf)
---

Spring 2017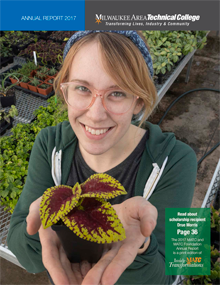 We are pleased to share with you the 2017 Milwaukee Area Technical College Annual Report. The stories of students, alumni and partners throughout this report demonstrate how the college is transforming lives, industry and community.
Inside MATC Transformations Spring 2017 | 2017 Annual report (pdf)
---

Fall 2016
Welcome to the second issue of Inside MATC Transformations, which has been designed as an electronic publication. Links in the articles provide more information about the people and programs featured in this edition and we hope you take the opportunity to learn even more about them.
The articles center around MATC students, faculty, staff and alumni; the college's initiatives; and how these are working together to transform lives, industry and community.
Inside MATC Transformations Fall Issue 2016 (pdf)
---

Spring 2016
This year's MATC Annual Report offers something extra. It is the first edition of the new Inside MATC Transformations magazine.

Two times a year, the magazine will feature stories about MATC students, faculty, staff and alumni; and the college's initiatives and organizations. You will learn how the transformations made possible by MATC are unique and powerful to help transform lives, industry and community.
We invite you to see for yourself in each issue of Inside MATC Transformations.
Inside MATC Transformations Spring Issue 2016 | Annual Report 2015 (pdf)