SPRING 2021: MATC ANNUAL REPORT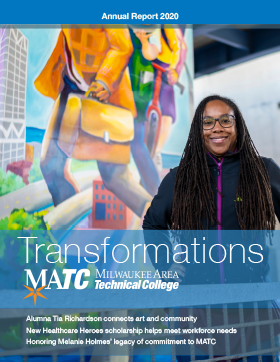 "Our 2020 Annual Report demonstrates Milwaukee Area Technical College's commitment to the high-quality education upon which our students and community rely, while prioritizing health and safety of our students and employees during the COVID-19 pandemic.

MATC's strategic approach in the wake of COVID-19 included more online classes and services, technology support for students, donating needed medical supplies, extending the deadline for our free-tuition Promise program, waiving application fees and even partnering on a new 'gap year' experience with NEWaukee as more individuals defer college plans."

Vicki J. Martin, Ph.D.
President, Milwaukee Area Technical College


Transformations: Spring 2021 Annual Report


View as an interactive flip book (ISSUU link)
In This Issue:
It's Never Too Late to Return to College
After a 30-year hiatus from college, MATC Human Service Associate student Lynette Zarcone started the Fall semester in a fully online environment. There was one major issue — she had no experience using computers.
Student Entrepreneurs Launch NewWay Innovation
Hoping to become teenage entrepreneurs, Willie Alexander and Bryce Killibrew seized an opportunity to run a lawn care business while in high school. That venture failed quickly. "We realized we didn't have the time for it," Alexander explained. But the vision of starting a company together remained.
New Scholarship Supports Emerging Healthcare Heroes
At a time when the healthcare industry is facing unparalleled need for skilled employees, donors are helping MATC healthcare students and recent graduates pay for licensing exams and other costs related to entering their profession.
ESL Program Teaches Lessons for Language and Life
When Zogana Sterjo moved to Milwaukee 12 years ago, she had already started medical school in her home country, Albania. Though she only knew a few words of English upon her arrival, she was determined to go to college here. So when her relatives told her about the English as a Second Language (ESL) program at MATC, she began taking classes.
Electrical Graduates Power Diverse Talent Pipeline
We take it for granted that our electrical outlets will provide reliable output to charge our cellphones and power our televisions. If you're in the Milwaukee area, there's a chance that the wiring behind those systems was installed or upgraded by an MATC graduate.
Transforming Spaces for Students
In 2020, MATC launched and completed renovations throughout its Downtown Milwaukee Campus designed to create a sense of vibrancy and warmth, and to reflect the bright futures of MATC students. New study nodes energize campus corridors. Other revitalized spaces include homes for MATC's new Academic & Career Pathways, and a refurbished room in the Main Building for hosting conferences and other events.
Bridging the Gap Between School and Work
For more than 20 years, MATC's Barber and Cosmetology programs have required an externship. These programs recognize the critical importance of real-life experience and require students to extend their on-campus learning to work sites, providing a high-quality education and meeting employers' needs.
The Art of Connection
The expansive, compelling murals painted by MATC alumna Tia Richardson throughout Milwaukee will captivate you with their stories. The communities that commission her art physically participate in the paintings, making these immersive works reflections of the thoughts and emotions expressed by a collective group.
Leaders Focus on Student Success, Equity, Workforce Pipeline
Dr. Naydeen Gonzalez-De Jesus joined MATC in December 2020 in a new leadership position. Her role brings together the college's academics and student services teams in an integrated structure to better focus on equity and eliminating student achievement gaps. Dr. Gonzalez-De Jesus' 18 years of experience in higher education and other leadership roles will help guide MATC in its work to ensure that all students succeed.
Former MATC Board Chair Left Legacy of Caring and Commitment
When Melanie Cosgrove Holmes lost a more than 20-year battle with breast cancer on November 23, 2020, at the age of 70, Milwaukee Area Technical College lost a great advocate. A member of MATC's District Board from 2008-14 and its chair from 2010-12, she also served as a member of MATC's Foundation Board and was a major donor to the MATC Promise – a college-access program that provides free tuition to eligible students.
PAST ISSUES
Transformations MAgazine:  Fall 2020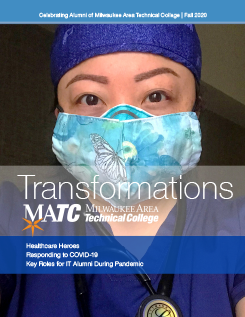 "This is an academic year unlike any in our lifetimes, presenting both remarkable opportunities and profound challenges. At MATC, we have responded by ensuring health and safety is our first priority while continuing to provide career-focused education that connects students with family-sustaining wages and provides the talent pipeline our community urgently needs.


As we implement the Pathways framework for all students, we will have more stories of student success to share. As our region and the world adapt to the realities of COVID-19, our graduates will be ready to succeed."

Vicki J. Martin, Ph.D.
President, Milwaukee Area Technical College


Transformations: Fall 2020


View as an interactive flip book (ISSUU link)
---
Spring 2020: MATC Annual Report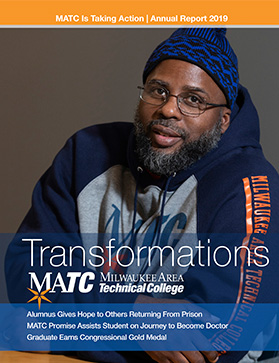 "As we close our 2019-20 academic year, our commitment to student success took on a new shape in both expected and unexpected ways.

We hope you enjoy these stories of student success and look forward to sharing more of them with you. In the meantime, we extend to the entire MATC community — our students, employees, alumni, partners and friends — our thoughts during this difficult and unprecedented time."

Vicki J. Martin, Ph.D.
President, Milwaukee Area Technical College


Mark F. Foley
MATC District Board Chairperson


MATC is Taking Action | Annual Report 2019 

View as an interactive flip book (ISSUU link)
---

Transformations Magazine: Fall 2019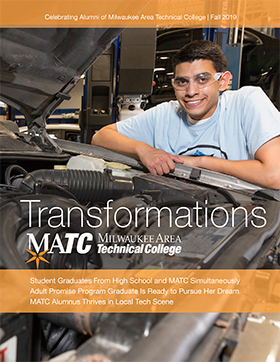 "Milwaukee Area Technical College alumni are engaged in our community in ways that are as diverse as the 170+ programs we offer and the 30,000+ students we serve.

Alumni highlighted in this issue include a nursing graduate launching a business to combat infant and maternal mortality, a four-year transfer student who led two major Wisconsin corporations, and a 2019 graduate who utilized the new MATC Promise for Adults to realize her dream of college. Our alumni carry forward the college's vision, which is to enrich, empower and transform lives."

Vicki J. Martin, Ph.D.
President, Milwaukee Area Technical College
Transformations: Fall 2019 (pdf)
---

Spring 2019: MATC Annual Report
"As college leaders, we hear inspiring stories about our students' learning journeys every week and we are eager to share a few with you in this year's annual report. 

We invite you to read their stories of resilience, commitment and hope — and those of others throughout this publication."

Vicki J. Martin, Ph.D.
President, Milwaukee Area Technical College
Transformations: MATC Annual Report (pdf)
---

Fall 2018
"As the proud president of Milwaukee Area Technical College, I am heartened to hear how our graduates' MATC experience helped them attain success, how it resonates to this day and how it inspires them to support the next generation of students.

Vicki J. Martin, Ph.D.
President, Milwaukee Area Technical College
Transformations: Celebrating Alumni of Milwaukee Area Technical College | Fall 2018 (pdf)
---

Spring 2017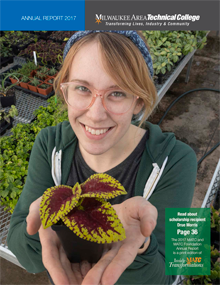 We are pleased to share with you the 2017 Milwaukee Area Technical College Annual Report. The stories of students, alumni and partners throughout this report demonstrate how the college is transforming lives, industry and community.
Inside MATC Transformations Spring 2017 | 2017 Annual report (pdf)
---

Fall 2016
Welcome to the second issue of Inside MATC Transformations, which has been designed as an electronic publication. Links in the articles provide more information about the people and programs featured in this edition and we hope you take the opportunity to learn even more about them.
The articles center around MATC students, faculty, staff and alumni; the college's initiatives; and how these are working together to transform lives, industry and community.
Inside MATC Transformations Fall Issue 2016 (pdf)
---

Spring 2016
This year's MATC Annual Report offers something extra. It is the first edition of the new Inside MATC Transformations magazine.

Two times a year, the magazine will feature stories about MATC students, faculty, staff and alumni; and the college's initiatives and organizations. You will learn how the transformations made possible by MATC are unique and powerful to help transform lives, industry and community.
We invite you to see for yourself in each issue of Inside MATC Transformations.
Inside MATC Transformations Spring Issue 2016 | Annual Report 2015 (pdf)