Transformations Magazine: Fall 2019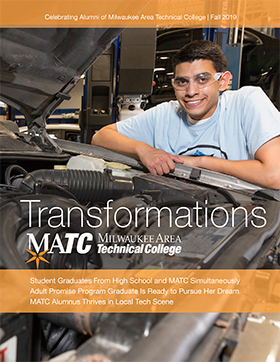 "Milwaukee Area Technical College alumni are engaged in our community in ways that are as diverse as the 170+ programs we offer and the 30,000+ students we serve.

Alumni highlighted in this issue include a nursing graduate launching a business to combat infant and maternal mortality, a four-year transfer student who led two major Wisconsin corporations, and a 2019 graduate who utilized the new MATC Promise for Adults to realize her dream of college. Our alumni carry forward the college's vision, which is to enrich, empower and transform lives."

Vicki J. Martin, Ph.D.
President, Milwaukee Area Technical College
Transformations: Fall 2019 (pdf)
In This Issue:
Nursing Graduate's New Businesses Combat Maternal, Infant Mortality
Vanessa Johnson always knew she wanted to be an educator and always felt a deep connection to the health field, but it was the compassion, knowledge and support of her instructors at MATC that helped her through the school's Registered Nursing program.

MATC Supports Advanced Manufacturing Pipeline
Manufacturing is transitioning through a widespread change on par with the Industrial Revolution, as MATC Electronics Department Chairperson and faculty member Tom Heraly tells his students.

Joe Delgadillo, Distinguished Alumnus Profile
When Joe Delgadillo was named chief executive officer of Metavante Corporation in 1998, he had more than a decade of executive-level leadership experience and a Master of Business Administration from a prestigious university on his résumé. But Delgadillo cites two additional contributors to his success: commitment to hard work, which he learned from his father, and confidence in his abilities, which he learned at MATC.

Student Graduates From High School, MATC Simultaneously
For Isaiah Ortiz, high school graduation was the second time in a month that he donned a cap and gown. The first time was MATC's Spring 2019 commencement ceremony.

MATC Promise for Adults
Latoya Onuchuku returned to MATC last fall, determined to finish what she started. Earning an associate degree was the first major milestone in her long-term goal to run a care-based residential facility for teen mothers. MATC's Promise for Adults program offered her free tuition to complete her degree.

Summerfest® IT Professional Credits MATC
Looking back to when he attended Muskego High School, Roger Miller said he didn't have the proper academic mindset. He wasn't applying himself, suffered from poor study skills and eventually, he dropped out. This led to jobs that didn't require a high school degree, which Miller realized wouldn't provide the career advancement he sought. In 1990 he enrolled in MATC's Adult High School to access new opportunities.

Alumnus Thrives in Local Tech Scene
Matthew Salzer helped launch Socialeads, which has netted over $750,000 in venture capital. In the 10 years since he earned his associate degree in computer science from MATC, he has flourished in the Milwaukee tech ecosystem.

Longtime Instructor Shares Blessings of a Full Life
After obtaining his bachelor's degree from Marquette University in 1952, Phil Blank, who would go on to teach and work at MATC for 35 years, began graduate school. But his life took another turn and he was drafted into military service.

MATC Transforms the Lives of Three Generations
Helping improve the health of children is a passion for Dr. Kristin (Pasko) Haglund, whose work
has been published nationally and recognized with local and national honors. Haglund, a nursing faculty member at Marquette University, got her higher educational start at MATC. She followed in the footsteps of her parents.

Alumni Accolades
It is our privilege to recognize our talented alumni and their inspirational accomplishments. These updates are gathered from news outlets and from notes sent by graduates themselves. 

---
Past Issues
Spring 2019: MATC Annual Report
"As college leaders, we hear inspiring stories about our students' learning journeys every week and we are eager to share a few with you in this year's annual report. 

We invite you to read their stories of resilience, commitment and hope — and those of others throughout this publication."

Vicki J. Martin, Ph.D.
President, Milwaukee Area Technical College
Transformations: MATC Annual Report (pdf)
---
Fall 2018
"As the proud president of Milwaukee Area Technical College, I am heartened to hear how our graduates' MATC experience helped them attain success, how it resonates to this day and how it inspires them to support the next generation of students.

Vicki J. Martin, Ph.D.
President, Milwaukee Area Technical College
Transformations: Celebrating Alumni of Milwaukee Area Technical College | Fall 2018 (pdf)
---
Spring 2017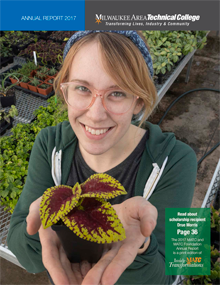 We are pleased to share with you the 2017 Milwaukee Area Technical College Annual Report. The stories of students, alumni and partners throughout this report demonstrate how the college is transforming lives, industry and community.
Inside MATC Transformations Spring 2017 | 2017 Annual report (pdf)
---
Fall 2016
Welcome to the second issue of Inside MATC Transformations, which has been designed as an electronic publication. Links in the articles provide more information about the people and programs featured in this edition and we hope you take the opportunity to learn even more about them.
The articles center around MATC students, faculty, staff and alumni; the college's initiatives; and how these are working together to transform lives, industry and community.
Inside MATC Transformations Fall Issue 2016 (pdf)
---
Spring 2016
This year's MATC Annual Report offers something extra. It is the first edition of the new Inside MATC Transformations magazine.

Two times a year, the magazine will feature stories about MATC students, faculty, staff and alumni; and the college's initiatives and organizations. You will learn how the transformations made possible by MATC are unique and powerful to help transform lives, industry and community.
We invite you to see for yourself in each issue of Inside MATC Transformations.
Inside MATC Transformations Spring Issue 2016 | Annual Report 2015 (pdf)