Financial Aid
QUICK RESOURCES
NEED MORE FINANCIAL AID INFORMATION?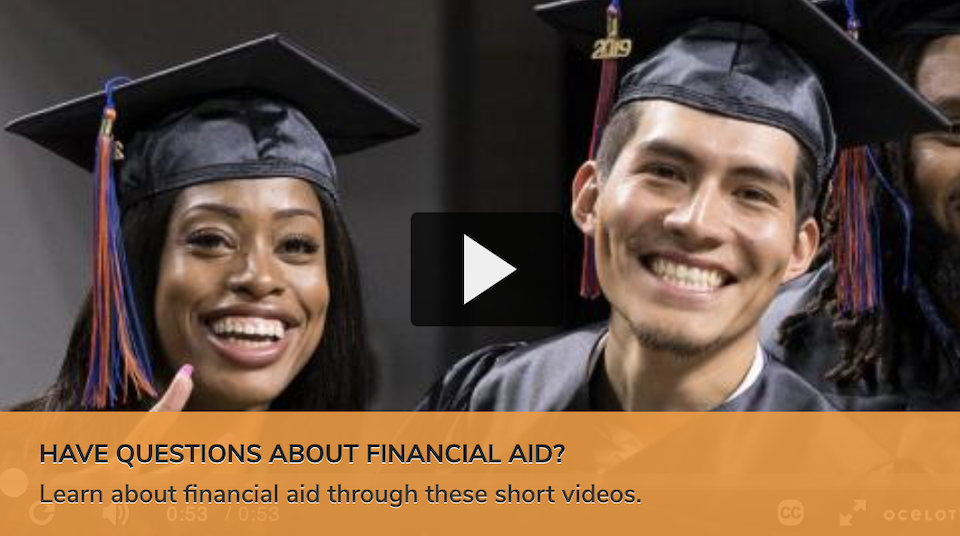 For more videos, visit https://matc.financialaidtv.com/ (link)
The MATC Federal School Code is 003866
The MATC Financial Aid office assists students by awarding financial aid to help pay education-related expenses. Financial aid is available from federal, state, and private resources. There are four primary types of financial aid programs: grants, scholarships, loans and federal work-study.
Contacting Financial Aid
The Financial Aid Office is staffed with dedicated individuals here to assist you with financial aid process. Please see the details below on how to contact us.
Office Hours:
Monday: 7:45 a.m. – 6:00 p.m.
Tuesday: 7:45 a.m. – 6:00 p.m.
Wednesday: 7:45 a.m. – 6:00 p.m.
Thursday: 7:45 a.m. – 6:00 p.m.
Friday: 7:45 a.m.– 4:00 p.m.
(Note that hours are subject to change without notice)
Phone:
414-297- 6282
Email:
finaid@matc.edu
In Person:
Downtown Milwaukee Campus
700 West State Street, Room S115
Mequon Campus
5555 West Highland Road, Welcome Center, Room A110
Oak Creek Campus
6665 South Howell Avenue, Welcome Center, Room A106
West Allis Campus
1200 South 71st Street, Welcome Center, Room 120
Via Mail:
Financial Aid Office
700 West State Street, Room S101
Milwaukee, WI 53233-1443
Eligibility Requirements
Determining Your Eligibility Requirements
Applicants for most types of financial aid must be a U.S. citizen, permanent resident, or other eligible non-citizen
Must be registered with Selective Service, if you're a male
Must be enrolled an accepted for enrollment in an eligible Associate Degree or Technical Diploma
Must be enrolled at least half-time (for most financial aid funds)
Must maintain satisfactory academic progress (SAP)
Must be taking courses required to complete degree program requirements to be financial aid eligible.
Must not be in default on a federal student loan and not owe money on a federal student grant
Must not have been convicted for the possession or sale of illegal drugs
How to Apply
The instruction sheet below has step by step directions on the financial aid application process as well as important information to remember throughout the application process.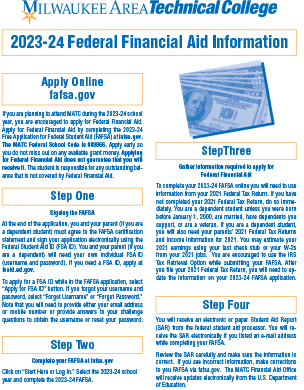 View/Print the 2023-24 Financial Aid Information Document
View/Print the 2022-23 Financial Aid Information document 
Understanding Your Award
Once your financial aid package is determined, an award letter is sent to your student email. There are many different types of aid (grants, loans, and work study) awarded, and most are based on your Cost of Attendance and your financial need.
To check the status of your financial aid award and to view your award:
Go to matc.edu
Select Infonline from the quick links 
Under Financial Aid heading- select award letter
Your Award: Once you are awarded your official award letter will be sent to your MATC email account. Your award is based on full-time status of 12 college credits.  Award amount are subject to change based on your enrollment status.
Financial Aid - Cost of Attendance
Financial Aid Award Estimate
Net Price Calculator 2019-20
Milwaukee Area Technical College (MATC) provides this Net Price Calculator as a tool for early financial planning for college. The calculator is an approximation of federal and state aid eligibility for students that plan to attend MATC. This is for your information only and it is not an application for financial aid.
Many factors are considered when awarding financial aid to students including, but not limited to deadlines, federal and state funding levels, and family financial circumstances. This calculator provides an estimate and it may not incorporate all possible awarding considerations. For example, scholarships that a student receives are not factored into this calculation or funding may become exhausted at certain times of the year and this could impact the cost of education.
A key component to determining aid is the Expected Family Contribution (EFC). Each year that you wish to be considered for financial aid, students/families will complete a Free Application for Federal Student Aid (FAFSA). Once the FAFSA is processed by the federal government, they calculate what they feel the family can pay toward college education for the year.
Use your EFC in the Net Price Calculator (NPC) and remaining information to estimate your award.
Important Points
This is an ESTIMATE and not your actual Financial Aid Award
Do not use EFC of 0 (zero) unless the calculator states you should use 0 (zero)
How Financial Aid is Disbursed to Your MATC Student Account
At MATC all financial aid grants, scholarships and loans will be disbursed to your student account starting the fifth week of the semester. If you are a new student at MATC, receiving a loan for the first time at MATC, you must have completed your Entrance Loan Counseling and Master Promissory Note before any loan funds will be sent to MATC.
You can access Entrance Loan Counseling and Master Promissory Note here.
Your financial aid will not be disbursed before classes start.
We realize that having your books the first day of classes is vital to your academic success. You may be eligible to receive a book deferment if the MATC Financial Aid office has received your FAFSA and your financial aid has been awarded for the semester, or you have submitted all required financial aid documents to the MATC Financial Aid office. You are not eligible for a book deferment if your FAFSA has not been received. You can access the last date to purchase books on deferment by reviewing the Dates of Importance here.
It is for these reasons that it is important for you to complete your FAFSA application as early as possible to ensure that your financial aid has been awarded, so that you can get a book deferment and purchase books for your first day of classes.
You can access the financial aid disbursement dates by reviewing the Dates of Importance here.
You can view the amount of financial aid that you were awarded by going to MyMATC here.
Are You Eligible to Receive a Financial Aid Refund?
Once your financial aid funds have been disbursed to your MATC student account, all charges that you have incurred at MATC will be deducted. These charges may include tuition, fees, book deferments, and other charges that you may have incurred. Any financial aid funds that are remaining after all of your charges have been paid are processed via BankMobile in accordance with your chosen refund preference.
If you are eligible to receive a financial aid refund, the financial aid refund will be processed via BankMobile one (1) week after the financial aid has been disbursed to your MATC student account. You should be able to view your refund activity in the MATC Self-Service portal in Student Finance under Account Activity.
Federal Regulations That May Affect Your Financial Aid
The Consolidated Appropriations Act of 2012 was signed into law. This legislation impacts federal financial aid programs and student financial aid eligibility.
The new law also reduces the duration of a student's Pell grant eligibility to a 12-semester lifetime limit. Students who have received Pell grant funds for the equivalent of 12 full-time semesters will not be eligible to receive this grant for future semesters. Full-time enrollment is defined as 12 or more credits per semester.
Please refer to your FAFSA Student Aid Report for your lifetime Pell grant status. If you are awarded Pell grant funds and later found to have exceeded the lifetime limit, the award will be canceled and you will be responsible for any charges.
Repeated Coursework
Federal regulations limit the number of times a student may repeat a course and receive financial aid for that course.
A student may receive aid to repeat a previously passed course one additional time.
If a student retakes a course that is not aid eligible, a recalculation of aid is done to exclude the credits for the repeated course. This rule applies whether or not the student received aid for earlier enrollments in the course.
The 150% Rule
When you receive financial aid, you are subject to the 150% Rule. This rule means that if you attempt more than 150% of the credit hours needed to graduate from your program of study, you will not continue to receive financial aid. If you exceed 150% in any one program, you will not be eligible to continue to receive financial aid. All of the credits that you have ever taken at MATC or transferred to MATC, whether financial aid was used or not, are counted in this 150% rule calculation. If you have changed programs of study, all credits that you have ever taken at MATC or transferred to MATC are counted, whether they can be counted toward the credits you need to complete your program of study or not.
Once the MATC financial aid office becomes aware that a student cannot mathematically complete their program within the 150% time frame, the student's financial aid will be suspended.
Federal Student Loans
Milwaukee Area Technical College participates in the William D. Ford Direct Lending Program.
Students must be enrolled in a minimum of six (6) credits to be eligible for student loans.
Students who have not previously received a loan from MATC and are requesting a loan must complete Direct Loan Entrance Counseling and sign a Direct Loan Master Promissory Note (MPN). If you do not complete Direct Loan Entrance Counseling and sign a Direct Loan Master Promissory Note, your loan funds will not be applied to your account.
You may complete Online Direct Loan Entrance Counseling and sign a Direct Loan Master Promissory Note at studentloans.gov.
STUDENTS REQUESTING ADDITIONAL UNSUBSIDIZED LOANS MUST SUBMIT AN ADDITIONAL LOAN APPLICATION.
Scholarships
Many scholarships are also available. Please click on "Scholarships" on the left margin of this page and/or contact the Financial Aid Office for scholarship information.
Use These Helpful Resources