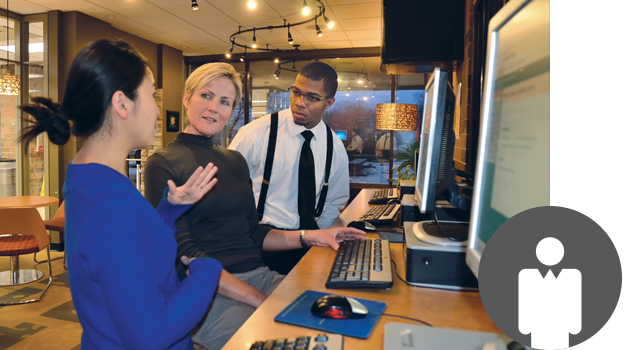 Work and Life Experience Portfolio Evaluation allows students to request course credit for knowledge and skills acquired through employment, cooperative (co-op) education and/or training. Milwaukee Area Technical College will not award credit based solely on years of employment. Experiences must be verifiable and demonstrate achievement of course competencies. Additionally, a portfolio must be submitted for each course you are requesting credit.  In addition to documentation, students may be asked to display specific skills and/or complete an interview to assess content knowledge. 
What is a Portfolio?
View/Print the Portfolio template (pdf)
Step 1: Select a course that matches your prior knowledge and skills.
Review MATC program course descriptions and competencies to determine which courses satisfy your program requirements and if you have the skills and knowledge needed to earn course credit.  Choose from the list of MATC courses / programs offering Work & Life Experience CPLE.
MATC CPLE Approved Course List for Work & Life Experience
Business & Management
Community & Human Services
Creative Arts, Design & Media
General Education
Healthcare
Manufacturing, Construction & Transportation
STEM (Science, Technology, Engineering & Mathematics)
*Verifying Work and Life Experience Courses is a work in progress for more information, contact cple@matc.edu.
Step 2: Submit the CPLE Work & Life Experience Portfolio Form
After you have identified a course from our list of approved courses, complete the online CPLE Work/Life Experience portfolio form. You will receive a response via e-mail regarding your next steps.
Complete the form (link)
Step 3:  Pay the CPLE assessment fee
Pay for Work & Life Experience Portfolio Review. 
Skills Demonstration - $90
Portfolio - $90
Fee amounts are charged per assessment and are non-refundable.
Step 4: View the CPLE Portfolio Template To Develop Your Work & Life Experience Portfolio
Step 5: Submit your CPLE Work & Life Experience portfolio
Submit your CPLE Work & Life Experience Portfolio to cple@matc.edu.