Program Information
Location:

Downtown Milwaukee Campus


Pathway:

Healthcare

Program Code:

31-509-1

Offering:

In-class

Degree Type:

Technical Diploma

Start Dates:

August/January
About the Medical Assistant Diploma
Description
Enter the healthcare field with skills to perform various clinical, laboratory and administrative procedures. During the clinical practicum, you have an opportunity to acquire additional healthcare experience while performing a 176-hour unpaid externship held at partnering healthcare facilities. Graduates are eligible to register for American Association of Medical Assistants (AAMA) exam and qualify to become a Certified Medical Assistant (CMA).
The demand for Certified Medical Assistants continues to grow.
This program features exploratory courses that count toward a credential. Contact an MATC advisor for information.
Additional program details: For entry into the program, students are required to obtain certification through successful completion of the Basic Life Support CPR course for Healthcare Providers from the American Heart Association (AHA). A First Aid Training certificate is also a required prerequisite for entrance.
All Medical Assistant (MEDAST) courses must be completed within 18 months of starting the program's technical courses.
For 2018, the MATC's Medical Assistant program has an average job placement rate of 82% with employers.
---
Related Programs
Enter the healthcare field in a non-direct patient care role. This program prepares you for responsibilities such as order transcription, clerical support functions and customer service interactions. Technical courses are offered via flexible hybrid (in-class/online) instructional format.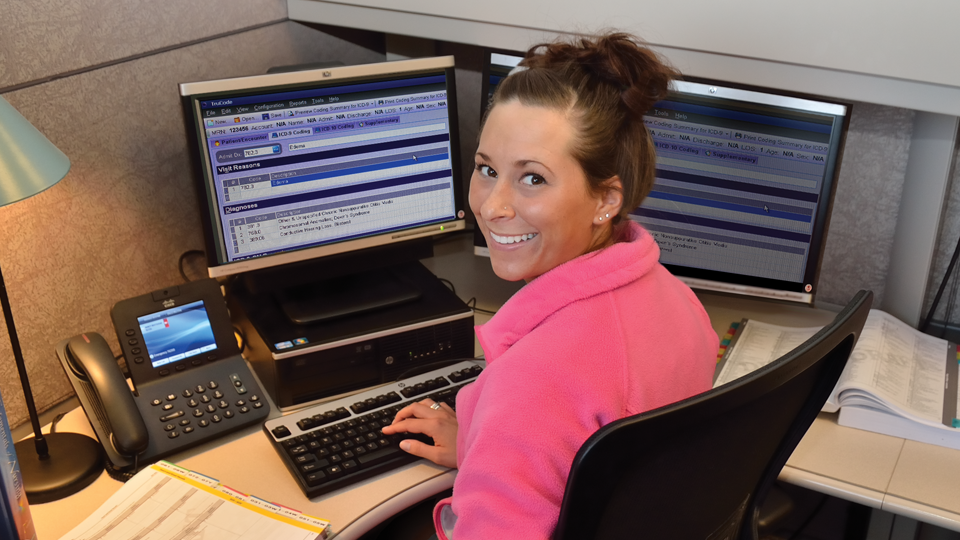 You will be prepared as an entry-level coding specialist after learning medical diagnosis and procedure codes using two coding systems used for billing and data collection. Graduates can be certified through the American Health Information Management Association and the American Academy of Professional Coders.
Detailed Program Information
2021-22 Curriculum
Course
Course Name
Credits
HEALTH-101
Medical Terminology

*

3
HEALTH-107
Digital Literacy for Healthcare

*

2
MEDAST-301
Medical Assistant Administrative Procedures ‡
2
MEDAST-302
Human Body in Health and Disease ‡
3
MEDAST-303
Medical Assistant Lab Procedures 1 ‡
2
MEDAST-304
Medical Assistant Clinical Procedures 1 ‡
4
MEDAST-309
Medical Law, Ethics and Professionalism
2
ENG-195
Written Communication
(or) ENG-201 English 1 ‡
3
HEALTH-308
Pharmacology for Allied Health ‡
2
MEDAST-305
Medical Assistant Laboratory Procedures 2 ‡
2
MEDAST-306
Medical Assistant Clinical Procedures 2 ‡

**

3
MEDAST-307
Medical Office Insurance and Finance ‡
2
MEDAST-310
Medical Assistant Practicum ‡

**

3

TOTAL CREDITS

33
‡ Prerequisite required.
* May be taken prior to entering the program.
** MEDAST-306 and MEDAST-310 must be taken in the same semester.
All MEDAST courses must be completed within 18 months of starting technical courses in the program.
Program curriculum requirements are subject to change.
Current MATC students should consult their Academic Program Plan for specific curriculum requirements.
Search for available classes now (link) to see course descriptions, class times and locations.
Already a student? You can visit Self-Service (link) and choose Student Planning to register for classes.
2021-2022 Program Card
View/print the program card: front (png) | back (png)
Important Dates
Fall Start: Petition for program in March
Spring start: Petition for program in October
Deadlines and important dates can be found on:
Cost & Aid Deadlines

Also, you can find dates and deadlines on the MATC Calendar
Program Outcomes
Perform medical office administrative functions
Provide patient care in accordance with regulations, policies, laws, and patient rights
Perform medical laboratory procedures
Demonstrate professionalism in a healthcare setting
Demonstrate safety and emergency practices in a healthcare setting
Career Outlook
The demand for Certified Medical Assistants continues to grow. Graduates perform various functions such as drawing blood, administering EKGs and carrying out lab procedures. In small offices, medical assistants serve as receptionists, secretaries, billing and insurance clerks and transcriptionists. For additional career information, visit http://www.aama-ntl.org.
Possible Careers
Certified Medical Assistant (CMA)
Medical Assistant
Office Manager
Admission Requirements
This program admits students through a petition selection process. 
Learn more about the petition process
The following are required for admission:
C or higher in the following courses: High school Biology or one semester of college-level Biology
C or higher in the following courses: 

ENG-195 or ENG-201
HEALTH-101
HEALTH-107

Cumulative grade-point average (GPA) of 2.3 or higher
Fall Start: Petition for program in March
Spring start: Petition for program in October
Scholarships
Accreditation
This program is accredited by the Commission on Accreditation of Allied Health Education Programs (CAAHEP), 9355 - 113th Street N, #7709, Seminole, FL 33775; 727-210-2350; www.caahep.org
Accreditation is based upon the recommendation of the Curriculum Review Board of the American Association of Medical Assistants' Endowment (CRB-AAMAE).
READY TO TAKE THE NEXT STEP? 
Use the buttons below to get more information, visit the college or apply now. 
Request Info    Visit Us    Apply Now
QUESTIONS?
Healthcare Academic & Career Pathway
414-297-6263
262-238-2281
healthpathway@matc.edu