MATC Guided Pathways is about creating a NEW Student Experience … TOGETHER!
What is Guided Pathways (GP)?
Guided Pathways is an integrated, district-wide approach to student success based on intentionally designed, clear, coherent and structured educational experiences, informed by best practices and our own institutional data, that builds effective and efficient paths for each student from his or her point of entry to transfer opportunities and/or careers with value in the labor market.
The Guided Pathways national model is organized around the Student Experience, as reflected in four stages referred to as "pillars."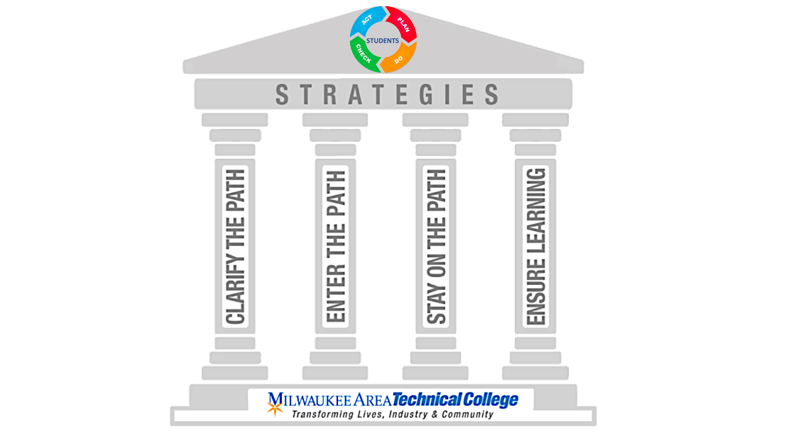 CLARIFY creates curricular pathways from high school through MATC to employment in fields of importance to the region and/or further education and simplifies students' choices with program maps developed by faculty that show students a clear pathway to completion.
ENTER helps students choose and enter their pathway by bridging K12 to higher education, redesigning traditional remediation as an "on-ramp" to a program of study, providing accelerated remediation, and streamlining the onboarding process for all students.
STAY supports students while on their path through a strong advising process, multiple engagement opportunities, and embedded academic and non-academic support throughout the students' programs to promote student learning and persistence.
LEARN ensures that learning is happening with intentional outcomes at the classroom and program-level that are aligned with the requirements for success in employment and further education in a given field and apply the results of learning outcomes assessment to improve the effectiveness of instruction across programs.
So...what's a Pathway?