Military Education Support Office (MESO)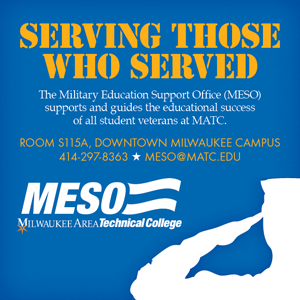 The MESO staff welcomes you. We are here to support you in achieving your educational goals. The MESO central office for student veterans is located on the downtown Milwaukee campus. We recommend all correspondence and documentation be forwarded to the MESO email at MESO@matc.edu.
Vision
Serving Those Who Served
Mission
The Military Education Support Office (MESO) at MATC is committed to supporting our student veterans, guardsman and reservists by providing educational services and facilitating connections to Federal and State resources and services. Our goal is to ensure that our veteran and current military service students make a successful transition from military to academic life and achieve their educational goals.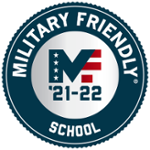 Military Education Support Office (MESO)
Milwaukee Area Technical College
700 W. State St. Room S115A
Milwaukee, WI 53233-1443
Phone: (414) 297-8363
Fax: (414) 297-6371
Email: meso@matc.edu
Office Hours
Monday - Friday: 7:45 a.m. – 4:00 p.m.
Tuesday: 9:30 a.m. – 6:00 p.m.
Wednesdays & Fridays by appointment