Military/Veteran Students
MATC IS OFFERING 100% VIRTUAL STUDENT SUPPORT SERVICES AT matc.edu/gethelp
SERVICE HOURS
Monday-Thursday 8 a.m.-6 p.m.
Friday 8 a.m.-4 p.m.
We encourage students to use these virtual services whenever possible
so we can limit the spread of COVID-19, and prioritize the health and safety of MATC students and employees. If you are unable to do so, limited staff will be on campuses to connect you virtually with the services listed above during the same service hours.
Limited in-person resources will continue to be available on campus, including Academic Support Centers/computer labs, child care (Children's Centers), food service and libraries.
The Military Education Support Office (MESO) at MATC is committed to supporting our student veterans, guardsman and reservists by providing educational services and facilitating connections to Federal and State resources and services. Our goal is to ensure that our veteran and current military service students make a successful transition from military to academic life and achieve their educational goals.
If you are a veteran, currently serving in the military, or are a dependent/spouse receiving benefits and you'd like to meet other veteran students, then you have come to the right place. At the Veterans Resource Center (VRC), we seek to provide a sense of community among those who have served in any branch of the United States military.
Learn guidelines for veterans who are entering college and find answers to common questions a veteran applicant may have. 
Eligibility for Tuition Assistance benefits varies by branch. 
MATC recently revised the entire MCPLE program to better serve our student veterans. This program is also continuously being updated as more faculty and departments update their specific program course credit requirements. 
Veterans' GI Bill recipients can use their Veterans Administration (VA) benefits to pay for college expenses. Veterans may also be eligible for other types of financial assistance, such as Financial Aid. MATC's Military Education Support office is available to help you make a smooth transition into a college program using your veterans' benefits.
Ready to Apply?
Online
Students can visit matc.edu/apply now to start a degree or diploma program, to start a certificate, or to just take a class to brush up on their skills or meet four-year university requirements. Students also can call 414-297-MATC (6282).
In Person
Downtown Milwaukee Campus, Room S115 (closed August 17-20 due to DNC 2020).

Mequon Campus, 8 a.m.-4 p.m., Monday-Friday, Room A110.

Oak Creek Campus, Room A106.

West Allis Campus, 8 a.m.-4 p.m., Monday-Friday, Room 114.
Walker's Square Education Center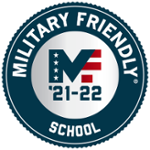 MATC is proud to once again be recognized as a 2021-22 Military Friendly Ⓡ School!