Transfer Days are held each spring and fall at each MATC campus.
More than 25 four-year transfer partners will be on campus with information about their bachelor's degree programs. It's a great way to learn more about starting your bachelor's at MATC and your transfer options.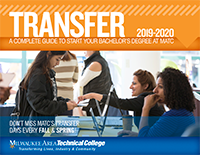 FALL 2019 TRANSFER DAYS SCHEDULE
HEALTH PROGRAMS TRANSFER DAY
TUESDAY, OCTOBER 1
10:30 a.m. – 1 p.m. and 4 – 6 p.m.
Nursing and Allied Health students: Meet with MATC's four-year transfer
partners.
Downtown Milwaukee Campus, Health Sciences Building 3rd Floor
FOR STUDENTS STARTING A BACHELOR'S DEGREE AT MATC
MONDAY, OCTOBER 7 – THURSDAY, OCTOBER 10
10:30 a.m. – 1 p.m. and 4 – 6 p.m.
Each campus hosts several representatives from four-year colleges/universities each day to better meet your schedule 
Spring 2020 Transfer Days Schedule
Coming Soon
Have questions? 
For information: 414-297-6836, transfer@matc.edu