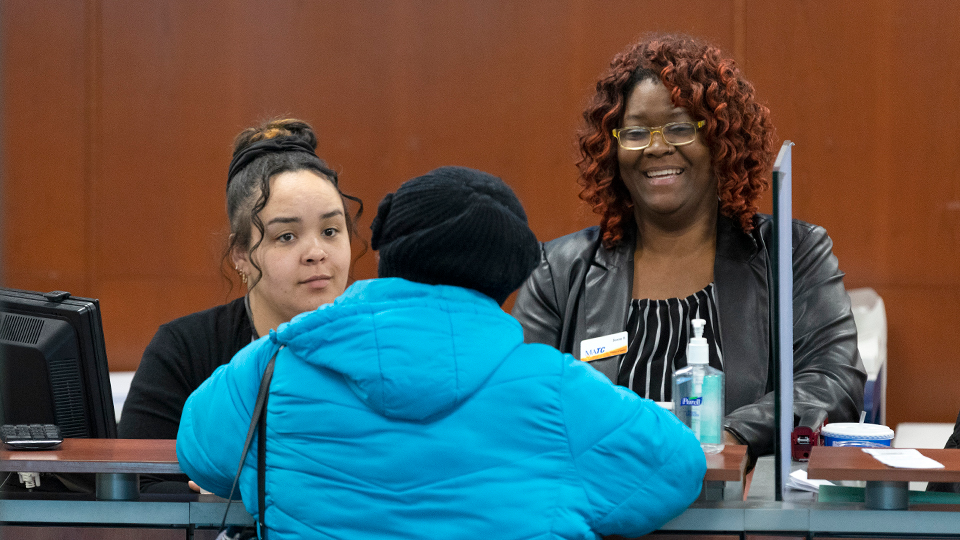 Frequently Asked Questions
General Questions
Who can access my account information?
Certain information is publicly available regarding your account at MATC while other information is not. Please refer to the Student Handbook (pdf) for specifics. If you would like to allow someone access to your account information (i.e., parent, spouse, etc.) you must complete an Authorization to Release Information form. This form can be filled out in person at any of our Welcome Centers along with a copy of your photo ID. This release is only valid for the current school year therefore a new form must be filled out for each academic year. Without this form on file, we cannot release detailed account information to a parent, spouse, etc. if they call or visit with questions on your behalf.
What is MyMATC?
MyMATC is a dedicated portal for MATC students and employees. Visit MyMATC to access Blackboard, Gmail, Google calendar, important announcements and more!
How do I reset my password?
Open the menu at the top of any page on MATC.edu
Choose Student/Staff Login from the Resources list
Click on the Reset my Password (this will take you to a new website)
Enter required information
Read and sign the MATC Usage Agreement
Your User Name will be provided
Be sure to set up your challenge questions
I forgot/don't know how to log into MyMATC.
If you have forgotten your Username and/or Password use the "Forgotten Username" and/or "Forgotten Password" on the Password Manager page. You will need to provide your 7-digit Student ID number and your last name to obtain your Username.
For your Password you will need your Username and be able to answer the two security questions that you set when you originally activated your account. If you are still not able to log in, please contact the Help Desk at 414-297-6541.
ADMISSIONS
What is the Admission process?
There are several parts to the admission process and your prompt response to each will help to advance the progress of your enrollment. Each part of the process must be completed before your application material will be reviewed.
Once you complete the admission process (including submission of application, fees and necessary transcripts as well completion of Accuplacer test if required) and your application material is reviewed, a letter regarding your admission status will be sent to you.
Please refer to our Admissions page for detailed instructions on the Admissions process. If you would like to complete the mandatory Online Orientation visit https://orientation.matc.edu.
What is my Admissions application status?
Please email apply@matc.edu or call/visit one of our campus Welcome Centers at 414-297-6282 (Downtown Milwaukee); 262-238-2300 (Mequon);414-571-4500 (Oak Creek); or 414-456-5510 (West Allis).
I have been admitted to my program, what are my next steps?
1. If you have not done so already, Reset your password for your MATC account
Open the menu at the top of any page on MATC.edu
Choose Student/Staff Login from the Resources list
Click on the Reset my Password (this will take you to a new website)
Enter required information
Read and sign the MATC Usage Agreement
Your User Name will be provided
Be sure to set up your challenge questions
2. View or print your program plan and register for your classes using INFOnline.
I have questions regarding my Program Plan, who do I contact?
After reviewing your program plan, if you have additional questions regarding what courses to select, connect with an advisor in your academic pathway.
Not sure what pathway your program is in? Use the Pathway locator tool.
Downtown Milwaukee Campus 414-297-6267, Room S203
Mequon Campus, 262-238-3200, Room A110
Oak Creek Campus 414-571-4500, Room A106
West Allis Campus 414-456-5500, Room 120
What if I want to change my program or add an additional program?
Please submit a Program Change / Re-admission / Update Form to change your program or to add an additional program.
If you are switching to a program that requires a criminal background check and have not paid that fee previously, please include the $20 payment. This request will be effective for the next semester.
Be aware of all Admission Deadlines for prompt processing.
REGISTRATION
When can I register for classes?
Please visit the Academic Calendar for Priority and Open Registration dates at Academic Calendar.
I am not a program student but want to sign up for a class. How do I register?
If you have never taken classes at MATC you will need to call 414-297-MATC (6282) or visit any Admissions Center to have your account created. 
I have a new address, how do I change it?
Current students can visit MyMATC and under User Account, select "Address/Phone Change" to update your contact information. New/Prospective students can update their address in person at any campus Admissions Center location or by emailing register@matc.edu.
Where can I print out another copy of my schedule on campus?
Any Academic Support Center can assist you with printing. (Ask about our "Pay for Print" policy.) 
Financial Aid
For general Financial Aid information, please visit Financial Aid.
I was selected for verification for my Financial Aid, what is the status?
The process of verification can take several weeks. You are required to submit the requested documentation in a timely manner in order to accurately complete your application process. You will not be awarded financial aid until this process is complete. Refer to INFOnlline, Communication and My Documents at MyMATC to ensure we are not missing required documents. If you have not been awarded before the start of the semester, you may be eligible for a tuition and book deferment. This will be based on your anticipated financial aid. Once your verification is complete, an award letter will be available on INFOnline at MyMATC.
When will my Financial Aid refund check be mailed out?
The date you receive your financial aid money will depend on the date you are awarded, and/or the types of funds you are eligible to receive. Your refund check will be mailed to you after any amounts owed to MATC are deducted. Students awarded before the first day of the term will receive funds approximately 30 days after the first day of the term.
Please check the Financial Aid Dates of Importance Students awarded after the first day of the term should check with the Financial Aid office for the disbursement schedule.
Is Financial Aid available for summer classes?
Please complete the Summer Financial Aid Application (form available late Spring Semester) to determine if you will have financial aid available for summer classes.