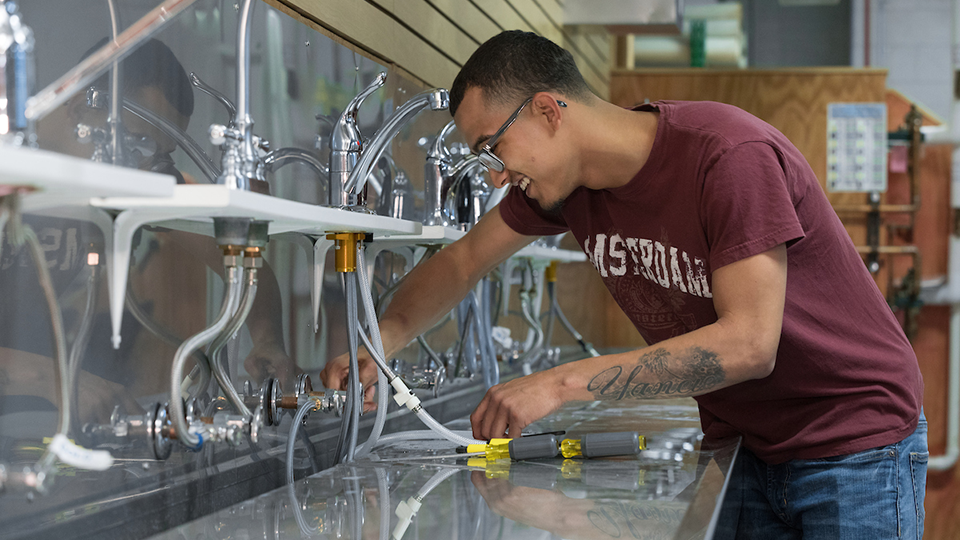 Program Information
Location:

Downtown Milwaukee Campus


Pathway:

Manufacturing, Construction & Transportation

Program Code:

31-427-1

Offering:

In-class

Degree Type:

Technical Diploma

Start Dates:

August
About the Preparatory Plumbing Diploma
DESCRIPTION
Classes are held at the MATC Education Center at Walker's Square, 816 West National Avenue, Milwaukee.
This program prepares students for a plumbing apprenticeship. As a graduate applying for an apprenticeship, you will be able to demonstrate your commitment to the trade, and will possess entry-level skills for a plumbing apprenticeship. This program is also for individuals interested in other piping trades.
There is a strong demand for the services of licensed plumbers.
This program features exploratory courses that count toward a credential. Contact an MATC advisor for information.
Additional program details: The program offers basic knowledge and skills similar to parts of the first year of an apprentice's training. As a Preparatory Plumbing program graduate applying for an apprenticeship, you will be able to demonstrate your commitment to the plumbing trade. This program also is appropriate for individuals interested in a career in other piping trades such as sprinkler fitting, steamfitting or industrial pipefitting.
Aptitudes and skills important in the program are: good mechanical comprehension, spatial visualization, reading and math skills, physical strength, and the ability to work effectively with others.
After successful completion of this program, you should apply for an apprenticeship with the Milwaukee Area Plumbing Joint Apprenticeship committee. Candidates for apprenticeship are selected by the committee, and graduates of this program are given good consideration for placement in an apprenticeship, but placement is not guaranteed.
---
Related Programs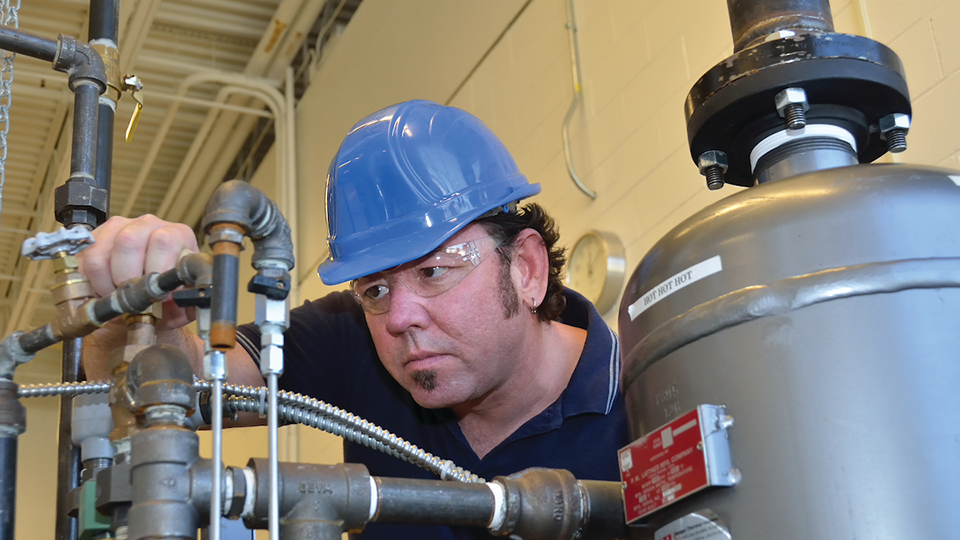 Learn how to manage and repair equipment, to maintain facilities, and to operate and control low-pressure and high-pressure boilers and auxiliary systems in factories, plants and buildings.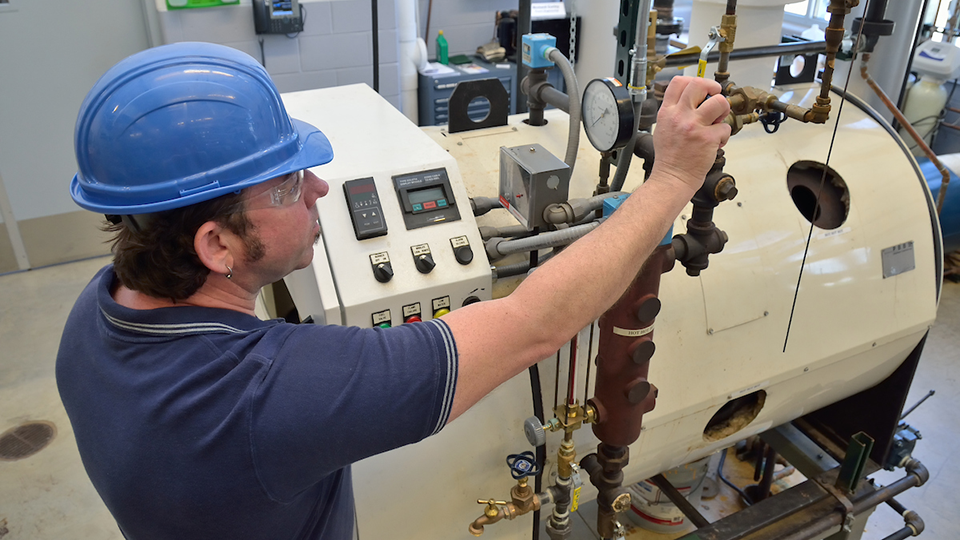 Use your mechanical aptitude and prepare for employment as a boiler operator, facilities maintenance mechanic or power engineer through this certificate's coursework. At the workplace, job responsibilities typically include regulating equipment; ensuring that equipment operates safely and economically; and monitoring meters, gauges and computerized controls.
Detailed Program Information
2021-22 Curriculum
| Course | Course Name | Credits |
| --- | --- | --- |
| MATH-308 | Math for Industrial Applications 1 ‡ | 2 |
| PLUMB-300 | Plumbing Theory 1 | 3 |
| PLUMB-301 | Applied Drawing for Plumbers 1 | 2 |
| PLUMB-302 | Plumbing and Piping Shop 1 | 3 |
| PLUMB-308 | Plumbing and Pipe Joining Process 1 | 2 |
| PLUMB-312 | Computer Applications/Plumbing | 1 |
| ENG-340 | Workplace Communication | 2 |
| MCDESG-120 | Basic AutoCAD | 1 |
| PLUMB-304 | Plumbing Theory 2 ‡ | 3 |
| PLUMB-305 | Plumbing and Pipe Joining Process 2 ‡ | 2 |
| PLUMB-306 | Plumbing and Piping Shop 2 ‡ | 3 |
| PLUMB-309 | Applied Drawing for Plumbers 2 ‡ | 2 |
| PLUMB-310 | First Aid/Safety in Plumbing | 1 |
| | TOTAL CREDITS | 27 |
‡ Prerequisite required.
Program curriculum requirements are subject to change.
Current MATC students should consult their Academic Program Plan for specific curriculum requirements.
To see course descriptions, class times and locations, visit the full course catalog (link).
Already a student? You can visit Self-Service (link) and choose Student Planning to register for classes.
2021-2022 Program Card
View/print the program card: front (png) | back (png)
Important Dates
Program Outcomes
Identify various piping materials and fittings
Utilize hand tools and power tools related to the trade
Follow directions related to the trade
Calculate various piping off set dimensions
Sketch and read simple plumbing systems drawings
Career Outlook
State law requires that only properly licensed plumbers be permitted to install and repair plumbing systems in dwellings, structures and businesses. These services are in demand. Contractors need plumbers for new construction, and to repair and remodel existing buildings. Licensed plumbers are thorough and skilled mechanics versed in the theory and practice of installing hot and cold water supplies, drainage, venting and plumbing appliances in accordance with the state plumbing code and local ordinances.
Possible Careers
Licensed Plumber
Plumber
Plumbing Apprentice
Admission Requirements
Shop practice and drafting learned either in school or in an employment setting
Ability to drive and possession of a valid driver's license
Scholarships
READY TO TAKE THE NEXT STEP? 
Use the buttons below to get more information, visit the college or apply now. 
Request Info    Visit Us    Apply Now
QUESTIONS?
Manufacturing, Construction & Transportation Academic & Career Pathway
414-297-8901
mctpathway@matc.edu