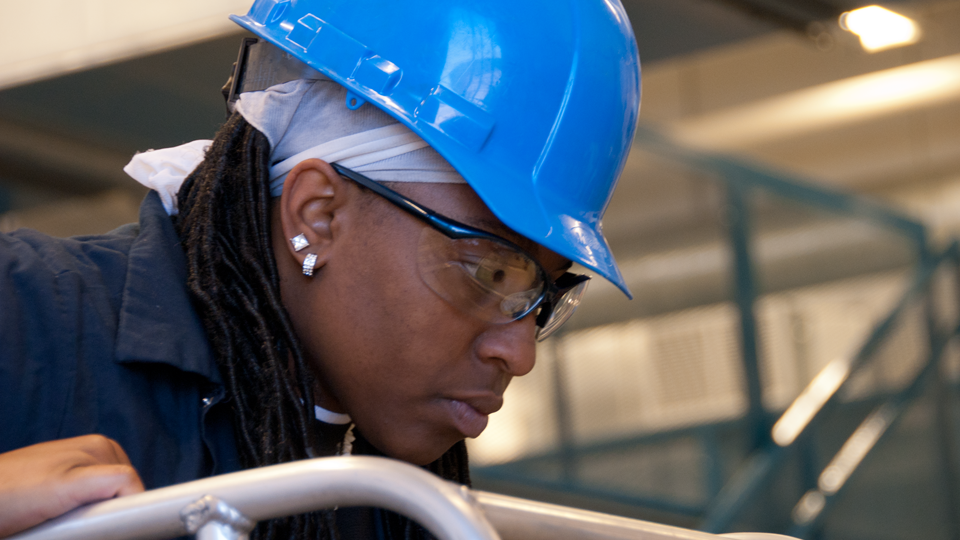 Program Information
Location:

Oak Creek Campus


Pathway:

Manufacturing, Construction & Transportation

Program Code:

10-601-1

Offering:

In-class

Degree Type:

2-Year Degree (Associate)

Start Dates:

August/January
About the Air Conditioning and Refrigeration Technology Degree
Description
Ensure comfortable environments in homes and businesses. Students attain a background in mathematics, drafting, electricity and thermodynamics. Co-op credit may be available for appropriate employment opportunities.
There is a steady demand for trained air conditioning and refrigeration technicians.
The Refrigeration, Air Conditioning and Heating Service Technician technical diploma ladders into this associate degree. Contact an MATC advisor for information.
Additional program details: You may take portions of the technical course HVAC2-116 Refrigeration 2 off campus for co-op credit if employment opportunities arise and the employer and instructor agree.
---
Related Programs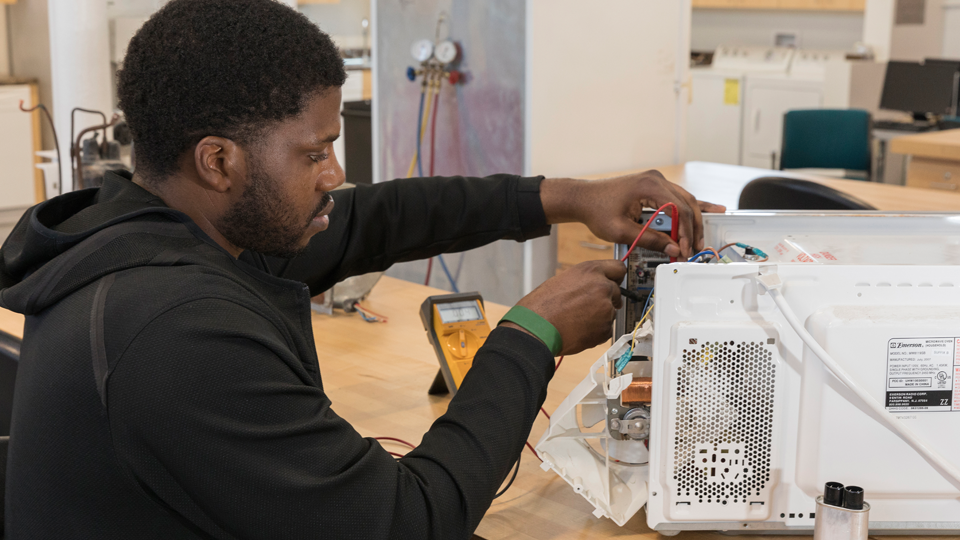 As household electrical appliances become more complex, a greater degree of knowledge is required to service them. This program combines coursework with hands-on lab experience.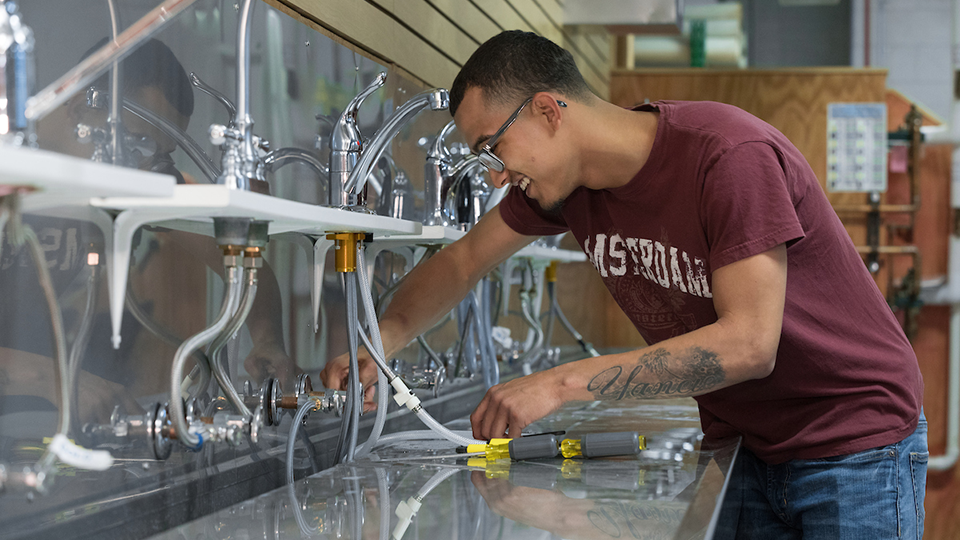 This program prepares students for a plumbing apprenticeship. As a graduate applying for an apprenticeship, you will be able to demonstrate your commitment to the trade, and will possess entry-level skills for a plumbing apprenticeship. This program is also for individuals interested in other piping trades.
Detailed Program Information
2020-21 Curriculum
Semester
Course
Course Name
Credits
(1)
ENG-195
Written Communication
(or) ENG-201 English 1 ‡
3
(1)
HVAC2-109
Introduction to the HVAC Industry
1
(1)
HVAC2-110
Air Conditioning Fundamentals
3
(1)
HVAC2-113
Electrical Fundamentals
3
(1)
HVAC2-132
Architectural and Mechanical Fundamentals
4
(1)
NATSCI-112
Principles of Sustainability
3
(2)
ENG-197
Technical Reporting
3
(2)
HVAC2-114
Electrical Controls and Systems ‡
4
(2)
HVAC2-115
Refrigeration 1 ‡
4
(2)
HVAC2-120
Heating Systems 1 ‡
4
(2)
MATH-107
College Mathematics ‡
(or) Any 200-level MATH course
3
(3)
HVAC2-116
Refrigeration 2 ‡
4
(3)
HVAC2-121
Heating Systems 2 ‡
4
(3)
HVAC2-146
Digital Energy Management Systems ‡
2
(3)
HVAC2-148
Heat Pumps ‡
3
(4)
HVAC2-125
Control Application and Circuits ‡
4
(4)
HVAC2-126
Air Conditioning Systems ‡
3
(4)
HVAC2-144
Servicing and Troubleshooting Refrigeration
and Air Conditioning ‡
3
(4)
PSYCH-199
Psychology of Human Relations
3
(4)
SOCSCI-197
Contemporary American Society
3
TOTAL CREDITS
64
( ) Semester order for full-time students.
‡ Prerequisite required.
Program curriculum requirements are subject to change.
This Associate in Applied Science program will transfer to one or more four-year institutions.
Official Wisconsin Technical College System program title: Air Conditioning, Heating and Refrigeration Technology.
Current MATC students should consult their Academic Program Plan for specific curriculum requirements.
To see course descriptions, class times, locations or to register online:
Students already enrolled in an MATC program can visit Self Service Student Planning.
All others can access this information through INFOnline.
2020-2021 Program Card
View/print the program card: front (jpg) | back (jpg)
Important Dates
Program Outcomes
Install HVAC/R components
Service HVAC/R systems
Troubleshoot HVAC/R systems
Evaluate HVAC/R system designs
Career Outlook
There is a constant demand for comfort systems, and trained air conditioning and refrigeration technicians are sought to operate and maintain these systems. As a graduate of this program, you may wish to pursue a four-year degree in HVAC engineering, or become an apprentice in the refrigeration or HVAC fields.
Possible Careers
Air Conditioning Technician
Refrigeration Technician
Sales Representative
System Design Technician
System Designer
System Supervisor
Admission Requirements
One year of high school-level algebra.
Scholarships
QUESTIONS?
Manufacturing, Construction & Transportation Academic & Career Pathway
414-297-8901, mctpathway@matc.edu
Downtown Milwaukee Campus, T Building, Room T200
Mequon Campus, Room A108-110
Oak Creek Campus, Room A121
West Allis Campus, Room 103