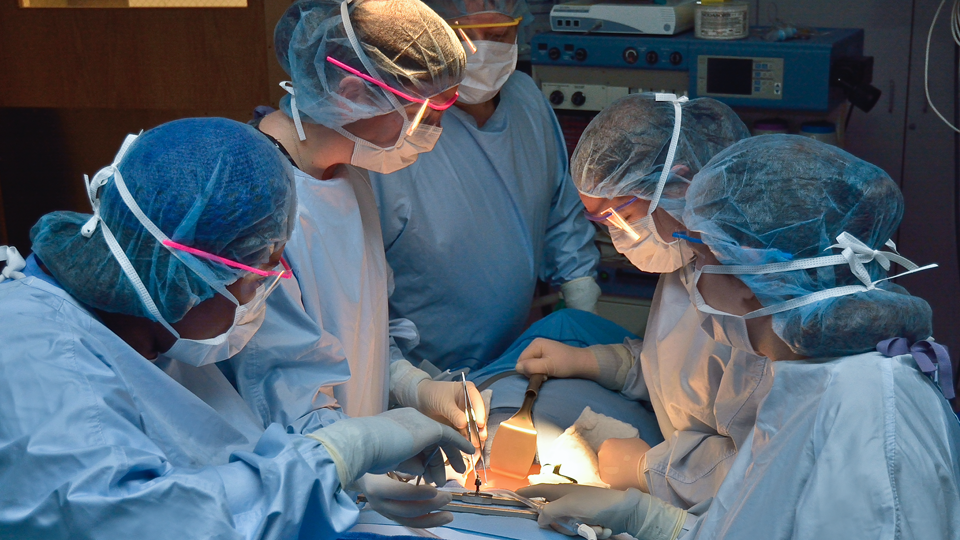 Program Information
Location:

Downtown Milwaukee Campus


Pathway:

Healthcare

Program Code:

10-512-1

Offering:

In-class

Degree Type:

2-Year Degree (Associate)

Start Dates:

August/January
About the Surgical Technology Degree
Description
Surgical technologists work under direct supervision to facilitate safe, effective invasive surgical procedures. You will learn the application of sterile and aseptic technique to help ensure that the operating room environment is safe and equipment functions properly. Graduates are eligible to write the certification examination given by the National Board of Surgical Technology and Surgical Assisting to become a Certified Surgical Technologist.
Entry-level positions are available in operating rooms and ambulatory surgery facilities.
This program features exploratory courses that count toward a credential. Contact an MATC advisor for information.
Additional program details: Surgical technologists possess expertise in the theory and application of sterile and aseptic technique, and combine the knowledge of human anatomy, surgical procedures and implementation tools and technologies to facilitate a physician's performance of invasive therapeutic and diagnostic procedures. They work to ensure that the operating room environment is safe, the equipment functions properly, and that the operative procedure is conducted under conditions that maximize patient safety.
---
Related Programs
Become an anesthesia technologist and you'll be a vital member of the anesthesia care team. These technologists work under the direction of the anesthesia provider and are proficient in the acquisition, preparation and application of the equipment required for the delivery of anesthesia care. Graduates are eligible to take the American Society of Anesthesia Technologists & Technicians (ASATT) National Certification Examination to become certified as an Anesthesia Technologist (Cer.A.T.T.).
Learn to perform echocardiograms, a widely used diagnostic test for heart disease. Echocardiography technologists perform the tests in hospitals and outpatient facilities, utilizing ultrasound equipment to gather data about the cardiac chambers, valves and vessels leading to and from the heart. Completing this program fulfills prerequisites to take the Registered Cardiac Sonographer (CCI) or Registered Diagnostic Cardiac Sonographer (ARDMS) exam.
Detailed Program Information
2020-21 Curriculum
Semester
Course
Course Name
Credits

*

NATSCI-177
NATSCI-177 General Anatomy and Physiology ‡

*

4
(1)
 ENG-195
Written Communication
(or) ENG-201 English 1 ‡
3
(1)
NATSCI-179
Advanced Anatomy and Physiology ‡
(or) NATSCI-201 Anatomy and Physiology 1 ‡
and NATSCI-202 Anatomy and Physiology 2 ‡
4
(1)
NATSCI-197
Microbiology ‡
4
(1)
PSYCH-199
Psychology of Human Relations
(or) Any 200-level PSYCH course
3
(1)
SOCSCI-172
Introduction to Diversity Studies
(or) Any 200-level SOCSCI course
3
(2)
HEALTH-101
Medical Terminology
3
(2)
SURGT-125
Introduction to Surgical Technology ‡
4
(2)
SURGT-126
Surgical Tech Fundamentals 1 ‡
4
(2)
 SURGT-127
Exploring Surgical Issues ‡
2
(2)
SURGT-129
Surgical Pharmacology ‡
2
(3)
ENG-197
Technical Reporting
(or) Any 200-level ENG or SPEECH course
3
(3)
SURGT-128
Surgical Tech Fundamentals 2 ‡
4
(3)
SURGT-130
Surgical Skills Application ‡
2
(3)
SURGT-137
Surgical Tech Clinical Practice 1 ‡
4
(3)
SURGT-140
Surgical Interventions 1A ‡
2
(4)
SURGT-138
Surgical Tech Clinical Practice 2 ‡
4
(4)
SURGT-139
Surgical Tech Clinical Practice 3 ‡
4
(4)
SURGT-141
Surgical Interventions 1B ‡
2
(4)
SURGT-142
Surgical Interventions II ‡
4

TOTAL CREDITS

65
* Taken prior to first-semester courses.
( ) Semester order for full-time students.
‡ Prerequisite required.
Program curriculum requirements are subject to change.
This Associate in Applied Science program will transfer to one or more four-year institutions.
Current MATC students should consult their Academic Program Plan for specific curriculum requirements.
To see course descriptions, class times, locations or to register online:
Students already enrolled in an MATC program can visit Self Service Student Planning.
All others can access this information through INFOnline.
2020-2021 Program Card
View/print the program card: front (jpg) | back (jpg)
Important Dates
Fall Start: Petition for program in February
Spring start: Petition for program in September

Deadlines and important dates can be found on:
Cost & Aid Deadlines

Also, you can find dates and deadlines on the MATC Calendar
Program Outcomes
Apply healthcare and technological science principles to the perioperative environment
Maintain principles of sterile technique in the surgical environment
Provide a safe, efficient, and supportive environment for the patient
Prepare the patient, operating room and surgical team for the preoperative phase
Perform intraoperative case management in the scrub role
Perform postoperative case management
Function as an ethical, legal, and professional member of the healthcare team as determined by governing bodies
CST Exam Results
| GRADUATION DATE | STUDENTS TAKING/PASSING EXAM | PASS RATE |
| --- | --- | --- |
| 5/2017 | 10/5 | 50% |
| 12/2017 | 3/3 | 100% |
| 5/2018 | 6/4 | 67% |
| 12/18 | 6/5 | 83% |
| 5/2019 | 6/5 | 83% |
| 12/2019 | 8/6 | 75% |
| 5/2020 | 8/7 | 88% |
| 12/2020 | 8/7 | 88% |
Career Outlook
Entry-level positions are available in operating rooms and ambulatory surgery facilities. For career information, visit www.arcstsa.org.
Possible Careers
Surgical Technologist
Surgical Assistant
Central Service Technician
Admission Requirements
This program admits students through a petition selection process. 
Learn more about the petition process
The following are required for admission:
HP-A2 pre qualifying exam
C+ or higher in the following courses: 

NATSCI-177* or NATSCI-201* and 202* 
NATSCI-197*

Fall Start: Petition for program in February
Spring start: Petition for program in September
Scholarships
Accreditation
This program is accredited by the Commission on Accreditation of Allied Health Education Programs (CAAHEP), 9355 113 th St. N, #7709, Seminole, FL. 33775, 727-210-2350
www.caahep.org
Accreditation is based on recommendation of the Accreditation Review Committee on Education in Surgical Technology.
QUESTIONS?
Healthcare Academic & Career Pathway
262-238-2281, healthpathway@matc.edu
Downtown Milwaukee Campus, H Building, Room H116
Mequon Campus, Room A108-110
Oak Creek Campus, Room A121
West Allis Campus, Room 103