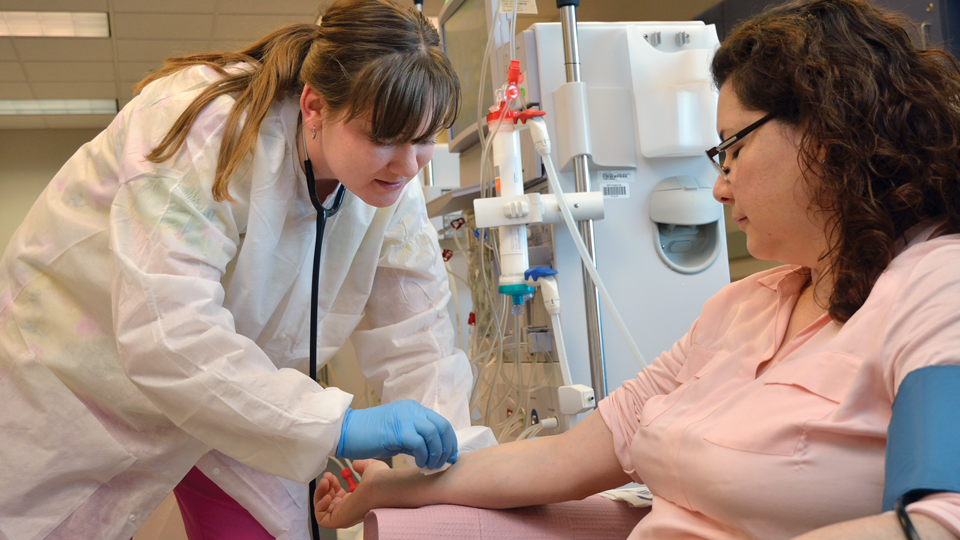 Program Information
Location:

Downtown Milwaukee Campus


Pathway:

Healthcare

Program Code:

31-517-1

Offering:

In-class

Degree Type:

Technical Diploma

Start Dates:

August
About the Renal Dialysis Technician Diploma
Description
Prepare for a healthcare career as a renal dialysis technician (RDT). Under the direct supervision of a registered nurse, RDTs set up dialysis equipment, prepare dialysate solutions, perform venipuncture and monitor patient responses during the procedure. RDTs also are responsible for quality control and maintenance of the equipment.
Employment opportunities exist in hospitals or freestanding dialysis centers.
This program features exploratory courses that count toward a credential. Contact an MATC advisor for information.
Additional program details: Renal dialysis is a treatment for patients with kidney failure. RDTs, under the direct supervision of a registered nurse, are responsible for setting up equipment, preparing dialysate solutions, performing venipuncture, and monitoring patient responses during the procedure. In addition, RDTs are responsible for cleaning, quality control, and maintenance of dialysis equipment.
Be aware that this program and occupational field have potential for exposure to blood; job-related duties require manual dexterity, and physical strength and endurance to perform a variety of lifting and transferring tasks related to patient care treatments.
---
Related Programs
This two-semester program emphasizes the technical skills and knowledge needed to work in physician offices, clinics, hospitals and other community-based healthcare settings. The duties of a Medical Assistant will include performing various clinical, laboratory and administrative procedures.
Phlebotomists perform functions such as blood drawing, specimen processing, lab procedures and clerical duties. To prepare for this career, you will learn the theory and practical skills of phlebotomy through the on-campus laboratory sessions and experiences at local healthcare facilities.
Detailed Program Information
2020-21 Curriculum
Semester
Course
Course Name
Credits
(1)
ENG-195
Written Communication
(or) ENG-201 English 1 ‡
3
(1)
HEALTH-101
Medical Terminology

*

3
(1)
PSYCH-199
Psychology of Human Relations

*


(or) PSYCH-231 Introductory Psychology
3
(2)
RDIAT-302
Renal Failure and Support Therapies ‡
3
(2)
RDIAT-304
Hemodialysis Laboratory Procedures ‡
1
(2)
RDIAT-320
Introduction to Renal Dialysis ‡
3
(2)
RDIAT-321
Principles of Renal Dialysis 1 ‡
4
(2)
RDIAT-322
Principles of Renal Dialysis 2 ‡
3
(2)
RDIAT-323
Clinical Practicum 1 ‡
2
(2)
RDIAT-324
Clinical Practicum 2 ‡
3

TOTAL CREDITS

28
( ) Semester order for full-time students.
‡ Prerequisite required.
* It is strongly recommended that these courses be completed prior to entering the program.
Program curriculum requirements are subject to change.
Current MATC students should consult their Academic Program Plan for specific curriculum requirements.
To see course descriptions, class times, locations or to register online:
Students already enrolled in an MATC program can visit Self Service Student Planning.
All others can access this information through INFOnline.
2020-2021 Program Card
View/print the program card: front (jpg) | back (jpg)
Important Dates
Fall Start: Register for classes in April
Additional deadlines and important dates can be found on Cost & Aid Deadlines

Also, you can find dates and deadlines on the MATC Calendar
Program Outcomes
Adhere to infection control and safety principles
Demonstrate safe operation of renal dialysis treatment machine and related equipment
Demonstrate competent and safe patient care skills
Model professionalism as a renal dialysis technician
Career Outlook
Renal Dialysis Technicians (RDTs) are in high demand and find employment in hospitals or freestanding dialysis centers. For additional career information, visit kidney.org.
Possible Careers
Dialysis Technician
Patient Care Technician (PCT)
Renal Dialysis Technician (RDT)
Renal Technician
Certified Clinical Hemodialysis Technician (CCHT)
Admission Requirements
This program admits students through a petition selection process. Learn more about the petition process.
One year of high school Biology or one semester of college-level Biology with a
grade of C or higher.
Scholarships
QUESTIONS?
Healthcare Academic & Career Pathway
262-238-2281, healthpathway@matc.edu
Downtown Milwaukee Campus, H Building, Room H116
Mequon Campus, Room A108-110
Oak Creek Campus, Room A121
West Allis Campus, Room 103