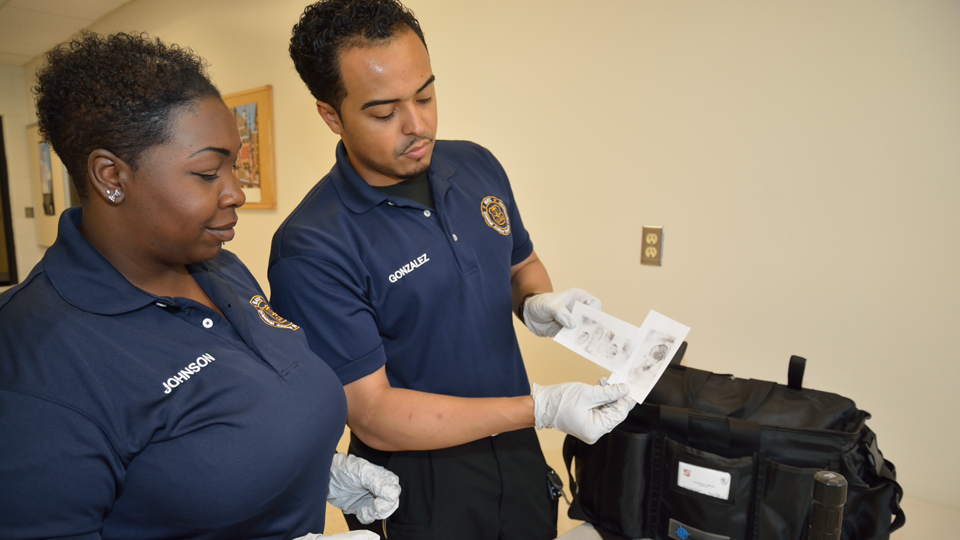 Program Information
Location:

Downtown Milwaukee Campus, Mequon Campus, Oak Creek Campus


Pathway:

Community & Human Services

Program Code:

10-504-5

Offering:

In-class

Degree Type:

2-Year Degree (Associate)

Start Dates:

August/January
About the Criminal Justice Studies Degree
Description
This program is designed to prepare you for employment in law enforcement at the state, local and federal levels, as well as in the field of private security. Successful completion of this program may qualify you to enroll in basic recruit training that leads to certification in Wisconsin.
Currently trained security professionals are in demand.
Additional program details: Many of the courses contain training directly from the Wisconsin Law Enforcement Standards Board curriculum related to the certification of law enforcement officers.
This program includes the opportunity for participation in an optional pair of courses as internships within law enforcement agencies. A certificate is available within the program with courses that meet State of Wisconsin Law Enforcement Standards Board objectives. Successful completion of this program qualifies you to enroll in basic recruit training leading to certification as a law enforcement officer. Some law enforcement agencies list an associate degree as a pre-employment requirement. You also may acquire knowledge that may be acceptable in lieu of other agency requirements.
---
Related Programs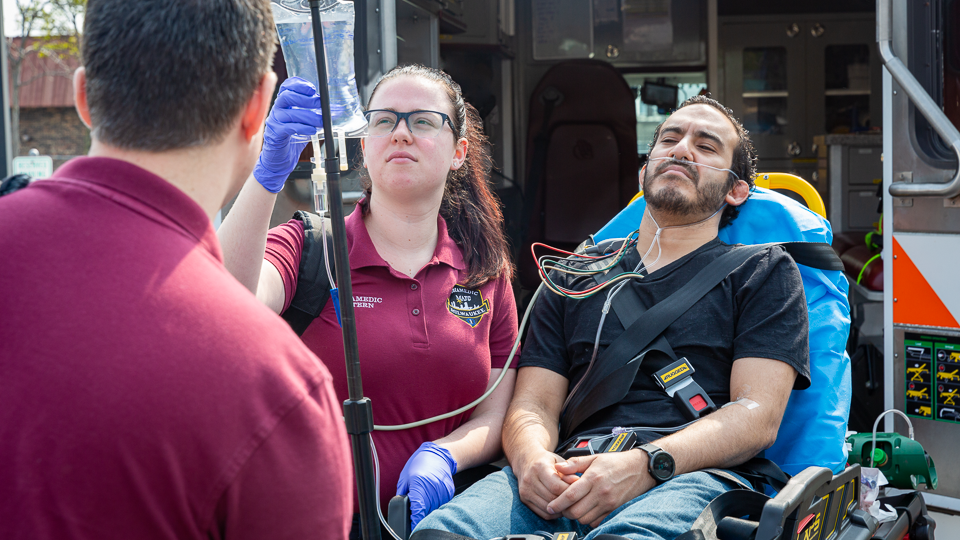 Become an integral member of a pre-hospital emergency care team, providing medical intervention to the ill or injured and continuing that care during transport to a medical facility. You will learn advanced-level prehospital care and techniques as performed by ambulance service providers.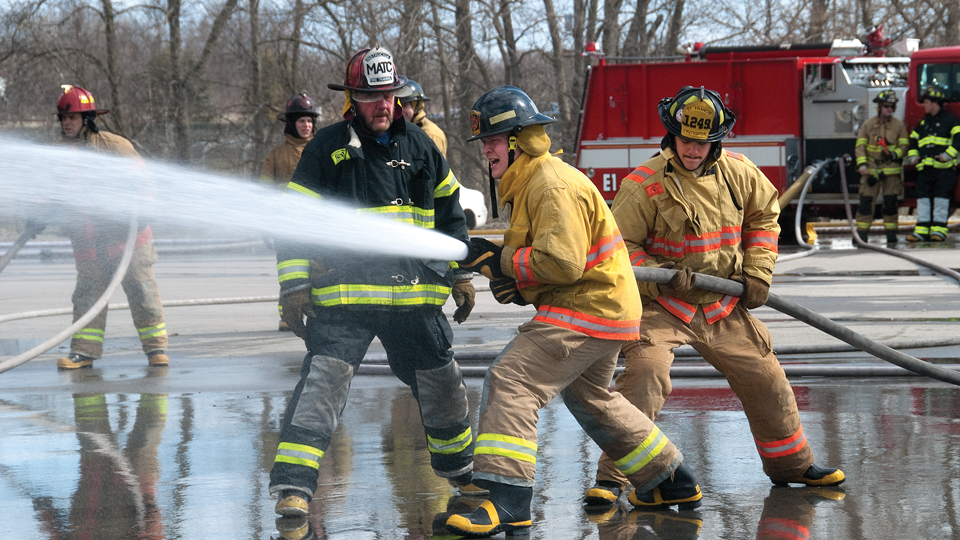 This program prepares students for employment in the fire service and/or fire-related duties within private industry. The objectives of the program are twofold: to instruct qualified high school graduates who are seeking a career in the fire service, and to update firefighters and officers on changes within the fire service. Students will have the opportunity to obtain three Wisconsin fire certifications and a Wisconsin Emergency Medical Technician license.
Detailed Program Information
2020-21 Curriculum
Semester
Course
Course Name
Credits
(1)
 ENG-195
Written Communication
(or) ENG-201 English 1 ‡
3
(1)
POLICE-161
Ethics in Law Enforcement
3
(1)
POLICE-900
Introduction to Criminal Justice
3
(1)
POLICE-901
Constitutional Law
3
(1)
PSYCH-199
Psychology of Human Relations
(or) Any 200-level PSYCH course
3
(2)
ENG-196
Oral/Personal Communication
(or) Any 200-level ENG or SPEECH course
3
(2)
MATH-107
College Mathematics ‡
(or) Any 200-level MATH course
3
(2)
POLICE-902
Criminal Law ‡
3
(2)
POLICE-907
Community Policing Strategies
3
(2)
POLICE-908
Traffic Theory
3
(3)
ECON-195
Economics
(or) Any 200-level ECON course
3
(3)
POLICE-160
Contemporary Legal Issues
3
(3)
POLICE-162
Sensitive Crimes
3
(3)
POLICE-906
Criminal Investigation Theory ‡
3
(3)
SOCSCI-197
Contemporary American Society
(or) Any 200-level SOCSCI course
3
(4)
ELECTIVES
(Three credits needed)
3
(4)
POLICE-903
Professional Communications ‡
3
(4)
POLICE-904
Juvenile Law ‡
3
(4)
POLICE-905
Report Writing ‡
3
(4)
SOCSCI-172
Introduction to Diversity Studies
(or) Any 200-level SOCSCI course
3

TOTAL CREDITS

60
( ) Semester order for full-time students.
‡ Prerequisite required.
Program curriculum requirements are subject to change.
This Associate in Applied Science program will transfer to one or more four-year institutions.
Current MATC students should consult their Academic Program Plan for specific curriculum requirements.
To see course descriptions, class times, locations or to register online:
Students already enrolled in an MATC program can visit Self Service Student Planning.
All others can access this information through INFOnline.
2020-2021 Program Card
View/print the program card:  front (jpg) | back (jpg)
Important Dates
Program Outcomes
Examine the components of and interrelationships in the criminal justice system

Analyze situational responses

Apply communication skills as a criminal justice professional

Conduct investigations

Adhere to the professional code of ethics for a criminal justice practitioner

Maintain personal wellness
Career Outlook
Police officers and private security personnel are needed to maintain public order and safety. Currently the need for security and order has increased, and trained professionals are in demand.

Your employment prospects will be enhanced if you are in sound mental and physical condition, and you are able to pass a rigid physical examination. Desirable physical attributes include average vision, normal hearing and good depth perception.

You must be able to perform all physical aspects of the job, which can be strenuous. You must be a U.S. citizen, have a valid driver's license, and have a cleared criminal background and be able to pass a thorough background investigation.

POSSIBLE CAREERS
Police Officer
Deputy Sheriff
Loss Prevention/Private Security Agent
Police Communications and Record Maintenance Specialist
Investigator


This program is being developed as a Career Pathway. Contact an MATC advisor for information.
Admission Requirements
Age 17 and older

Students entering the program must have an official high school or GED/HSED transcript
Scholarships
Accreditation
QUESTIONS?
Community & Human Services Academic & Career Pathway
414-570-4426, servepathway@matc.edu
Downtown Milwaukee Campus, T Building, Room T200
Mequon Campus, Room A108-110
Oak Creek Campus, Room A121
West Allis Campus, Room 103