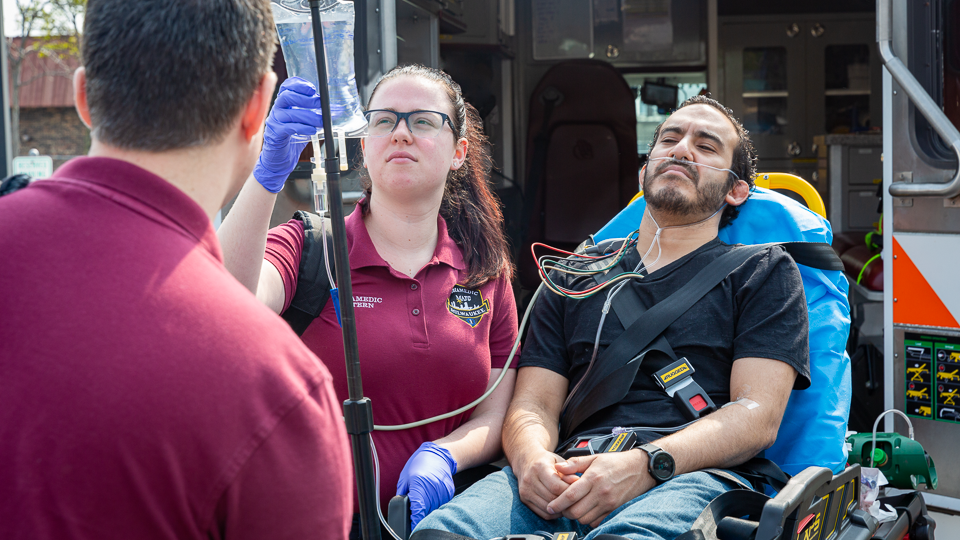 Program Information
Location:

Oak Creek Campus


Pathway:

Community & Human Services

Program Code:

31-531-1

Offering:

In-class

Degree Type:

Technical Diploma

Start Dates:

August/January
About the Emergency Medical Technician – Paramedic Diploma
DESCRIPTION
Become an integral member of a prehospital emergency care team, providing medical intervention to the ill or injured and continuing that care during transport to a medical facility. You will learn advanced-level prehospital care and techniques as performed by ambulance service providers.
Your credits can be applied toward completing the Paramedic Technician associate degree.
READY TO TAKE THE NEXT STEP? 
Use the buttons below to get more information, visit the college or apply now. 
Request Info    Visit Us    Apply Now
---
Related Programs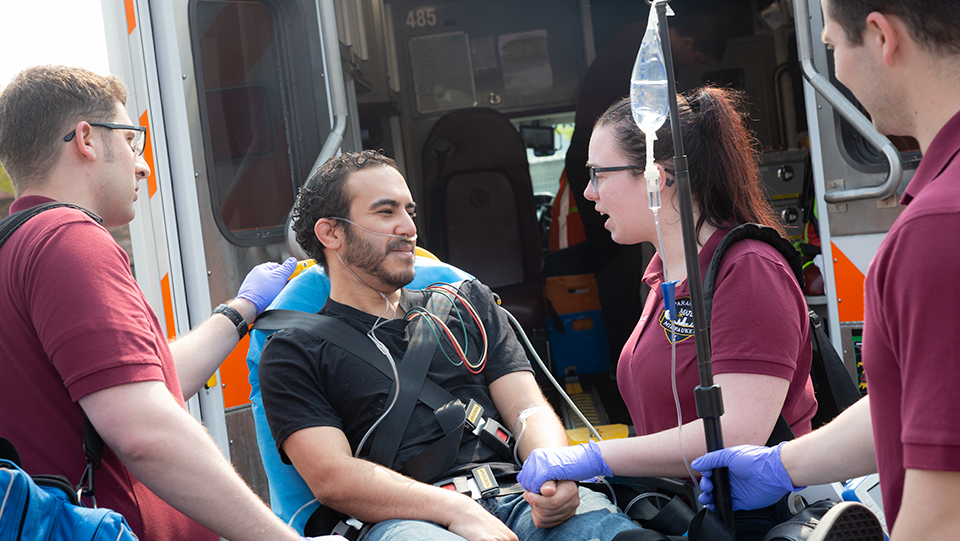 Paramedics provide advanced-level emergency and non-urgent medical support, primarily in prehospital and emergency department settings. Learn strategies to assess and perform safe and appropriate care for non-emergency and emergency situations and environments.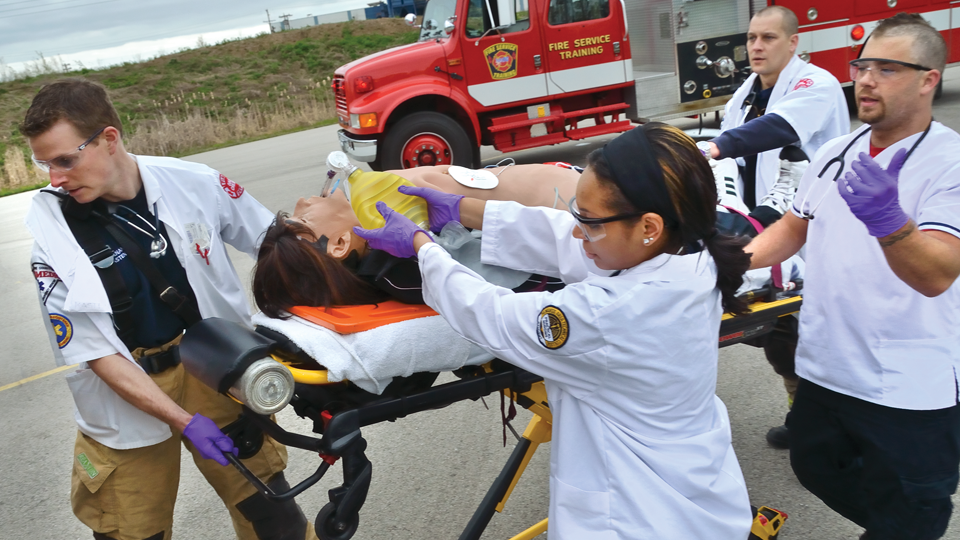 The Emergency Medical Technician – Advanced coursework builds upon the skills acquired in the Emergency Medical Technician program. Students learn advanced patient assessment skills and technical skills such as IV access, fluid therapy and administration of dextrose and Narcan. Advanced emergency medical technicians perform emergency patient care, basic life support, and limited advanced life support in the field, transporting injured and ill patients to hospital emergency rooms. This program meets Wisconsin licensure requirements.
Detailed Program Information
2023-24 Curriculum
| Course | Course Name | Credits |
| --- | --- | --- |
| EMS-911 | EMS Fundamentals ‡ | 2 |
| EMS-912 | Paramedic Medical Principles ‡ | 4 |
| EMS-913 | Advanced Patient Assessment Principles ‡ | 3 |
| EMS-914 | Advanced Prehospital Pharmacology ‡ | 3 |
| EMS-915 | Paramedic Respiratory Management ‡ | 2 |
| EMS-916 | Paramedic Cardiology ‡ | 4 |
| EMS-917 | Paramedic Clinical/Field 1 ‡ | 3 |
| EMS-918 | Advanced Emergency Resuscitation ‡ | 1 |
| EMS-919 | Paramedic Medical Emergencies ‡ | 4 |
| EMS-920 | Paramedic Trauma ‡ | 3 |
| EMS-921 | Special Patient Populations ‡ | 3 |
| EMS-922 | EMS Operations ‡ | 1 |
| EMS-923 | Paramedic Capstone Assessment ‡ | 1 |
| EMS-924 | Paramedic Clinical/Field 2 ‡ | 4 |
| SOCSCI-172 | Introduction to Diversity Studies | 3 |
| | TOTAL CREDITS | 41 |
‡ Prerequisite required.
Program curriculum requirements are subject to change.
Current MATC students should consult their Academic Program Plan for specific curriculum requirements.
Search for available classes now (link) to see course descriptions, class times and locations.
Already a student? You can visit Self-Service (link) and choose Student Planning to register for classes.
2023-24 Program Cards
Important Dates
Program Outcomes
Prepare for incident response and EMS operations
Integrate pathophysiological principles and assessment findings to provide appropriate patient care
Demonstrate paramedic skills associated with established standards and procedures for a variety of patient encounters
Communicate effectively with others
Demonstrate professional behavior
Meet state and national competencies listed for paramedic certification(s)
Career Outlook
Employers include private ambulance services, hospitals, fire departments, industrial firms and security companies. Employment of emergency medical technicians and paramedics has been projected to increase 25% nationally from 2010 to 2023.
Emergencies, such as car crashes, natural disasters or acts of violence, will continue to create demand for these positions. Growth in the middle-aged and elderly population will lead to an increase in the number of age-related health emergencies. The demand for part-time, volunteer emergency medical technicians and paramedics in rural areas and smaller metropolitan areas also will continue.
Possible Careers
Paramedic
Emergency Department Technician
Private Ambulance Service Paramedic
Municipal Fire Department Paramedic
Hospital-Based EMS Services
Critical Care Paramedic
Community Paramedic
Public Health Liaison
Tactical Paramedic
Special Events Emergency Response
Public Safety
Admission Requirements
18 years of age or older
High school diploma or GED
Current Wisconsin EMT-Basic license (or above)
Current CPR certification at the Healthcare Provider or Professional Rescuer level
Once admitted to the program, students will be required to complete:
Criminal background check
Medical exam including verification of immunizations and annual TB testing
Documentation that the Essential Job Functions have been reviewed. This is in keeping with the federal Americans with Disabilities Act (ADA).
Scholarships
Accreditation
This program is accredited by the Commission on Accreditation of Allied Health Education Programs (CAAHEP), Committee on Accreditation of Educational Programs for the Emergency Medical Services Professions (CoAEMSP), 8301 Lakeview Parkway, Suite 111-312, Rowlett, TX 75088; 214-703-8445, www.coaemsp.org
READY TO TAKE THE NEXT STEP? 
Use the buttons below to get more information, visit the college or apply now. 
Request Info    Visit Us    Apply Now
QUESTIONS?
Community & Human Services Academic & Career Pathway
414-570-4426
servepathway@matc.edu