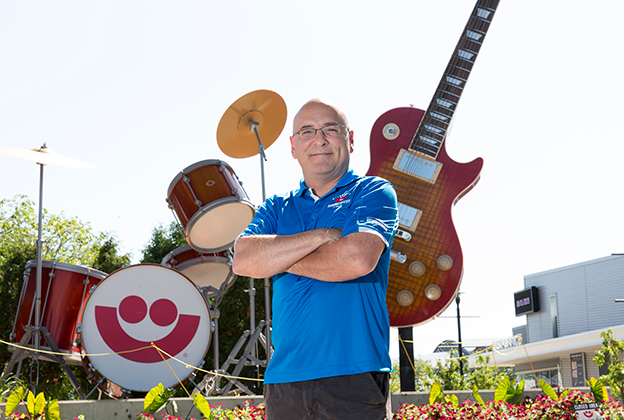 Summerfest® IT Professional Credits MATC for Career Switch
Looking back to when he attended Muskego High School, Roger Miller said he didn't have the proper academic mindset. He wasn't applying himself, suffered from poor study skills and eventually, he dropped out. This led to jobs that didn't require a high school degree, which Miller realized wouldn't provide the career advancement he sought. In 1990 he enrolled in MATC's Adult High School to access new opportunities.
Now you're an IT infrastructure engineer for Milwaukee World Festival Inc., which produces Summerfest. How did you get into the IT field?
A computer class was a required part of the [Adult High School] curriculum. Although I liked video games, I didn't expect to do well in a computer class — I figured I would fail because I had not worked with computers before. It turned out that I did really well and finished the course early, even the extra credit. I was good at measurements and such and understood construction. My MATC counselor suggested I take a computer-aided drafting class at the college. It snowballed into working with computers. I eventually worked at several large, locally based companies, and have been with Milwaukee World Festival Inc. for five years. Another employee and I manage the servers, desktops, networking infrastructure; basically all of it.

Would you say that MATC transformed your life?
One hundred percent! In ways I never would have thought. Having dropped out of high school and having an innate fear of the math alone, I was so apprehensive that I assumed I would fail. The computer courses for some reason came naturally. I had no intention of working in computers and it
was only the advice of my MATC counselor that put me on that path. The study skills I learned helped me achieve my IT certifications and to prioritize my day-to-day work. And every teacher I had was really, really invested.

What is the next tech trend that you're preparing for?
We are thinking ahead to 5G [the fifth generation cellular network technology providing broadband access]. The bandwidth and everything that comes with 5G will render other equipment obsolete once it's readily available.

Is your job as cool as it sounds?
It's an amazing environment to work in — unlike any other. I love working in IT. Some days, you're solving support problems, other days you're planning the future of your company's infrastructure. I'm a problem solver, that's what I do. I love it because I'm passionate about it. It's what I do after work. That being said, I also see a growing need for skilled trades that a lot of tech schools can absolutely help with.
To learn more about MATC's IT programs, visit our Business Pathway.