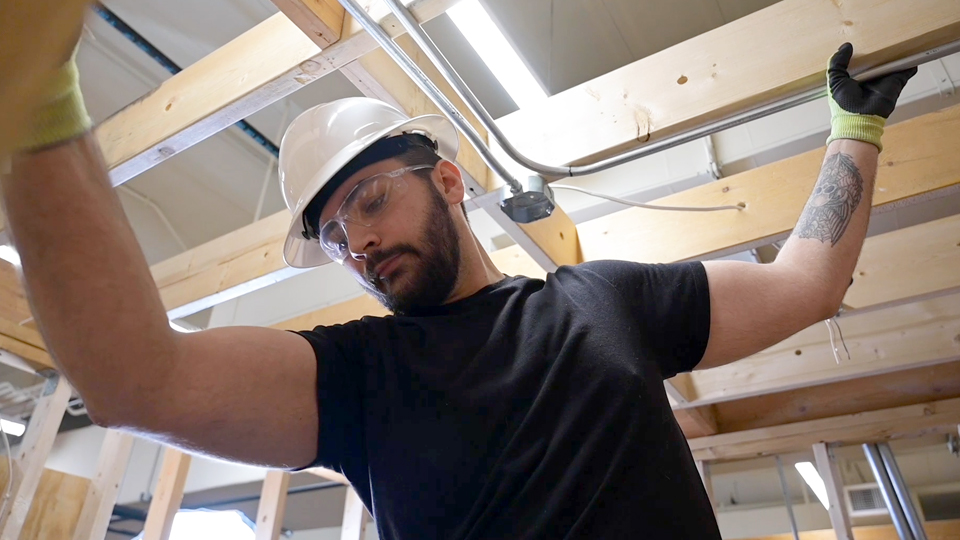 Program combines practical, theoretical learning
We take it for granted that our electrical outlets will provide reliable output to charge our cellphones and power our televisions. If you're in the Milwaukee area, there's a chance that the wiring behind those systems was installed or upgraded by an MATC graduate.
The college helps power a diverse talent pipeline for this industry with offerings such as the Electricity technical diploma and the Electrical Power Distribution/Line Mechanic technical diploma. Instructors who are experts in their field lead courses that provide the foundational knowledge needed to begin working for some electrical utilities, contractors and in related trades.
"The instructors in the electrical program were fantastic. Everything that they teach you is up to date and we work from the latest code book," said recent Electricity technical diploma graduate Cristian Segura.
During one memorable project in the Construction Blueprint Reading course, Segura and his classmates had to revisit their work after regulatory officials released new guidelines. The code book was updated in the middle of the project and the instructor required students to immediately incorporate the latest information.
Classes heavy on theory are balanced with significant hands-on learning. Lead Faculty Christopher Terry explained that, "Hands-on learning helps the students be competitive right out of the gate and hit the ground running. It also helps them be aware of potential safety hazards."
Students like Segura are often supporting themselves with retail jobs at grocery stores or similar local employers. Some balance full-time work with part-time courses while they also care for loved ones at home. They may rely on the Milwaukee County Transit System to reach school and find employment along bus lines.
Terry noted that these experiences and classroom instruction help students learn "soft skills" such as dependability, teamwork and communication. "You need soft skills on a construction site. We work in close quarters. All of us are there to work together and teamwork is very important on the job," Terry said.
The MATC Electricity technical diploma program prepared Segura well for his role as a construction wireman with the International Brotherhood of Electrical Workers Local Union 127. He currently assists a journeyman at commercial job sites and plans to pursue an electrical apprenticeship, a highly competitive program. Successful applicants are sponsored by employers, employer associations or labor/management groups. Students receive a regular wage during training, including the classroom instruction offered at MATC.

To learn more about MATC's electrical programs, visit matc.edu/course-catalog/manufacturing-construction-transportation