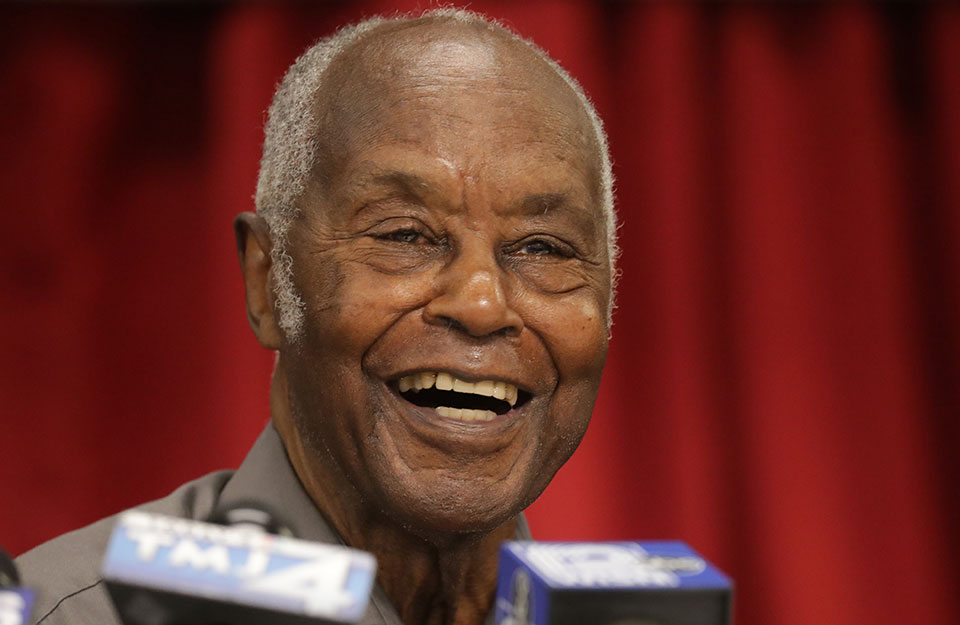 Growing up in Ohio in the 1930s and '40s, MATC alumnus William Coffer Jr. faced segregation at movies and parks. In schools, Coffer said because many teachers were in military service fighting World War II, students' learning opportunities were somewhat limited.
Coffer graduated high school in 1947 and at age 18 became one of the first African Americans to join the U.S. Marine Corps. He was sent to Montford Point Camp in North Carolina, along with 20,000 African American Marines recruited between 1942 and 1949. The Marines segregated recruits and trained white recruits elsewhere.
When Coffer entered the military in 1948, African Americans were often placed in service jobs like cooks and stewards, but Coffer had an advantage.
"In high school, I took a course unusual for men. I took typing," he said. "When I got into the Marine Corps … I was way ahead of the game. Because I happened to be a typist, they put me in the office." He served two years in Korea and rose to staff sergeant.
Following his service, Coffer came to Milwaukee to begin the next chapter of his life.
"When I was in service, I was in administration and that whetted my appetite, so I wanted to somehow stay in administration," he said.
At MATC, Coffer used the GI Bill to fund his tuition and gained the foundation he needed to enter the accounting field. He graduated in 1957 with an associate degree in Junior Accounting. He worked for several years and then enrolled at Marquette University, completing his bachelor's degree in accounting in 1967. Throughout his career, Coffer held positions as accounting clerk, accountant and administrator for Milwaukee County. He also worked as a personnel assistant at Patrick Cudahy in Cudahy, and as a manager with the Housing Authority of the City of Milwaukee. He has served as the treasurer for his church's credit union since 1965.
Coffer earned the Congressional Gold Medal in honor of his role in the Marines. He received the medal in August 2019, months before his 90th birthday. Then, in recognition of his role as one of the first African American Marines and his many years of service to the community, he received MATC's Distinguished Alumnus award at the college's Winter Commencement Ceremony in December 2019.
Coffer's experience in the military ran much deeper than the skills he acquired. He and his fellow Montford Pointers unified under the motto "fighting for the right to fight." In an interview with the Milwaukee Journal Sentinel after receiving the Congressional Gold Medal, Coffer said he was "fighting for the right to die for what you believe."
Veterans choose MATC as bridge to workforce
Like Coffer, military veterans continue to enroll at MATC to build upon the skills they learned in the service.
"When it comes to connecting students with skills to the workforce, veterans are a very unique group. They tend to come to the table with a lot more skills … but it's often more difficult for veteran students to translate those skills once they come out of the military," MATC Veterans Specialist Wesley Walker said. "A big part of what we do for veterans is sit with them and guide them, let them know what in the civilian world matches with what they did in the military."
To learn more, contact MATC's Veterans Specialist at walkerw9@matc.edu or visit matc.edu/veteran.