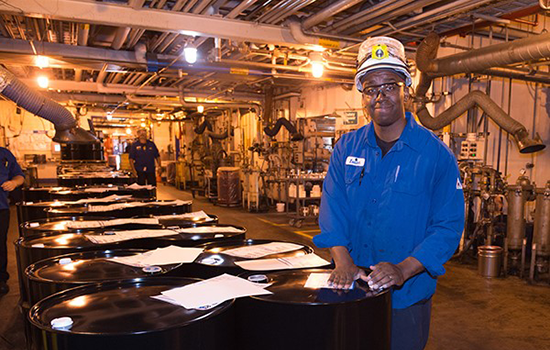 In a highly competitive market for talent, MATC's partnership with PPG is a "win-win-win for MATC, the students and PPG," according to Brian Brophey, who manages quality services and manufacturing support at the company's industrial coatings plant in Oak Creek.
One piece of the partnership is an internship opportunity for MATC Chemical Technician program students.

"The outcome is that, relatively quickly, we get a high level of productivity from the students while they get real-life on-the-job experience," Brophey said.

That experience ultimately landed two recent PPG interns — who went on to graduate from the program — full-time jobs at the plant.

"The people we have been getting from the program at MATC consistently demonstrate an understanding of the job and what needs to be fulfilled to deliver our expectations to the customers," Brophey said. "They learn quickly and they're great teammates. And that's a big part of being successful."

Chris Bingham is one of them. He said MATC's program is well designed to help students steadily advance both in the classroom and laboratory.

"The Downtown Milwaukee Campus has just about every instrument used in the industry and provided the hands-on experience that gave me a lot of confidence in my career," Bingham said. "Every instructor I encountered in the program wanted me to succeed and was extremely helpful. The internship was great and expanded what I learned at MATC even further."

The college's Chemical Technician program provides graduates with the skills to assure product quality. Students most often land careers as analysts and chemist's assistants in electric power, manufacturing, paint, plastics, polymer and solvent companies.

Both Bingham and Jacob Stoner, the other recent MATC alumnus hired by PPG, credit instructor Scott Schlipp with opening doors.

"Both the extensive time in the lab and assistance from Scott Schlipp, I believe, helped me to have a comfortable start with PPG," Stoner said.
If I had 50 students, they could get hired today. Most of the students in the program already have jobs in the industry.
MATC graduates are in demand
Schlipp said his students are in high demand by employers. "If I had 50 students, they could get hired today," he said. "Most of the students in the program already have jobs in the industry."

PPG's Oak Creek plant produces industrial coatings — such as a rust inhibitor or a coating to provide color — for small and large manufacturing facilities. The products can be used both on the customer's own machinery, or on the products the customer makes such as garage doors, household appliances or mobile phones.

This summer, the plant plans to hire five new MATC interns through a federal grant.

Beyond the internship partnership and hiring of recent graduates, PPG has funded more than $92,000 in student scholarships through the MATC Foundation Inc. since 1993.

"PPG sets a high bar for what a business partnership can be," said MATC Foundation Director of Development Monika Walloch. "Their support is unlocking access for students, helping ensure our curriculum meets today's industry standards and connecting our graduates to family-supporting careers."

Brophey noted that the benefits are mutual. "MATC proactively asks for our feedback as to how they can adapt the program to our business needs, which helps benefit everyone," he said. "Our relationship with MATC has developed into a sustainable community partnership."

To other firms looking to find a partner in workforce development, Mike Markert, a human resources manager for PPG, suggested the businesses assess their needs from a skill perspective "and then match those with what MATC has to offer and investigate."

He advises touring MATC's facilities to "see how you can help to support the college's program tied to your industry."

For PPG, Markert said, "That resulted in a partnership with the 'chem tech' program that's proven to be very successful. We've been a part of the program for decades. That partnership role is really important."


To partner with MATC, contact Corporate and Foundation Relations Coordinator Carol Voss
at 414-297-7380 or vosscp@matc.edu.