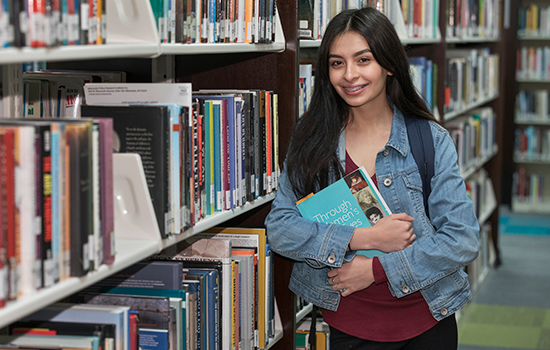 A passion for technical education spurs daughter of an MATC alumna to create the scholarship that supported more than a dozen students in 2018.
Many students face the first day of class feeling excited and, perhaps, a bit anxious. For students who are the first in their family to go to college, MATC student Eunice Perez says, that wave of emotions can include feeling intimidated and even scared.
"I was terrified," she recalled. "I parked in the parking structure and I stayed there. I was so scared to walk into the building." She waited in her car, hoping for a text announcing classes were canceled, she said.

But after a few minutes, the Milwaukee native confronted her fears and walked into her first class at MATC's Downtown Milwaukee Campus.

"I was like, 'This isn't at all what I thought college was going to be,'" Perez said. Instead of large, impersonal auditorium-sized classes, she found she could actually talk with instructors and have a full discussion with her classmates.

She also found success. The graduate of Milwaukee Public Schools' Riverside University High School made the MATC President's List of students with 4.0 grade-point averages and earned the Janice Marcus Woman's Club of Wisconsin scholarship through the MATC Foundation Inc.

"The scholarship brought me so much happiness — so much relief really — because instead of worrying about, 'I have to pay this amount on this day when I don't have this amount for this day,' I could worry about, 'I have a test tomorrow, I have a paper to do tomorrow, I have a presentation.'"
Gift of $45,000 for scholarships
Established in February 2017 by Janice Marcus and the Woman's Club with a gift of $45,000 over three years, the scholarship recognizes the incredible potential of MATC students who apply for the MATC Promise but fall just short of program requirements such as high school GPA or ACT score. Students must have graduated from a Milwaukee high school and demonstrate financial need.
The scholarship brought me so much happiness, so much relief.
The scholarship paired Marcus' concern for the challenges faced by individuals from lower-income families in Milwaukee with her own success in turning a technical program into a career.

"I found it so remarkable that after having a nine-month course, I could do so many different things with it," she said. "I could work as a hairdresser, I could go into a sales position, or I could start my own business — which is what I did."

Marcus, who owned a salon housed at Milwaukee's legendary Pfister Hotel, also attributes her passion for technical education to her mother, Beatrice Graham. Graham entered MATC as an adult and earned an associate degree in nursing, continuing in the career for four decades.