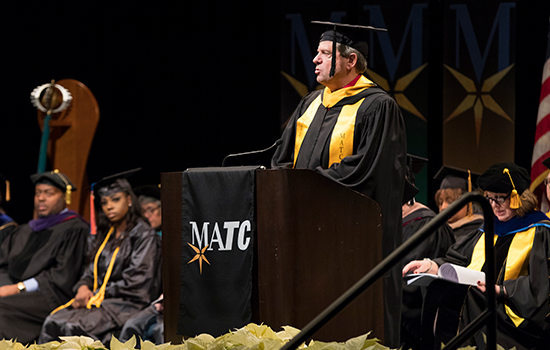 MATC's Workforce Solutions has partnered with the Franklin Business Park Consortium (FBPC) to provide customized training to more than 600 employees since 2016.
Allis Roller LLC has provided two training rooms to assist MATC's Workforce Solutions with delivering the onsite training that is "upskilling" the participants — preparing these employees with new, in-demand skills.

"The students are often from different job levels and different types of jobs; for example, employees from the shop floor and employees from the office, learning together in these classes," said Allis Roller President and CEO David Dull.

The company he leads is a contract manufacturer of precision machined parts, providing a full spectrum of products and services to the original equipment manufacturer (OEM) market.

Dull has been instrumental to bringing the training to the workplace and offering space for the instruction. He is the FBPC president and also has been on the MATC District Board since 2012, serving as its chairperson since 2017.

As a business leader, Dull sees firsthand the vital role of workforce development within the community, explaining that, "The MATC classes prepare employees for the jobs the economy relies on — and helps them grow professionally, which prepares them for their future career success."
Collaboration strengthens workforce
The FBPC launched in 2016 with the objective of helping Franklin businesses collaborate and pool resources to thrive. The current 13 members range from corporations on the Fortune 500 list to local machine shops. Although there is a variety of businesses in the consortium, the firms share a common need: a quality and sustainable workforce.

The onsite programs taught by MATC's Workforce Solutions instructors are proving key to upskilling the employees. Fifteen courses have been offered since 2016, and the most popular subjects include Microsoft Office, Basic Skills for Supervisors, Blueprint Reading and Principles of Lean Manufacturing.

To reduce the time and financial obstacles workers typically face to pursue additional education, the FBPC employees are paid their wages while attending class and they do not pay for the instruction. Costs are covered by grants or by the employer.

MATC's Workforce Solutions courses can be customized specifically for the employer. Dull noted that when Allis Roller requested a customized CNC course "the MATC instructor created a class that was exactly geared to Allis Roller and what we needed."
Companies and technical colleges need vibrant collaboration for training the workforce. This collaboration is happening with MATC and businesses throughout the district.
Community focus
Dull, who has more than 25 years of experience managing manufacturing companies, said his goals as an MATC board member include strengthening how the college and local businesses are aligned, and promoting awareness of how MATC's graduates, apprentices and interns fill employers' needs.

"Companies and technical colleges need vibrant collaboration for training the workforce," he said, "and this collaboration is happening with MATC and businesses throughout the district."

At monthly FBPC meetings, representatives from the businesses and MATC explore initiatives to help local residents enter family-sustaining careers, Dull explained. In addition to workforce training, the group has planned job fairs for the community and career-focused programs for high school students.

The results achieved by the FBPC under Dull's leadership were cited by the City of Franklin when its Economic Development Commission presented him with the 2018 Excellence in Leadership Award.

"When businesses in the community become more involved, the community thrives," Dull said. "More groups are coming together to solve challenges and make more opportunities for employees, which strengthens the community."
MATC's Workforce Solutions team has offered a variety of courses to Franklin Business Park Consortium (FBPC) employees:
Basic Skills for Supervisors
Blueprint Reading
CNC Machining Setup and Programming
Effective Communication
English as a Second
Language (ESL)
Excel Business
Improving Quality and Productivity
Introduction to Quality Engineering
Introduction to Robotics
Leadership and Employee Empowerment
Leadership Development
Principles of Lean Manufacturing
Project Management
Robotic Welding
Team Building
To learn more about MATC's Workforce Solutions, contact Business Development Director Lisa Reid at  414-297-6083 or reidlk@matc.edu.