Facilities Rental - Mequon Campus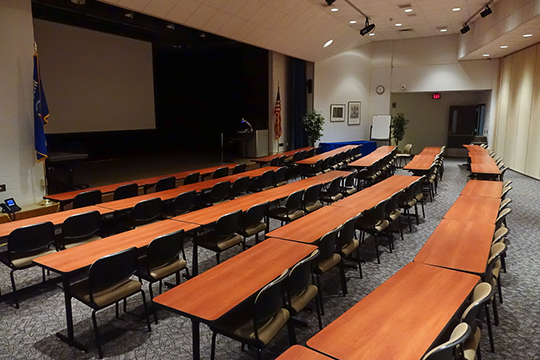 Lecture Hall
The Mequon Campus lecture hall has both fixed and flexible seating and has a capacity of 215 people. The lecture hall can be divided and utilized in three distinct areas: the main hall seats up to 125; the east and west wings each respectively hold 45 in a theater-seating arrangement. Decor accentuates the in-house lighting and sound systems. Events have included church services; business, civic and community meetings; presentations and performances.
Conference Rooms
Three conference rooms at the Mequon Campus hold groups of 20-32 people. All feature updated audio and video teleconferencing capabilities.
Classrooms
Groups of 10-35 people can host their activities and meetings in several Mequon Campus classrooms. Many are equipped with multimedia technology for enhanced learning experiences. Please note, catering service is not available in classrooms.
Cafeteria
The cafeteria can accommodate up to 205 people for your next career fair, community gathering or nonprofit event. Amenities include a podium, sound system and catering services. An adjacent patio area, available for your outdoor event, overlooks a beautiful pond.
Courtyard
The Mequon Campus features a beautiful private courtyard for the ideal outdoor gathering place. It can seat up to 100 guests comfortably, and MATC catering services are available.
Mequon Campus Facility Rentals
Sandra Webster
262-238-2205
websters@matc.edu
5555 West Highland Road
Mequon, WI 53092-1199 
Facilities Rental Application Form