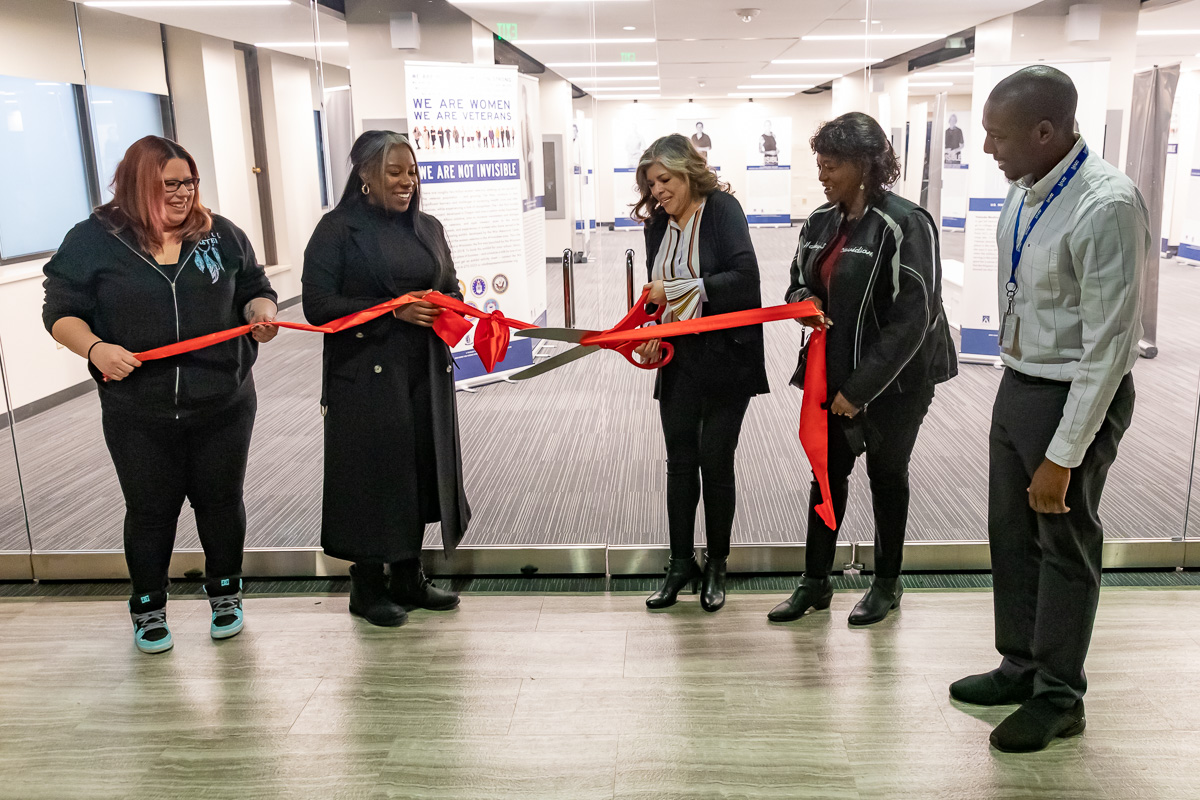 "I realized how important the military is to so many people. People all over were looking to us to help protect them and keep them safe. That's when I realized that I was proud to be there.
MILWAUKEE – Talaya Scott fully admits she joined the United States Air Force to earn money for college.
But when terrorists attacked New York City's World Trade Center towers in 2001 while she was in basic training, any indifference she felt turned into purpose and pride.
"I realized how important the military is to so many people," said Scott, an accounting instructor at Milwaukee Area Technical College since 2020. "People all over were looking to us to help protect them and keep them safe. That's when I realized that I was proud to be there."
Scott is one of nearly 2 million women veterans across the country. Many times they go unnoticed, unseen and uncelebrated, but they're there, said Wesley Walker, veterans student services specialist at MATC.
"We walk by them every day," Walker said. "They teach our children, they treat us at the doctor's office. We always need to remember there are men and women veterans."
To help celebrate national Women's History Month, MATC recognized the service and contributions of women veterans by holding a panel discussion on Thursday, March 16, and by sponsoring a traveling exhibit from Milwaukee's War Memorial Center at the college's Downtown Milwaukee Campus.
The exhibit, "I Am Not Invisible," highlights local women who are either veterans or currently serving in the military. Large pull-up banners display photos of 31 women veterans along with descriptions of their military service experience. Every branch of the armed forces is represented in the exhibit, as is every service era from World War II through the present, said Sean Clark, education program director at the War Memorial Center. 
"The bios provide an honest look at what it means to serve, the opportunities open to women and the challenges they face in the military," Clark said.
Scott was one of four women who spoke at the panel discussion about their opportunities in the military. She served in the Air Force for eight years, learned accounting, worked at several large accounting firms and joined MATC as an instructor in January 2020.
During her service, Scott said she encountered numerous challenges not only because she was a woman, but also because she was Black. "Those instances helped me to understand myself and helped me to become the person I am today," she told students, faculty and staff at the event. 
Brittany Hill, an MATC student and MATC Veterans Resource Center assistant, served in the United States Coast Guard for four years as a machinery technician, operating, maintaining and repairing engines, boilers and steam turbines on ships.
"Being a female mechanic, I constantly had to prove myself," Hill said. "But I was better than some of the male mechanics."
Find information about MATC's Veterans Resource Center
Hill left the Coast Guard in 2013 to become a full-time, stay-at-home parent. She earned a technical diploma in the Automotive Maintenance Technician program at MATC in 2021. She plans on completing an Accounting degree this spring.
Also on the panel was Yolanda Medina, director of the Military and Veterans Resource Center at the University of Wisconsin-Milwaukee. She dropped out of college to serve in the Marine Corps and is one of the women featured in the "I Am Not Invisible" exhibit.
In 2000, women made up 4% percent of all veterans in the United States. Today they make up 10%. By 2040, they will make up nearly 20% of all veterans, according to the federal Department of Veterans Affairs.
"The women veterans you see today are very, very important role models for future generations," Walker said.
They already are, Hill said. "My kids have told me they want to be just like me," she said. "They will always remind me that I did something I should be proud of."
About MATC: Wisconsin's largest technical college and one of the most diverse two-year institutions in the Midwest, Milwaukee Area Technical College is a key driver of southeastern Wisconsin's economy and has provided innovative education in the region since 1912. More than 25,000 students per year attend the college's four campuses and community-based sites or learn online. MATC offers affordable and accessible education and training opportunities that empower and transform lives in the community. The college offers more than 170 academic programs — many that prepare students for jobs immediately upon completion and others that provide transfer options leading to bachelor's degrees with more than 40 four-year colleges and universities. Overwhelmingly, MATC graduates build careers and businesses in southeastern Wisconsin. The college is accredited by the Higher Learning Commission.