MILWAUKEE – The Milwaukee Area Technical College (MATC) Foundation joined the PepsiCo Foundation Uplift Scholarship program to support Black and Hispanic/Latino/a students pursuing two-year degrees and professional certificate programs.
MATC is the only community/technical college in Wisconsin to be awarded the PepsiCo Foundation Uplift Scholarship. In addition to financial assistance, the program provides students with dedicated success coaches, access to emergency grants, and financial literacy courses. 
"The PepsiCo Foundation shares our belief that community and technical colleges excel at helping students quickly obtain careers that lead to family-supporting wages, and our commitment to increasing educational and career opportunities for Black and Hispanic students," said MATC President Vicki J. Martin, Ph.D. "These funds help eliminate a financial barrier and enable students to enroll and remain in MATC where they can receive the education, training and skills needed to take advantage of shortages in high-paying, skilled jobs."
The scholarship program is designed with a holistic approach to promote access to education advancement by addressing the obstacles – retention, completion and workforce readiness – that disproportionately impact Black and Hispanic/Latino/a students' educational and professional journeys. 
"Higher education is the single most important tool we have for addressing economic and opportunity inequality. But just entering college is not enough," said C.D. Glin, global head of philanthropy, PepsiCo & vice president, PepsiCo Foundation. "Through the Uplift scholarship, the PepsiCo Foundation and Milwaukee Area Technical College are working to ensure Black and Hispanic students not only have a chance to get into college but have access to critical resources to secure their diplomas and embark on meaningful careers."
The Uplift Scholarship program is part of the PepsiCo Foundation's $40 million investment  to address historical barriers that make it challenging for minority students to enroll, persist and graduate from college — barriers that have widened during the pandemic. The Foundation's Uplift Scholarship program is currently offered at 20 community colleges across the country with the goal of providing 4,000 scholarships over five years.
The PepsiCo Foundation's Community College Program is a cornerstone effort of PepsiCo's more than $570 million Racial Equality Journey, a comprehensive initiative to support Black and Hispanic communities, people and businesses.
Here are stories of several students who have received PepsiCo Uplift Scholarships this fall: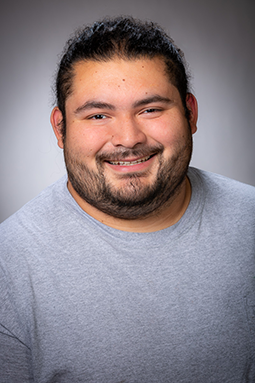 Taking full advantage of his second chance 
Rogelio Balderas readily admits he wasn't fully ready for college when he enrolled in Milwaukee Area Technical College five years ago.
"I was 18. I was trying to work at the same time, plus going through some things, and I found out I really wasn't in a good place," Balderas said. "So I left."
Today, Balderas is back at MATC, and in a much better spot.
He's close to earning a Business Management associate degree, plans to study business at either the University of Wisconsin-Madison or the University of Wisconsin-Milwaukee, and aspires to get a job in personal finance.
His path to success became a little easier this month when he was one of 40 MATC students to receive a PepsiCo Uplift Scholarship for Black and Hispanic/Latino/a students. The $2,000 award will cover about two-thirds of his tuition for this Fall semester, allowing him to concentrate on his classes and not fret about his finances.
"Knowing that I don't have to borrow a lot of money for classes is such a relief," said Balderas, who grew up on Milwaukee's south side. "My biggest fear about coming back to college was incurring a lot of debt. But MATC is so affordable. And this help from PepsiCo gives me a lot of breathing room."Growing up, Balderas' family wasn't rich. His stepfather was an ironworker; his mother, an office manager. He needed to do his part to help support the family.
"I came from a hard-working household and I was expected to work," he said. "I have been working some kind of job since I was 15 and a half. In high school I was working almost 30 hours a week. I also knew I wasn't going to get much financial help if I wanted to go to college, so I needed to work to earn money for school."
Balderas graduated from Milwaukee Public Schools' Ronald Reagan High School in 2017 and went to MATC immediately. He planned to major in civil engineering and music occupations, hoping to hit it big in the music business.
He attended classes while working, but struggled with anxiety, depression and ADHD. He had a 2.2 grade-point average (GPA) when he left MATC. "At 18 I really didn't know a lot, but you have to find a way to figure things out," Balderas said. "For me, going back to school was the way to better myself."

He returned to MATC in August 2021 through the college's ReStart program, which provides financial assistance to eligible returning students to pay off past-due balances owed for tuition, books and fees.
This time, Balderas found his focus. He developed better ways to balance work and school, disciplined himself to complete class assignments and improved his test preparations. He made the President's List for achieving a 4.0 GPA during the Fall 2021 semester.
He also recently secured a job as a facilities manager at the Milwaukee office of CBRE, a global company specializing in commercial real estate and investment services.
"I'm in a way better spot today," Balderas said.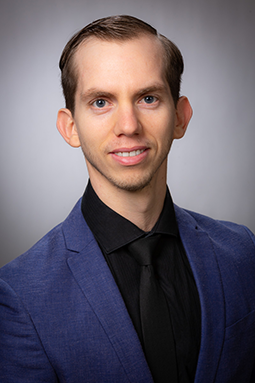 Gliding gracefully onto new career path
Eventually, inevitably, and perhaps a little sadly, the dancing has to stop.
Born and raised in Havana, Cuba, Javier Graupera Miranda started training with the Cuban National Ballet School when he was nine years old, and began as a full-time member of the company at 17.
He spent the next eight years mostly on his toes, performing at Havana's palatial Gran Teatro de La Habana theater and other venues across the globe. In September 2014, after a series of shows in Mexico, Miranda, then 23, bolted from the troupe and defected to Florida.
He spent a year in Florida and another year in South Carolina before moving to Milwaukee, where he knew several people. He worked as a contract dancer, appearing in "The Nutcracker" and other ballets. He then switched to ballroom dancing, giving lessons and performing sporadically.
When the COVID-19 pandemic shut down live performances and classes, Miranda, then 31, decided to start a new career in information technology. He enrolled in Milwaukee Area Technical College's IT Network Specialist program in September 2020. 
"Dancing doesn't go on forever. The body changes, you get older," said Miranda, now 33. "I always knew I wanted to do something with IT. I love technology and I really like knowing everything that it can do."
He made the MATC President's Honor Roll List in September 2021 and February 2022. In March, he took a part-time job as a computer production technician at a Waukesha firm that builds specialized computer systems for the healthcare, life sciences and industrial automation industries.
This fall, thanks to a PepsiCo Uplift Scholarship he received, Miranda can attend classes and continue to work part time.
"This scholarship is really helping me finish," he said. "I can keep my job, which is important because I am getting hands-on experience with the machines and systems I will work with."
Miranda expects to graduate from MATC in May 2023 and wants to find a job in cybersecurity. He praised the support he has received from his instructors and the resources the college has offered to him as a foreign-born student.
"Many people have been helping me out a lot," he said.  
And although he's not performing anymore, Miranda still does his dance exercises almost every day, and still finds the time to cut loose at local clubs. "I still have to dance," he said. "It's in my blood. It's still a part of my life."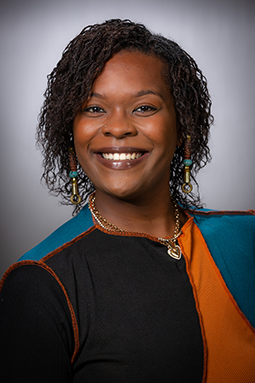 Hearing loss hasn't - and won't - stop her 
For the first seven years of her life, Audrey Strothers hardly uttered an understandable word.
Today, nothing stops her from speaking her mind.
"In high school, everyone told me I should be on the debate team because I always had something to say," said Strothers, who is totally deaf in her left ear and has about 10 percent hearing capacity in her right ear. Communication is key, Without it, you have nothing. It's like a banana split. Without a dish to hold everything, you just have a pile of ice cream, bananas, whipped cream and cherries."
Strothers hasn't allowed being deaf — the word she prefers over hearing impaired — to slow her down. She graduated from Milwaukee Public Schools' Rufus King High School and is studying business management at Milwaukee Area Technical College.
She plans to go into the cosmetics industry, developing her own line of eyeliners, eyeshadows and lip glosses. She also wants to open a school to help students with hearing impairments adjust to the world.
Now 28 and a single mother to a four-year-old daughter, Strothers got some help of her own this month when she was named one of 40 MATC students to receive a PepsiCo Uplift Scholarship for Black and Hispanic/Latino/a students. The $2,000 award will cover about two-thirds of her tuition for this Fall semester, allowing her to concentrate on coursework.
"I had never won anything in my whole life," Strothers said. "This will let me keep going and keep going to finish school. There have been days when I wonder what the point of school is, but now I see the point. I'm on the right path now. I can't disappoint anyone."
Growing up, Strothers' parents and teachers were unsure why she seemed bored and inattentive in class. Extensive testing determined she was deaf. She received a hearing aid, which provided immediate help.
"I remember when my mom realized that I could hear the ambulance outside," she said. "Now I'm used to wearing it, and I like to think of it as the same as other people wearing contacts or glasses."
In school, she participated in mainstream classes, learned to read lips and became proficient in American Sign Language. Some students thought she was from a foreign country because of her speech patterns — what she called her "deaf accent."
At MATC, she takes all her courses online and made the Fall 2021 Dean's List. Staff and faculty have been very supportive and responsive to assist when needed, Strothers said. She sometimes needs a person to take notes for her in class, and sometimes needs more time to complete tests. 
"I ask for help if I need it," Strothers said. "Sometimes deaf people won't speak up or talk because they are afraid of what people might think. But I tend to just say it and answer any questions if I can. We're human like everyone else and if we want things to be better, people need to communicate."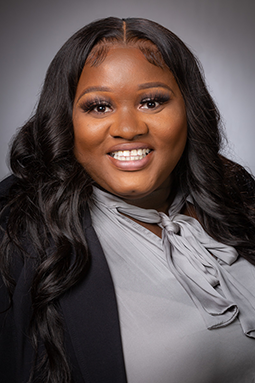 Set to smell and taste future success
It was in the kitchen of all places, amidst the measuring cups, the baking tins and the rolling pins, that Laura Triblett found her passion and her purpose.
For years, the Milwaukee native planned to be a nurse. She attended Milwaukee Area Technical College after graduating from Milwaukee Public Schools' Transition High School in 2013 and became a certified nursing assistant. While working at a senior living community, she often was stationed in the kitchen, where she prepped, cooked and baked. 
That's when the oven light went on.
"Something just clicked. Everyone was telling me I should cook for a living, but I never dreamed I could do it as a professional," she said. "By then I was kind of tired of the routine I was in, so I decided to go to school full time until I was done."
She returned to MATC and earned a Baking and Pastry Arts associate degree in May 2021. Intent on going into business for herself some day to sell her mouth-watering caramel cakes, cheesecakes and Danish pastries, Triblett plans to graduate from MATC's Business Management associate degree program this December.
"I have always wanted to open my own restaurant, do my own thing," she said. "I want to learn everything I can about how I can do that."
Realizing her delicious dreams became a little easier this month when Triblett was one of 40 MATC students to receive a PepsiCo Uplift Scholarship for Black and Hispanic/Latino/a students. The $2,000 award will cover about two-thirds of her tuition for the Fall semester.
For Triblett, a single mother with a baby girl, the Uplift Scholarship arrived at a perfect time. Her car was stolen in Milwaukee this summer, and money from the Uplift emergency fund helped her make a down payment for a new one.
"Having to pay for a car and classes would have really messed me up," she said. "But thanks to Uplift, I was able to keep my life together instead of having everything going down in a spiral like it did in the past."
Triblett endured a challenging upbringing and struggled to finish high school. When she first attended MATC, she didn't have the support systems needed to make it work. "But I have never allowed my life circumstances to deter me or define who I am or what I want to be," Triblett added.
After completing her business management degree at MATC, Triblett plans to study business at the University of Wisconsin-Platteville's Baraboo Sauk County campus.
"Ten years ago I had no idea what I wanted to do. Since then, I have found my passion and many people helped me do that," she said. "When I went back to MATC, they were there to help. Uplift also has made it clear that they were here to help. They never left me hanging. They really want you to succeed."
After leaving Africa, ready to find success in America 
The first winter of her life held little wonder for Rahma Mohamed.
Icy temperatures and falling snowflakes reminded her only how far away she was from the African nations of Somalia, the land of her birth, and Uganda, where she lived for seven years.
"I saw snow for the first time and knew that this was a brand-new life," said Mohamed, who came to the United States in 2015 when she was 12 years old. "I felt lonely. I remember crying a lot. I missed my friends, my old teachers. I felt like an outsider."
Seven years later, she's a high school graduate, works two jobs, studies business management at Milwaukee Area Technical College and plans to get a degree in management information systems at the University of Wisconsin-Milwaukee.
Mohamed's path from fleeing war-torn African countries to experiencing success in the United States got a bit easier this month when she was one of 40 MATC students to receive a PepsiCo Uplift Scholarship for Black and Hispanic/Latino/a students. The $2,000 award will cover about two-thirds of her tuition for this Fall semester, allowing her to concentrate on coursework.
"The PepsiCo scholarship is coming in very, very handy," she said. "If I had not gotten the scholarship, I would have not been able to go to school this fall."
Mohamed moved to Uganda at a young age. "There was war in Somalia," she said. "My family moved to stay away from it. Uganda was safer."
Her parents owned and operated a restaurant in the village where they lived. But America promised better schools, better jobs, better lives, Mohamed said. After a brief stay in a refugee camp in Uganda, she came to the U.S. along with her mother, father, older brother and younger sister.
The family settled in Milwaukee, where they knew people. Mohamed started seventh grade, her father got a job in a factory and her mother worked for a cleaning company. "My parents are hard-working people who never give up," she said. "They kept looking and looking until they found work."
She graduated from Milwaukee Public Schools' South Division High School in 2020 in the middle of the COVID-19 pandemic. "I graduated on YouTube," she said with a laugh.
After high school she wanted to attend the University of Wisconsin-Whitewater, but the cost was too high. She enrolled at MATC and planned to become a physical therapist. But her first anatomy class proved difficult and she switched to business. 
"I always wanted to work in a business field," she said. "In an office, where I can work with people."
Most of her MATC classes are online. She works on the weekends at the Amazon distribution center in Oak Creek, and helps her brother operate a dispatch and delivery service. She also became a United States citizen in November 2021.
Although she speaks English, Somali and Swahili, Mohamed is working to overcome an innate shyness. People frequently ask her about the striking, colorful burqa she wears as a faithful Muslim, and the beaded bracelets she sports on either wrist — one represents Somalia, the other, Uganda. 
"I usually don't really talk to people, but I know I will need to have good communications skills in business," she said. "I hope to get better at that. I'm working very hard at it."
ABOUT MATC: Wisconsin's largest technical college and one of the most diverse two-year institutions in the Midwest, Milwaukee Area Technical College is a key driver of southeastern Wisconsin's economy and has provided innovative education in the region since 1912. More than 25,000 students per year attend the college's four campuses and community-based sites or learn online. MATC offers affordable and accessible education and training opportunities that empower and transform lives in the community. The college offers more than 170 academic programs — many that prepare students for jobs immediately upon completion and others that provide transfer options leading to bachelor's degrees with more than 40 four-year colleges and universities. Overwhelmingly, MATC graduates build careers and businesses in southeastern Wisconsin. The college is accredited by the Higher Learning Commission.