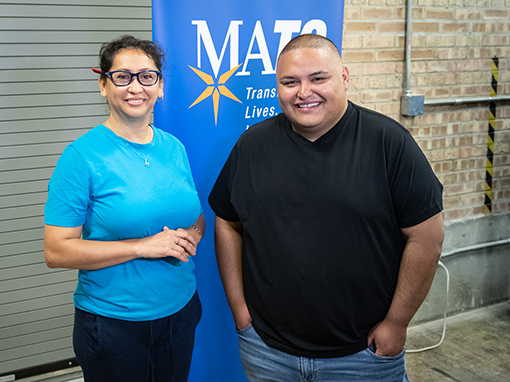 MILWAUKEE – Marta Prado grew up in the Mexican state of Jalisco, a bustling hub of national culture and commerce on the country's western coast. But she and her family knew a true land of opportunity was 30 hours north.
"America was a place where anything could happen," Prado said.
A place where she – even as an undocumented immigrant ineligible for financial aid to pay for school – could attend Milwaukee Area Technical College.
Thanks to MATC's Deferred Action for Childhood Arrivals (DACA) scholarship program, Prado is taking early childhood education classes and someday hopes to work for the Milwaukee Public Schools district.
"Having this program has helped me out very much," said Prado, who is raising four children with her husband along with going to school. "MATC has been very supportive of me and others. I'm so grateful that I got this kind of help."
And now MATC can help even more undocumented students gain access to family-sustaining careers. On July 12, the MATC Foundation received a $112,000 donation from Van Horn Latino, a Milwaukee automotive dealership, and El Rey, a family-owned and operated grocer, to increase the college's DACA Plus Scholarship fund.
DACA is a U.S. immigration policy that allows eligible immigrants into the country for a period without fear of deportation. But those non-U.S. citizens are not eligible to receive financial aid.
MATC's DACA Plus scholarship program offers $500 per semester for eligible students taking six to eight credits, $750 for nine to 11 credits and $1,000 for 12 or more credits. 
During the 2021-22 academic year, MATC awarded DACA Plus scholarships to 29 students, according to Sara von Hemert-Dachelet, MATC's coordinator of scholarship and foundation operations. Those students averaged a 3.24 grade point average and 12 graduated, she added.
For the 2022-23 academic year, scholarships are available on a first-come, first-served basis. To be considered for the Fall 2022 semester, interested students must complete a scholarship application and register for classes no later than July 30, 2022. More information can be found at matc.edu/daca. 
Antonio Diaz, an MATC District Board director and the general manager of Van Horn Latino, noted that the program is what America is all about: opportunities. "These opportunities are helping transform students' lives," Diaz said.
In 2021, Felipe Beltran received a DACA Plus scholarship while completing his business management associate degree at MATC. He is now studying business at Concordia University Wisconsin in Mequon and plans to earn a bachelor's degree. 
"I would recommend this program to anyone," said Beltran, who came to the United States from Leon, Mexico, when he was 11. "This helps you do something worthwhile." 
Read the stories of MATC DACA scholarship recipients
"This is a program where immigrants are working hard to achieve the American dream," said Julie Ebert, president of the MATC Foundation Board.
MATC President Vicki J. Martin, Ph.D., said the DACA Plus scholarship program not only strengthens diversity and inclusivity at the college, but also helps close the employment gap that exists for the Hispanic/Latino/Latina population — the fastest-growing segment in the Milwaukee region. 
"People who identify as Hispanic/Latino/Latina are underrepresented in higher-paying careers," Dr. Martin said. "MATC has the power to change that. Education unlocks access to those higher-paying careers. Our goal is to close the equity gap and provide opportunities where we see need in the Hispanic community."
Wisconsin's largest technical college and one of the most diverse two-year institutions in the Midwest, Milwaukee Area Technical College is a key driver of southeastern Wisconsin's economy and has provided innovative education in the region since 1912. More than 25,000 students per year attend the college's four campuses and community-based sites or learn online. MATC offers affordable and accessible education and training opportunities that empower and transform lives in the community. The college offers more than 170 academic programs; and transfer options leading to bachelor's degrees with more than 40 four-year colleges and universities. Overwhelmingly, MATC graduates build careers and businesses in southeastern Wisconsin. The college is accredited by the Higher Learning Commission.