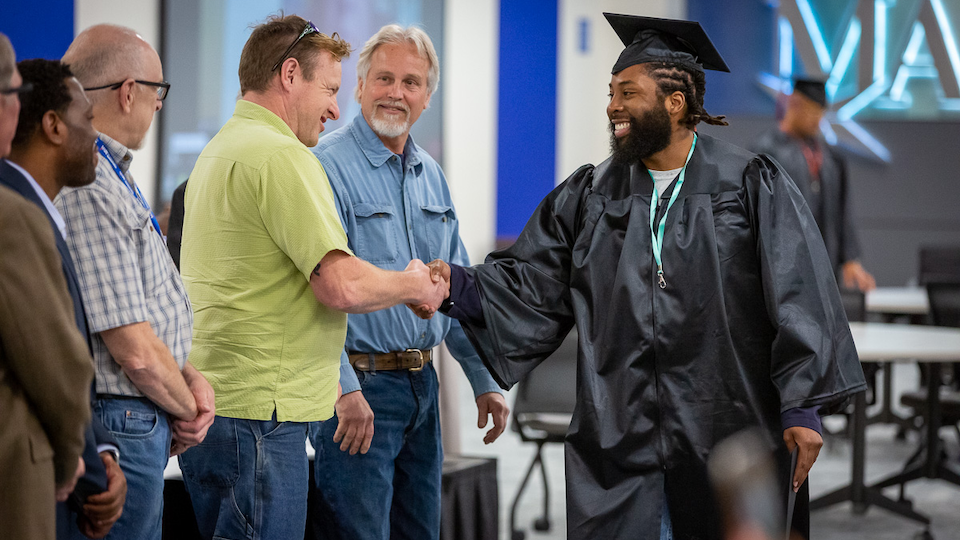 MILWAUKEE – Deandre Davis doesn't believe in luck. Never has, never will.
Bad luck didn't land him in the Wisconsin prison system. Possessing and trying to distribute marijuana did that. Good luck didn't earn him a welding certificate from Milwaukee Area Technical College. That coveted piece of educational success came with hard work, determination and desire, Davis said. 
"The advantages don't go to the unprepared," said Davis, 36. "When preparation and opportunity meet, success is near. So always be ready. You never know when a door may open, expecting you to walk in and show up ready."
Davis was one of eight men in the custody of the Wisconsin Department of Corrections who earned certificates in welding fundamentals through MATC's Second Chance Pell program, which provides federal aid to people in state and federal prisons so they can receive postsecondary education while incarcerated. MATC was the first Wisconsin college to participate in the Second Chance program.
The eight men participated in a graduation ceremony at MATC on May 26 and Davis served as the student speaker.
[See ceremony at https://cbs58.com/news/8-inmates-graduate-from-matc-while-in-custody-as-part-of-second-chance-program]
"Gentlemen, we've made it," Davis told a crowd that included graduates' family and friends, MATC administrators and corrections officials. "We prepared for this moment. We have earned this moment. No one will ever be able to take this away from us."
The inmates completed 17 credits in one semester, attending classes from 4 p.m. to 10 p.m. every weekday and from 9 a.m. to 1 p.m. on Saturdays, said Dwayne Windham, MATC's manager of Correctional Education.
"For some of these men, these were their very first college courses," Windham said. "But the fear of the unknown did not deter them. They put in the work."
The participants learned valuable welding skills that they can put to use immediately, said Kevin Carr, secretary of the Wisconsin Department of Corrections, who addressed the graduates via computer. 
"The labor market needs skilled workers right now," Carr said. "You have opened the door to some really great opportunities."
See TV coverage of graduation ceremony
Numerous objects that the participants created during their classes were displayed at the graduation ceremony. Davis had welded two long-stemmed roses – painted red and green – along with several ants assembled from nuts and other metal parts.
"Along with your technical skills, you've shown us your artistic side as well," noted Becky Alsup, dean of MATC's Manufacturing, Construction and Transportation Academic & Career Pathway.
A 2018 RAND Corporation study showed that inmates who participate in educational programs while in prison have a 48% lower chance of ending up back in prison within three years than those who don't.
"MATC's Second Chance Pell has been a huge success and the students in it are very motivated academically," said Dr. Sadique Isahaku, dean of MATC's General Education Academic & Career Pathway. "By participating in the Second Chance program, these inmates cut the chances of returning to prison in half." 
The men in the Fall semester compiled a 3.7 grade-point average and the Spring semester participants amassed a 3.8 GPA. Davis completed his coursework this spring. The men he went to class with formed a bond and vowed to make their lives better, he said. Davis isn't scheduled to be released until August 2023, but a DOC work-release program would allow him to work as a welder during the next year.
"There is still work to be done," Davis said. "With dedication, determination and discipline, anything is possible."
For more information on MATC's correctional education, go to https://www.matc.edu/academics/community-education/second-chance-pell.html
Wisconsin's largest technical college and one of the most diverse two-year institutions in the Midwest, Milwaukee Area Technical College is a key driver of southeastern Wisconsin's economy and has provided innovative education in the region since 1912. More than 25,000 students per year attend the college's four campuses and community-based sites or learn online. MATC offers affordable and accessible education and training opportunities that empower and transform lives in the community. The college offers more than 170 academic programs; and transfer options leading to bachelor's degrees with more than 40 four-year colleges and universities. Overwhelmingly, MATC graduates build careers and businesses in southeastern Wisconsin. The college is accredited by the Higher Learning Commission.