Mike Williams' educational path at Milwaukee Area Technical College has been anything but typical. When most of his peers were attending high school, Williams was enrolled in MATC's computer electronics associate degree program at the age of 15. Fast forward 16 years: Williams trained in machining labs at the Downtown Milwaukee Campus in the middle of the night, taking computer numerical control (CNC) classes as part of a unique program.
Williams moved from California to Milwaukee at age 14. Local high school officials soon determined he was performing at a 12th grade level, so they recommended he attend college the next year. Intrigued by technical and computer-related work, he enrolled in MATC's computer electronics associate degree program. He graduated with the degree in 2002.
He then worked at a variety of jobs and enrolled in MATC's appliance service technical diploma program. Always eager to learn, he continued on to take numerous MATC automotive classes while working at an automotive shop.
Feeling strapped for money about the time his son was born, Williams made a bad decision and began selling marijuana. He spent several years in prison and later faced additional time for probation violations.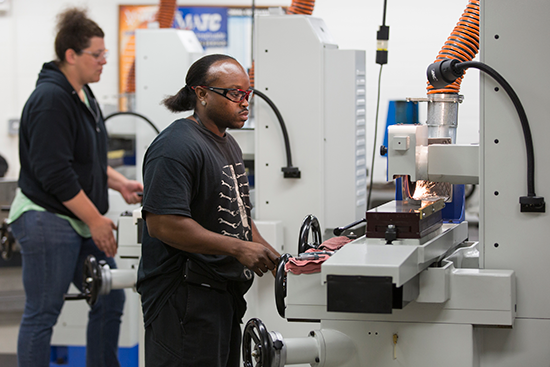 CNC Re-Entry Program Opens Doors
In late 2014, Williams was part of a prison work release program, working full-time in a machine shop during the day. It was then he learned about a unique re-entry pilot program being offered at MATC.
The program provided CNC machine training to incarcerated individuals or those on probation/parole. The program was designed to reduce recidivism and ease re-entry into society by providing men and women with skills that would help them secure jobs earning family-supporting wages.
The program was funded by a $723,000 State of Wisconsin Department of Workforce Development grant (part of the Fast Forward grant program) and supplemented by $23,000 from the Wisconsin Department of Corrections' Division of Adult Institutions.
Intrigued by the program, Williams applied and was accepted into the first class that began in January 2015. He was one of 14 students transported from two local pre-release centers to take CNC courses overnight at the Downtown Milwaukee Campus. Williams worked at his machining job from 7 a.m. to 3:30 p.m., returned to the pre-release center for a short time each afternoon and then attended the CNC classes from 10 p.m. to 6 a.m. each week day.
"There really was almost no time to sleep," he said. "But I made it work. It takes hard work when you're trying to get somewhere in life. You've got to be dedicated."
Fifty-six students earned CNC certificates through five cohorts of the re-entry program in 2015 and 2016. The credits earned can be applied to MATC's CNC technician diploma program.
The re-entry program and my MATC education have helped me out a lot. Without them, I wouldn't be making the money I am. People gave me good advice. The teachers recognized my ability. More doors have opened up for me. It's been really good for me, and I am very grateful.
MATC Education Helped Williams Reach His Goals
Williams graduated from the MATC re-entry program about the same time as he finished serving time at the pre-release center. After his release, he returned to MATC to finish his CNC technician diploma. He is expected to graduate in December 2016. "If I hadn't taken this course and followed up to get my CNC diploma, I don't think I'd be where I am today," he said.
Since January 2016, he also has been working full-time as a machine operator at Snap-on Tools in Milwaukee and helping to raise his son. He was hired based on the recommendation of MATC machining instructor Terry Wezyk, one of the instructors in the re-entry program.
Wezyk said, "What Mike has done with his life has been amazing. He got in trouble, but he has turned his life around and wants to share his story so that others know they can do so, too. He is an excellent communicator and trouble shooter and is very reliable. If I owned a shop and was looking for a good supervisor, he would be at the top of my list. He's well-rounded, has a strong knowledge base and a great work ethic."
Williams' job includes diagnosing and fixing issues with Swiss-type machines, which are programmed to cut and finish various parts, but need occasional adjustment or repair. Williams and another operator oversee five cells, which are groupings of machines that run simultaneously in close proximity to each other.
Helping Train Co-Workers
Williams said, "My job includes helping train new guys on how to think about the way machines are making the parts, so they can see anything that might be wrong and determine how to fix them."
Snap-on Tools runs three shifts, Williams said. During the day, engineers are available to trouble shoot the machines, but if something goes wrong during second or third shift, machine operators need to make adjustments to keep operations flowing and save the company from losing time and money.

Williams believes there will continue to be a strong demand for people with skills similar to his. With retirements alone, there will continue to be a need for quality machinists.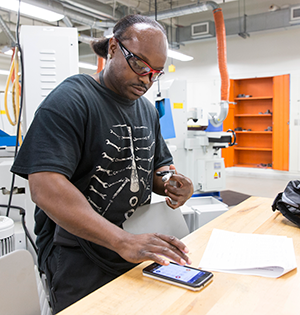 Getting Diploma is Key to Success
Williams said he might continue his training to become a tool and die maker or a programmer down the line, but now he is focused on earning his CNC technician diploma. "If you have the skills and this diploma, you can get a good-paying job with an established company. Having the diploma is very important."
He also is close to meeting another of his goals. He is participating in a program called Strong Blocks Milwaukee, which helps individuals rent-to-own their own homes. The organization rehabs homes and provides financial coaching for buyers. Williams expects to buy the duplex he lives in within the next year with help from Strong Blocks Milwaukee.
He credits much of his success to MATC. "The re-entry program and my MATC education have helped me out a lot," he said. "Without them, I wouldn't be making the money I am. People gave me good advice. The teachers recognized my ability. More doors have opened up for me. It's been really good for me, and I am very grateful."
For more information on MATC's CNC technician technical diploma program, visit: http://www.matc.edu/tas/diplomas/cnc-machine-operator-programmer.cfm