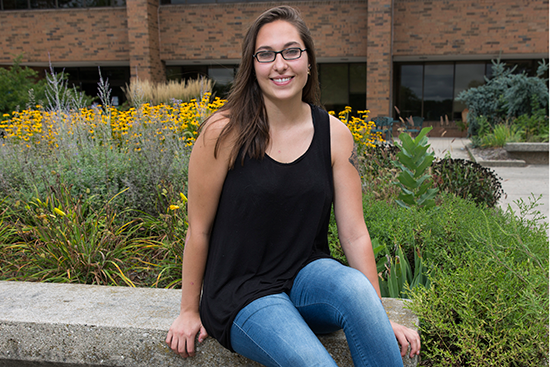 Maya Hess has been working 65-70 hours a week since her early graduation from Port Washington High School in January, striving to earn money for college, a car and other necessities. She knew she wanted to study at Milwaukee Area Technical College, but thought she might only be able to afford to attend college on a part-time basis. When she, her mother and her high school counselor learned about the new MATC Promise program, they all quickly agreed she should apply.
The MATC Promise offers financial assistance for four consecutive semesters to on-time graduates from the MATC district who meet specific eligibility criteria, including grade point average, attendance, ACT scores and financial need. The assistance covers the difference between government grants and tuition and fees, depending upon the expected family contribution as defined by the government.
While enrolled at MATC, Promise students must attend full time (12 or more credits), maintain a 2.0 grade point average and participate in service learning projects and academic success and career planning workshops. Each Promise student also is assigned an MATC instructor or staff member who serves as a volunteer mentor.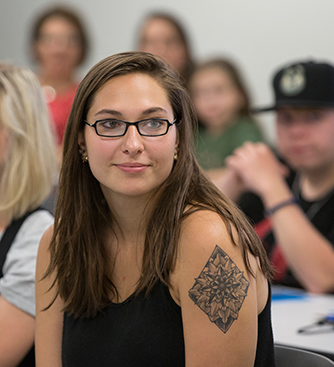 Got Part-Time Job to Combat Tight Finances
Hess was excited to qualify as a Promise student. One of four children raised by a single mother, she said, "I grew up poor. I got a job as soon as I was old enough so I could afford to buy the things I want and need. The Promise means I don't have to worry about not having enough money to go to college full time."
At 15, Hess obtained a work permit through her high school so she could begin working as a line cook at the Fire House Restaurant in Saukville. When she graduated a semester early from high school, she added a second job as a line cook at Dockside Deli in Port Washington.
Thanks to financial aid, Hess was able to quit her job at Dockside Deli as she entered college. She is now a full-time MATC student enrolled in the criminal justice studies associate degree program, attending courses at both the Oak Creek and Mequon campuses. She plans to continue working at the Fire House Restaurant for 25-30 hours a week.
Drawn to MATC by Affordability, Location and Small Class Sizes
Hess said she was drawn to MATC because of its affordability, location and small class sizes. "I wanted to go to college where I could have one-on-one connections with the instructors," she said.
She also was familiar with the college because her mother, Brenda Hess, graduated from MATC's dietetic technician program in 2011. She said her mother loved attending MATC.
Knowing that the MATC Promise is there eases my worries about money. I don't know if I could have afforded to attend college full time without the Promise. It's helping me get an education and a career.
Hess has been interested in a career in law enforcement since she was a sophomore in high school. When a high school teacher helped arrange a ride along with a Port Washington police officer, she was convinced she wanted to study criminal justice. "I love the idea of helping others in that way," she said. "I would like to be a police officer in a small town."
David Kitzerow, Hess' counselor at Port Washington High School, said, "Maya has worked very hard. She graduated early to earn money to go to college. I think she'll be very successful."
Kitzerow said that he and Port Washington High School principal Eric Burke attended the "roll out" of MATC's Promise program. "Before we went to the roll out, we didn't know much about programs like this one," Kitzerow said. "There were a lot of people at MATC that reached out to help us to learn about the Promise, and they helped the parents fill out the FAFSA (Free Application for Federal Student Aid) forms," he said.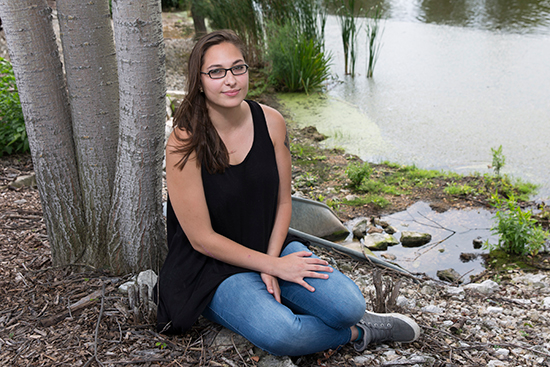 Promise Offers Opportunity to Many
He is excited about the doors the MATC Promise will open. "The Promise is an opportunity for students who many not even be thinking about attending college," Kitzerow said. "Some of them are the first generation in their family to go to college. Some might assume they couldn't afford it. But if they're given this opportunity, they could do well with it."
For Hess, the MATC Promise took a weight off her shoulders. "Knowing that the MATC Promise is there eases my worries about money," she said. "I don't know if I could have afforded to attend college full time without the Promise. It's helping me get an education and a career."
For more information about the MATC Promise, visit: http://www.matc.edu/promise/index.cfm
To learn more about MATC's criminal justice studies associate degree program, visit: http://www.matc.edu/tas/degrees/criminal-justice-studies.cfm