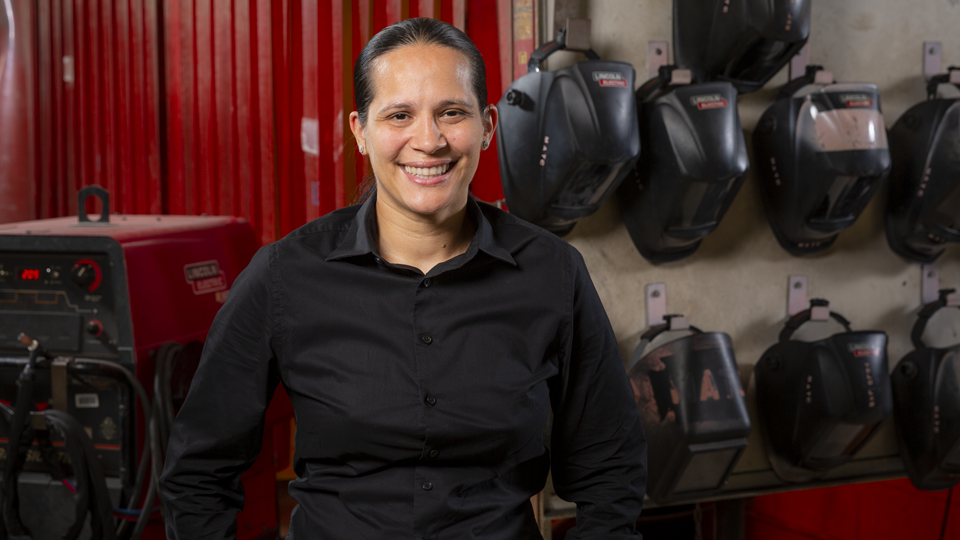 Karen Feliciano says people are often surprised to learn she is a welder because "I don't look like a typical welder to them. It's very much a male-dominated field."
Yet the MATC welding instructor sees herself in her students every day.
"My students inspire me," Feliciano said. "I see the challenges I faced when I moved to Wisconsin from Puerto Rico. I see how much I struggled when I was first starting out in this career. But I see myself in their successes, too."
When Feliciano moved to Milwaukee at age 15, she spoke little English. In high school, she had the support of English as a Second Language teachers. But once she started taking college coursework, she was on her own. She spent hours translating her homework into Spanish so she could understand the concepts, then translating it back to English to communicate her ideas to her instructors.
After working in the welding field for a few years, Feliciano turned to teaching. Her own experience as a student motivated her to develop a bilingual (English/ Spanish) welding program at Waukesha County Technical College, where she taught for six years before starting at MATC in 2021.
"Milwaukee's large Spanish-speaking population offered a great opportunity to grow the bilingual program," Feliciano said. "Some of my students just moved here. Others, their English is not strong enough for them to take English-only courses. I always share my story. I tell them, 'Everything I translate for you, I didn't have anyone to do that for me.'"
Milwaukee's large Spanish-speaking population offered a great opportunity to grow the bilingual program.
Teaching the skills employers seek
Feliciano continues to grow her own skills, too. To teach her students new techniques, she recently completed the intensive training for advanced heavyplate welding instructors offered by global manufacturer Komatsu.
"I push my students because I know this is hard," Feliciano said. "It's hard to come to a country where your language is not the language. They work full-time jobs before coming to class from 4:30 p.m. to 9:30 p.m. at night, every day, plus Saturday mornings. But after one year, they will be able to make good money."
The potential for a competitive salary drew Feliciano to the welding profession. She initially considered a degree in engineering but switched to welding once she learned she could complete the program in a year and enter the workforce.
"It depends on what type of welding you do, but the average welder makes around $20 an hour," Feliciano said. "There are so many companies desperate for good welders right now. It's a great time to get into the field."
Prior to teaching, Feliciano worked for a company that manufactured handrails. She also held a supervisory position overseeing the welding shop and a team of men.
"I worked very hard to prove myself and my work speaks for itself. I was blessed to have some good jobs and now I have the privilege of watching my students learn and improve their skills."
Though the bilingual program recently launched at MATC, Feliciano has big plans for adding more Spanish-speaking instructors and increasing enrollment.
"I'm excited to expand the bilingual program," she said. "It's going to grow fast."
Read about MATC's bilingual (English/Spanish) programs at bit.ly/3zDEQjs.