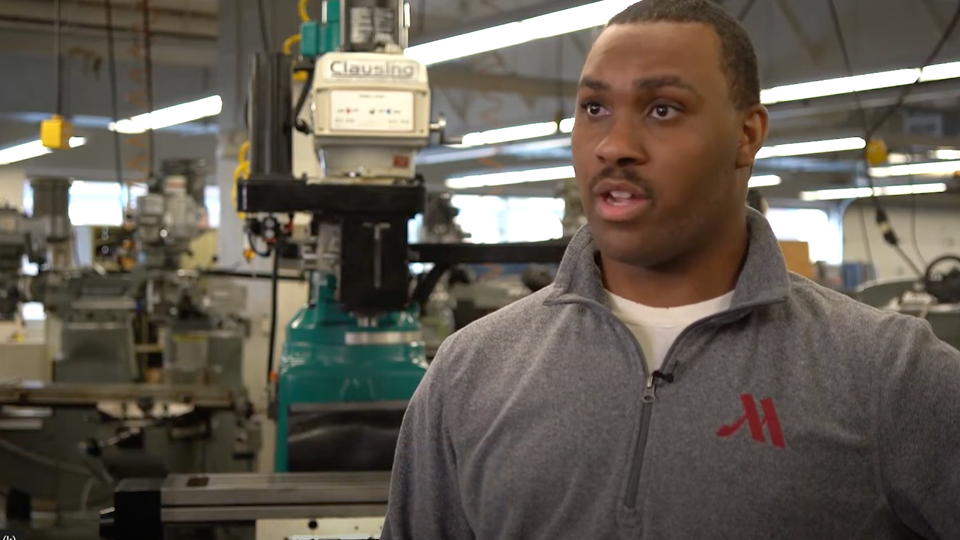 Jonathan Bell learned how to operate computer numerical control (CNC) machines in about four months at MATC.
He also got a big boost of confidence.
Bell was among the first group of graduates from the Uniquely Abled Academy (UAA) at MATC. UAA is designed to provide students with autism the hands-on training needed to prepare for a career as a CNC operator. Individuals who can participate in activities without the assistance of a caregiver (DSM-5 terminology: Level 1 Autism) are welcome to apply.
I definitely feel better about continuing my education.
The program also prepares them to take additional college courses in the future. "I definitely feel better about continuing my education," said Bell, noting he learned that several potential employers are located near his home.
For Ethan Tutaj-Blaz, the program offered him a place where his aptitude for mathematics was nurtured, his aversion to English and writing classes understood, and his autism accepted.
"I didn't feel like the typical college experience was for me," said TutajBlaz, who graduated from Marquette University High School in May 2021. "MATC and this program have allowed me to focus on the skills I will need to be successful," he added. "I get to use my hands, use my head and challenge myself."
Meeting needs of students and employers During the Fall 2021 semester, UAA students completed more than 500 hours of training to earn the CNC Setup and Operations certificate. "The most rewarding thing for me has been watching students get that 'aha' moment, when I can see they fully understand what I have taught them and the next day they do it on their own without supervision and without instruction," said Terry Wezyk, an MATC machine shop instructor. Many individuals with Autism Spectrum Disorder (ASD) are either unemployed or underemployed. The Uniquely Abled Project sets out to shift people's perspectives by placing individuals with perceived employment challenges in high-skill jobs, connecting the unique abilities of the neurodiverse community with careers that capitalize on their skill sets.
MATC's program is the result of a partnership with the Uniquely Abled Project, which is based in Los Angeles. "The program is another innovative approach where MATC is working to nurture the talents of individuals in our district while meeting employer demands in an industry that needs skilled workers," said Laura Bray, MATC vice president for college advancement and external communication. "This is a clear winwin for students and employers." 
Support the UAA program and see it in action at matc.edu/uaa.