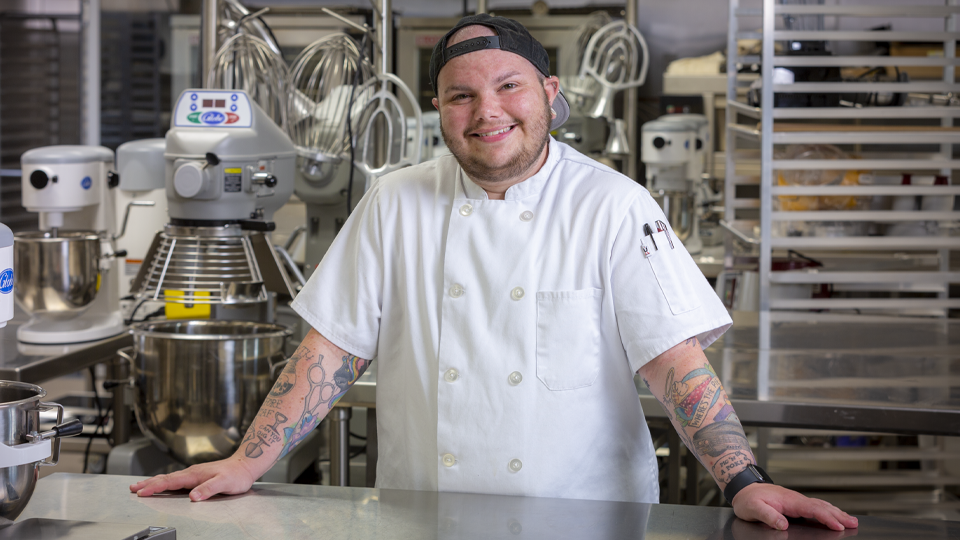 MATC PRESIDENT'S AWARD WINNER
Growing up, the kitchen was a magical spot for Cameron Settler.
At the knee of his maternal grandmother, Phoebe Sue Wechsler, Settler learned to cook a delicious array of Jewish specialties, and to bake muffins, scones, cakes and pies. The first thing they ever made together was carrot cake, using cinnamon applesauce instead of vegetable oil to make it extra moist.
"For both of them, the kitchen was a place of discovery, patience, education, accomplishment, joy, and above all, acceptance.
Back then, Settler was Carolyn Settler, the youngest daughter of a family living in Fox Point. Today, Settler is Cameron Settler, a transgender, gay man and an award-winning graduate of MATC's Baking and Pastry Arts associate degree program.
"There's a structure to baking that I love," said Settler, 29. "Everything is so exact — the ingredients, the instructions, the methods. I love the science of everything involved. You start with such basic and humble things and it turns into something really beautiful. Every recipe is an adventure, its own story."
Settler started at MATC in 2018 and navigated a series of medical issues — sprained ankle, strep throat, mononucleosis, pneumonia — before graduating in December 2021. He earned MATC's highest honor, the President's Award, for his academic achievement, development of highlevel skills, and participation in college activities and community organizations.
"When I was a kid, I had no one like myself to look up to as a role model or to even know that transgender people existed," Settler wrote in his essay for the President's Award. "In my heart, I know that I have an obligation to not only educate the people who don't know about trans issues, but to also be a mentor and advocate for those who aren't able to come out for safety reasons or those who don't even know who they are yet."
Transitioning Experience
Before attending MATC, Settler graduated from the Milwaukee Aveda Institute of Beauty & Wellness in 2014. "That's where I really learned I could experiment with who I was, with gender and with aesthetics," he said.
That Halloween, Settler dressed as a male character from the "Dr. Who" television series. "It felt so good looking like a man," he said. "That helped me see that I had other opportunities for my life."
He decided to begin his transition from Carolyn to Cameron and has never looked back. "I have faced more than my fair share of adversity, but I also have experienced some of the best moments of my life on this journey to becoming my authentic self," he said.
While passionate about becoming his authentic self, after almost four years in the cosmetology industry, Settler realized that it wasn't his true calling. He remembered the culinary connection he had with his grandmother and decided his future lay in the kitchen.
"I knew several people who spoke highly of both the baking and culinary programs at MATC," he said. "I toured the campus and knew immediately that MATC was the right fit for me." Settler didn't sugarcoat how tough baking classes could be — he and other students lifted heavy mixing bowls, transported weighty sacks of ingredients, scoured pots and pans and stood for hours.
"The whole program was a wonderful adventure into the industry," he said. "I learned so much about myself. All the hurdles made it even more worthwhile to me. I rarely say I'm proud of myself, but I am proud of myself."
I knew several people who spoke highly of both the baking and culinary programs at MATC. I toured the campus and knew immediately that MATC was the right fit for me.
His teachers were also impressed. "He was a good student, showing promptness, professionalism and a willingness to learn," said Andrew Schneider, one of Settler's baking and pastry arts instructors.
He also was active in several community groups, including the Hillel Milwaukee Young Adults and Young Jewish Professionals, and volunteered at the Human Rights Campaign Booth at PrideFest.
Honoring his grandmother Settler recently started his own pastry and baked goods company called PS, I Love You. The PS in the name honors the initials of his beloved grandmother, who suffered a stroke in 2017 and passed away in 2019.
Settler compiled his grandmother's and great-grandmother's original handwritten recipes, and continues to bake them. He makes Jewish baked goods with a modern twist, along with traditional American desserts and pastries. He also is a pastry cook at the new Milwaukee restaurant Lupi & Iris.
"I have made it my mission to continue her legacy of baking, especially all the Jewish delicacies she made," Settler said. "My grandma would be so proud that I can continue her legacy and the legacy of Jewish grandmothers all over."
Are you an MATC alum? Join the Alumni Network, matc.edu/alumni