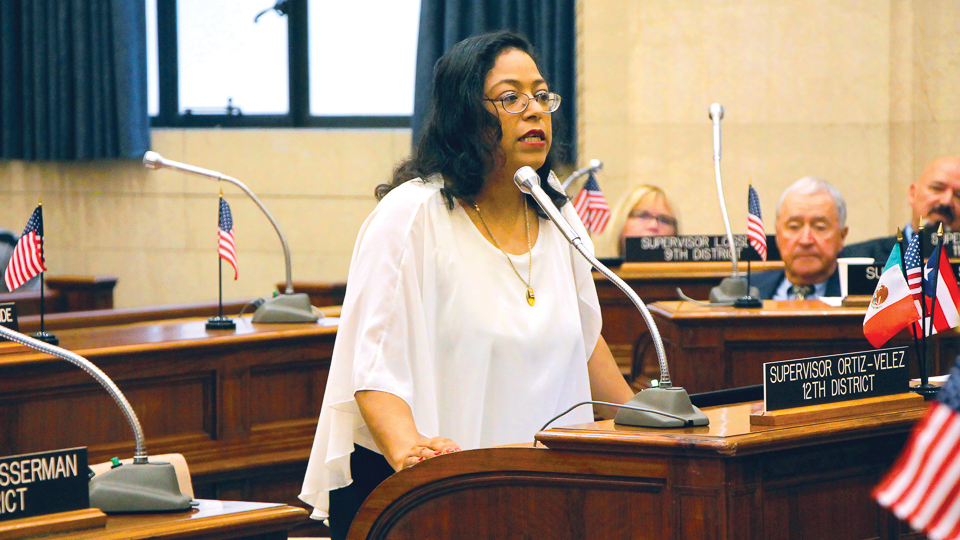 Politics — Elected Official Sylvia Ortiz-Velez Inspires Others to Achieve
South side pride. Sylvia Ortiz-Velez has it in spades. Born and raised in the district she now represents — 12th County Supervisory District, one of the most diverse in Milwaukee — Ortiz-Velez was elected on a platform to preserve the Mitchell Park Domes, protect and expand public transit, practice fiscal responsibility while prioritizing vital public services and taking care of Milwaukee County's most vulnerable citizens.
When I attended MATC, I never imagined myself serving the community in this capacity.
A lifelong south-side community resident and activist, her path to political office began at MATC. Her mother came to Wisconsin in the 1960s to pick strawberries in Sussex, and eventually had eight children. Ortiz-Velez attended Milwaukee Public Schools and she was not sure what she wanted to do or if she was ready for a four-year college when she enrolled at MATC.
"I wanted an environment where I could learn how to be a student and develop best practices," Ortiz-Velez said. "I also wanted to make sure that I could afford the tuition and transfer many of the classes toward a four-year degree."
She transferred the credits she earned at MATC toward a bachelor of arts in political science at the University of Wisconsin-Milwaukee. She says her experience at MATC prepared her for college life and the four-year college experience.
After years of working as a real estate broker and community activist, Ortiz-Velez ran for and won a seat on the Milwaukee County Board of Supervisors. In 2020, she was elected to the Wisconsin State Assembly.
To anyone who envisions achieving a similar goal, Ortiz-Velez suggests "taking courses in government, volunteering your time and finding an elected official to shadow and learn from."
And remember, anything is possible.
Community Service — From Firefighter to Flight for Lifer: Leif Erickson has Done it All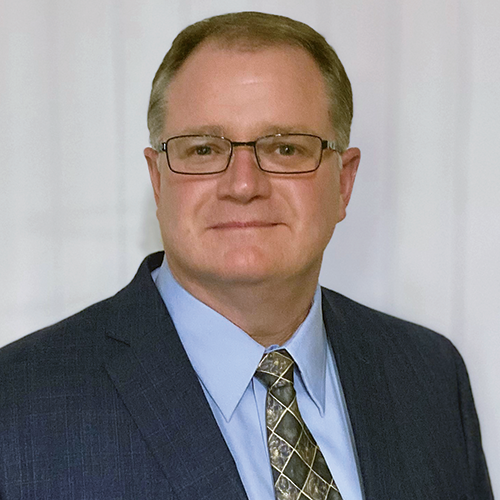 Growing up, Leif Erickson was actively involved in Erickson Ambulance, the Racine-based family business founded by his grandfather and carried on by his father. It is no surprise that Erickson wanted to be a firefighter. He decided to study at MATC because of the campus locations and program reputation, and he chose the fire science program due to the "background and experience of fire science instructors," he said.
But for Erickson, MATC was just the beginning of his education, and his career has evolved from firefighting to leading the team of pilots, mechanics, communication specialists, nurses, paramedics and administrative staff that is Flight for Life (FFL) in southeastern Wisconsin.
Flight for Life is a nonprofit established in 1984 to provide safe, high quality, customer-oriented and efficient medical transportation, with a commitment to education. FFL transports patients in the most critical emergencies — see flightforlifestories.org for inspiring life-saving success stories. FFL also provides special programs for the general public.
Not that Erickson imagined this when he started at MATC. "At that point in my career I was not a paramedic and was solely focused on firefighting," explained Erickson, who is now FFL's executive director.
...I want to be confident that I did the best I could using my education, skills and dedication while providing the best clinical care in every situation.
Like many MATC students, Erickson worked as he continued his education from associate degree to graduate school. And he learned a great deal at MATC: "Course content was in line with my occupation and knowledge gained immediately impacted my abilities as a firefighter."
He advises those with similar career goals — and work schedules — to "set goals and stay focused."
At the end of the day, "My goal is to always do the best I could," Erickson said. "No matter if the results are good or bad, I want to be confident that I did the best I could using my education, skills and dedication while providing the best clinical care in every situation."
Now that's heroic.
Transportation — If You're on the Highway, Jon Riemann's Talking to You
The sign above the expressway reads: Drowsy Drivers Are A Nightmare.
The person crafting those messages? Jon D. Riemann: MATC graduate, communication guy, wordsmith extraordinaire.
...with my MATC education, at 19 years old I was working as a broadcast engineer, and I graduated debt free.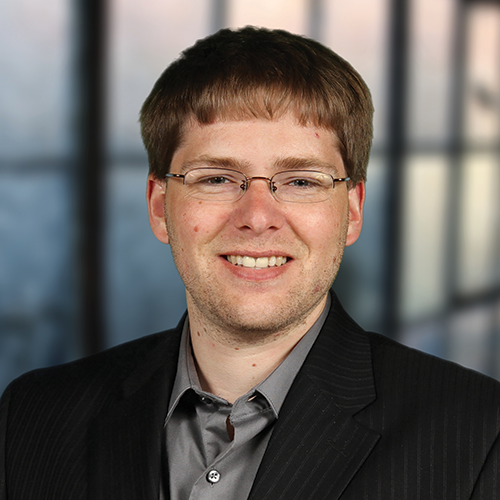 Q: You grew up in Sheboygan. What made you choose MATC over other schools?
A: All credit must go to my dad. We went on the college tour circuit and he made an 11th hour suggestion to visit MATC. The classroom was a TV studio. The instructors were professionals in the industry. The assignments in the second semester were working lighting, sound, camera and staging positions for actual TV programs airing on Milwaukee PBS. I was sold.
Q: Why did you choose the television engineering program at MATC?
A: From day one, MATC provided hands-on learning. That, along with the price of tuition, were the reasons I chose MATC. The decision paid off because nearly three months before graduating, with my MATC education, at 19 years old I was working as a broadcast engineer, and I graduated debt free.
Q: How did your MATC studies best prepare you for further studies and/or the workforce?
A: One word: skills! MATC brings out natural skills in people and enhances them with practice. You show me one applicant with a four-year degree and one with an associate degree from MATC coupled with two years of work, and I know which one I want. MATC also set me up to easily continue my education. I believe every credit was accepted for transfer to where I completed a bachelor's in two years.
Q: Did you ever imagine doing what you're doing now when you were a student?
A: No. I found the opportunity with the Department of Transportation at the Traffic Management Center. As communication manager, I promote the new 511 Wisconsin traveler information system; help to communicate to drivers during inclement weather and roadway incidents; and I am the program manager for the creative traffic safety messages on highway message boards. It's the smallest part of the job, but certainly the most fun.
Q: Was it your idea to do the safety messages?
A: It was not my idea to start the creative traffic safety messages, however I did expand on the idea. I'm honored that Governor Evers took notice and personally called to thank me for this important work.
Q: Where can someone send an idea for a message?
A: If someone has a suggestion, I recommend they use the "contact us" on the 511WI.gov website.
Art — A Portrait Of MATC Grads As Artists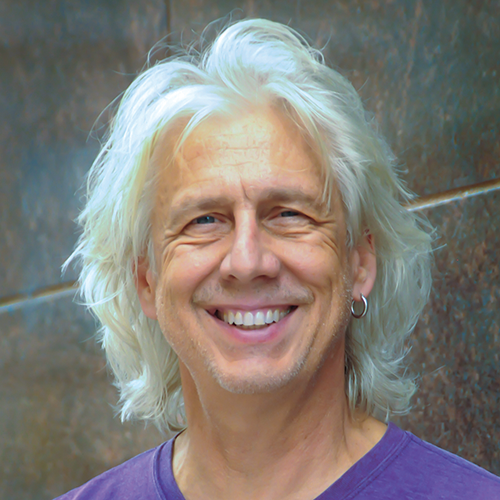 Thirteen Wisconsin artists created works that were installed this fall for permanent display throughout the Downtown Milwaukee Campus. The painters, printmakers and sculptors represent a variety of backgrounds and outlooks. We caught up with two who also happen to be MATC alumni.
Dennis Felber lives the artist's life. Associate degree from MATC in Visual Communications? Check. Additional classes at MATC in welding once he began working in sculpture? Check. Happily self-employed for 40+ years? Check.
"Surprisingly, I didn't think about what I would end up doing," Felber said. "But I did know what I enjoyed doing, which was photography and creating art and if I continued to find opportunities to keep doing that, and get paid, then I knew I was on the right path."
Felber spent years as a professional photographer before he began working in sculpture.
"I noticed a metal sculpture that I was just mesmerized by. I then decided to learn welding," Felber recalled. "Surprisingly it took off and most of what I made sold faster than I could make them. The idea of being able to come up with a concept in your mind and create it using the basic materials of steel and/or copper and stone is extremely satisfying."
Felber's steel and copper piece, "Three Rivers," is among the new installations.
His advice to students? "To have your own business, be aware that the creative side is about half of what you will be spending your time on. The other half is promotion, finances, client communication, organization and time utilization."
The education I received from MATC has helped me in my work today in the areas of metalworking and design.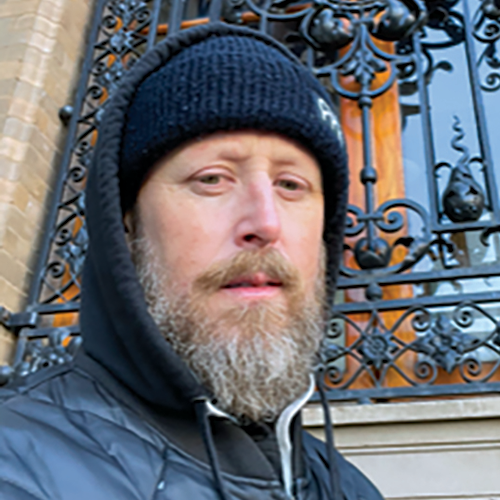 Eric Stenzel is also a sculpture artist. He grew up in West Allis, near the Allis Chalmers complex. Perhaps it is no surprise that he, too, ended up making art from metal.
"The education I received from MATC has helped me in my work today in the areas of metalworking and design," he said.
Stenzel enjoys studying Old World architecture and ornamentation crafted through traditional artisan methods. In the Cultural Village at German Fest 2019, Stenzel demonstrated traditional forging techniques.
His steel sculpture installation, "Realm Antenna," measures 6 feet, 6 inches from its base.
Like many students, he worked his way through school as well. "A good game plan and a supportive spouse were the key to making it all work for me."
Documentary — Kimberley Motley Gets Personal in 'When Claude got Shot'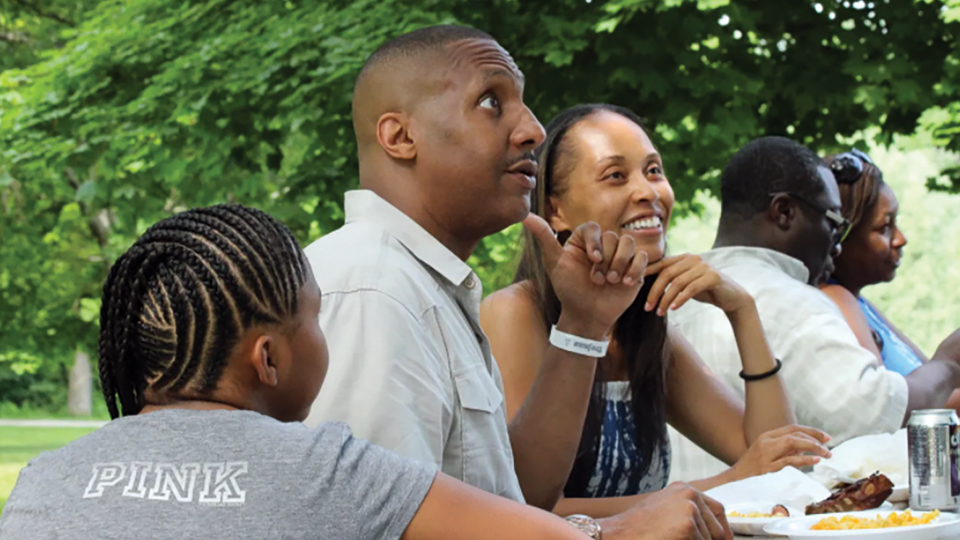 MATC graduate Kimberley Motley (shown above, third from left) and her husband, Claude, (shown above, second from left) are central characters in the 2021 documentary "When Claude Got Shot," the true story of the unexpected impact of violence and the path to healing. The film was featured at the 2021 Milwaukee Film Festival and the South by Southwest 2021 Film Festival.
Kimberley Motley is a 1997 graduate of the Legal Studies/Paralegal associate degree program, 2014 MATC commencement speaker and a 2015 Outstanding Alumni Award recipient by the American Association of Community Colleges. She received the latter for her work as an international human rights attorney working in Afghanistan, Cuba and the U.S., among other countries.
Directed by Milwaukeean Brad Lichtenstein of 371 Productions — and executive produced by hip-hop icon Snoop Dogg — the film follows Claude Motley, a law student who returns to his hometown of Milwaukee for a high school reunion, and is shot in the face during an attempted carjacking.
Two days later, his assailant attempts to rob a woman who shoots him during the struggle; the assailant is paralyzed from the waist down. In a single weekend, three families' lives are changed by gun violence.
Lichtenstein and Claude Motley have been friends for years. The film follows the people involved through the long processes of mental and physical recovery, progress through the criminal justice system, ongoing medical and insurance issues and the long-term effects on the families involved.
The film has been optioned by the PBS series Independent Lens, and will be shown on Milwaukee PBS in 2022. The Motleys live in Charlotte, North Carolina, and they continue to work for human rights and restorative justice.
To hear more alumni stories, visit matc.edu/alumni and click "Alumni Voices."