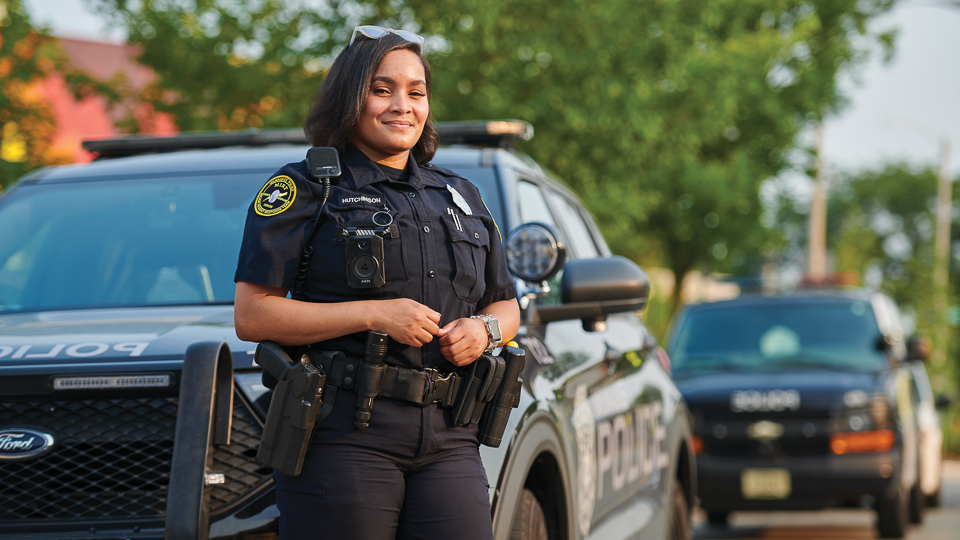 Beat cop balances night shift, motherhood
The Milwaukee community recognizes Camara "Cam" Hutchinson as an officer for the Milwaukee Police Department — and as one of its own.
The MATC alumna has worked for MPD for about three years, but her familiarity extends beyond her most recent role in the Cream City. She was born and raised on the very streets that she patrols daily. Through all of Hutchinson's training and hard work, she remains true to her upbringing and who she is, bringing clarity to her motivation and goals as a cop.
I had nothing but a great experience at MATC. I actually recommend MATC to all of my friends, family and even co-workers.
That motivation starts with the 7-year-old daughter Hutchinson is raising primarily by herself with the help of family members. Being a relatively new officer on the force, Hutchinson doesn't have much flexibility to change from her night shift that starts at 7 p.m., meaning there are evenings when she doesn't get to tuck her daughter in for bed before returning home at 3 a.m.
"It's hard, even with family support," Hutchinson said. "I'm her hero, and that keeps me going."
The consistent reminder of her daughter keeps her grounded in a world where every shift brings a different task or assignment.
Community is also a tremendous driving force behind Hutchinson's police work. She understands the attention she garners as a Black woman officer — especially considering the sometimes contentious feelings toward police in America. The gravity of the spotlight doesn't deter her. Hutchinson views her position as a woman of color in a White-male dominant profession as an opportunity to change perceptions.
"I'm motivated to be here, and I love my community. I like the fact that when I show up on scene, people say, 'I've never seen anyone that looks like you. You've got the braids in, or you've got your eyelashes in,'" Hutchinson said. "I like showing people that policing isn't just the standard of what you think it looks like. It looks like all different kinds of shades and races."
While Hutchinson accepts that her position can help shift the narrative, she doesn't let it burden her and relies on her faith to help guide her.
"I don't feel like I should do anything special or that I am where I am because I'm a Black cop," Hutchinson explained. "So I don't feel like I should respond a certain way because of who I am."
Hutchinson's desire to make a difference also influences her goal to become a detective. In that role, she would have the opportunity to conduct the all-so-necessary follow-up work that can be overlooked in a case.
"Being a cop is very rewarding, but sometimes there's not a lot of time to investigate," Hutchinson said. "So I would say in the next three to five years, my goal is to make detective."
In order to become a detective, officers go through the process of passing a written exam and interview. Hutchinson just reached the three-year time requirement for officers to seek promotion. Her goal is within grasp.
MATC provides quality training for officers
Hutchinson is no stranger to achieving the goals she sets for herself. She enrolled at MATC in 2020, transferring many of her credits earned at a university and applying them toward an associate degree in criminal justice.
While simultaneously working with MPD, she had enough flexibility in her coursework to fulfill a 60-degree credit requirement that increased her salary.
"I had nothing but a great experience at MATC," Hutchinson said. "I actually recommend MATC to all of my friends, family and even coworkers."
As part of her studies, Hutchinson took MATC's deescalation course; instructors taught her various deescalation tactics and how to shift her mindset when handling stressed or pressured situations — skills that she uses in her profession daily.
"Almost every other call, there is some opportunity to deescalate," Hutchinson said. "You always have to rely on your training experience. The deescalation training that I received from MATC and their other classes has prepared me for what I experience when I am out in the field."
Though early in her career, Hutchinson has a clear vision for the impact she would like to make as a police officer.
"I would hope that the community would feel a sense of 'me too' or motivation, thinking that barriers can be knocked down," Hutchinson said. "Hopefully, I can motivate someone to do something different."
To learn more about MATC's Criminal Justice Studies program, visit matc.edu/course-catalog and search "criminal justice."