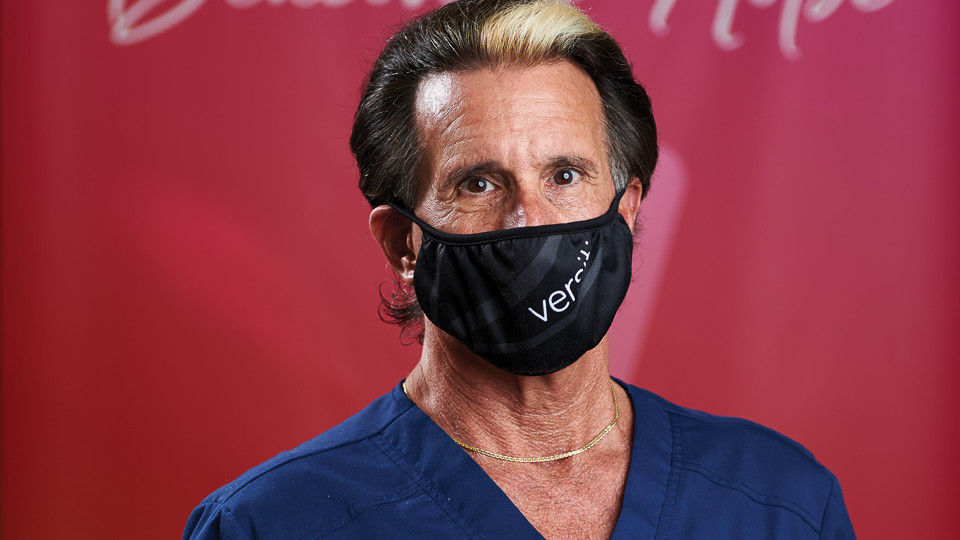 Nursing student's midlife career change motivated by desire to pay it forward
Kris Kavelaris insists he's done nothing heroic.
The MATC nursing student and 2020 inductee in the Fresenius Kabi Donation Hall of Fame — recognizing individuals nationwide who have demonstrated an extraordinary commitment to blood donation — credits the team of nurses who exhibited kindness, support and motivation as he spent four months recovering at Froedtert Hospital from a horrific auto accident in 1998.
They are the heroes, he says.
"It's somewhat embarrassing to be recognized," said Kavelaris, who's been routinely donating blood for about 25 years. His blood type is O-negative, found in only 7% of the population and known as the "universal donor," meaning any patient can receive the blood.
"It was just providence that gave it to me, so I figure I have a responsibility to donate. It's not that hard," he said.
Inspired for mission-focused career change
That can-do attitude motivated a recent career change for Kavelaris. At an age when many people are planning for retirement, he decided to switch gears and enroll in nursing school. A certified public accountant by license and training, Kavelaris looked into buying and operating a senior care facility in the mid-2000s. At that time, he became a certified nursing assistant, picking up shifts on evenings and weekends while working full time during the week as a business consultant. With his years of management and business development experience, it might seem as though hospital administration would be a natural progression — but not for Kavelaris.
The MATC culture is loaded with nurse educators passionate about teaching...they drew me in.
"I didn't want to be a 'suit,'" he said. "Much of my previous work focused on business process improvement, evaluating processes and making them significantly better. Healthcare systems are big. I've learned I need to exercise patience with processes that I wish were more efficient. My job right now is to learn everything I can about nursing. I prefer to recast this as mission-focused rather than a career change. I've retired from business to move on to a mission effort. I need to be working on the floor, patient-side. It's my happy place."
Initially, Kavelaris planned to attend a four-year nursing program, but found when he inquired about enrollment, he wasn't taken seriously despite already holding a bachelor's degree. He felt disrespected in the process and gave up the idea of nursing school for a few years.
Then he attended an open house where he met MATC nursing instructors Julie Rock and Lori Guenther, whose enthusiasm for the profession signaled to Kavelaris that MATC was the right path to his degree.
Greeted with passionate instructors, hands-on learning at MATC
"They were just bubbling over with a passion for nursing with big smiles on their faces," Kavelaris said. "There was such joy as they spoke about how much they loved teaching nursing students. Not only did I pick the school, I picked the campus. The MATC culture is loaded with nurse educators passionate about teaching but those two, they drew me in."
Now that he's a year into the program, he's discovered that all the MATC instructors are equally invested in their students and dedicated to their profession. Kavelaris also appreciates how quickly he started working on the floor and all the hands-on experience he is gaining. He's on track to graduate and sit for the National Council Licensure Examination (NCLEX-RN) in 2022 and has aspirations to become a nurse practitioner.
Right now, he's taking it one day, one chapter, one quiz at a time to internalize the language and science of nursing. And he continues to donate blood at Versiti Blood Center of Wisconsin.
After surviving that crash nearly 25 years ago, Kavelaris says he was given a second chance at life. During those four months at Froedtert, he endured four surgeries, received multiple blood transfusions and had to learn to walk again. He understands the importance of blood donation and hopes his story inspires others to give.
"It feels so satisfying," he said. "Ask yourself, 'If not me and you, then who? If not today, then when?' And when you go, bring a friend." To find a blood donation center near you, visit versiti.org.
To learn more about MATC's Registered Nursing program, visit matc.edu/course-catalog and search "nursing."