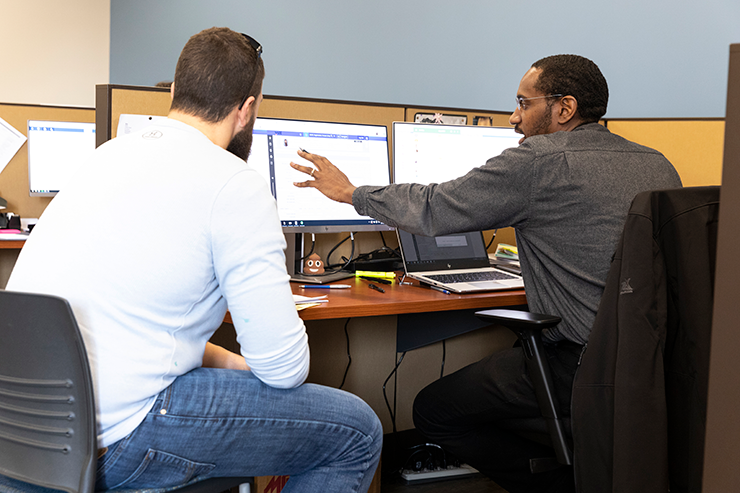 Their paths to MATC were different, but Andrea Hamer and Melissa Morris have this much in common: The college's new Academic & Career Pathways helped put them on a track toward success.
"You had assistance offered at every door," Hamer said of the model. "None of the doors were closed."
Compared to attending the college 25 years ago, the Pathways experience was an improvement.
"It was totally different then," she said. "You were really on your own."
Hamer first came to MATC in 1992 to create better career opportunities to support her family. But balancing her responsibilities without much support from the college posed a challenge.
"Between studying and fulfilling my duties as a wife and a mom, it was very difficult. I had to go to work so I had to make a choice," she said. "I chose to work."
While Hamer was away from the college, major changes were underway. Starting in the 2017-18 academic year, the MATC community came together and analyzed success rates. Together faculty, staff and administrators concluded: We can and we will do better for our students.
The Pathways model presented a clear way to do just that, based on the experience of other institutions across the nation. Georgia State University used the framework to increase graduation rates across all student groups and eliminate the gap in rates between white students and students of color.
Early results show similar success at its two-year partner Perimeter College.
Declaring that most students who come to the college with a high school credential – a traditional diploma, GED or HSED – can be successful in college-level courses with the right support. As was the case at two-year colleges across the country, too many MATC students were spending semesters "swirling" in remedial coursework without seeing the possibility of college-level success.
Replacing a high-stakes test – the Accuplacer – with a more holistic approach to determine the support students need.
Reorganizing the college's 170-plus programs into seven new Academic & Career Pathways that share "gateway" courses so that students who choose a different program within their Pathway can maximize the credits they already earned. The Pathways are:

Business & Management
Creative Arts, Design & Media
General Education
Healthcare
Manufacturing, Construction & Transportation
Science, Technology, Engineering & Math (STEM)
Just as important, each Pathway is led by a team that includes a dean and student-facing support staff, bridging the gap between the two historic "sides of the house" – academics and student services. Pathway offices offer one place for students to get support for advising, course registration, access to tutoring and help with needs such as food, housing and transportation.
MATC opened its first two Pathways and their offices in Fall 2019. More than 1,000 students were served by Pathway advisors and retention coaches in the first month.
In Spring 2020, the college opened all seven Pathways virtually, and in July, while adhering to health and safety protocols, in-person services were offered in response to students' requests.
You had assistance offered at every door. None of the doors were closed.
Students benefit from changes
The Pathways model is all that student Melissa Morris has known at MATC.
Looking for a new option after she lost her job amid the COVID-19 pandemic, she honed in on the Dental Technician program.
After applying to MATC, Morris wanted to talk to someone about the next steps. She called the college and was connected to Pathway advisor Erik Riley.
"I had so many questions – and he would respond to me, sometimes immediately," Morris said. The advisor helped her feel like she wasn't "just a number." Instead, his presence felt "like somebody actually cared to help someone continue their education," Morris said.
Riley's support is also something Morris and Hamer have in common.
The Pathway advisor helped Hamer finish her last semester. She always struggled with math, but Riley identified a new course option that worked with her schedule.
"He helped me get my schedule set up to the point where I was able to go full time and complete the five classes," Hamer said.
And as she prepared to finish her program, Riley also made sure that Hamer's credits from the first time she attended MATC were properly applied so she could graduate. She did just that in Spring 2020, earning a Criminal Justice Studies associate degree. Hamer wants to work as a state of Wisconsin probation and parole officer.
"MATC provides as much assistance as you need – and if they don't have what you need – they direct you to the proper channels so you can get the assistance you need," she said. "It's an awesome program."
To apply to MATC, visit matc.edu/apply.