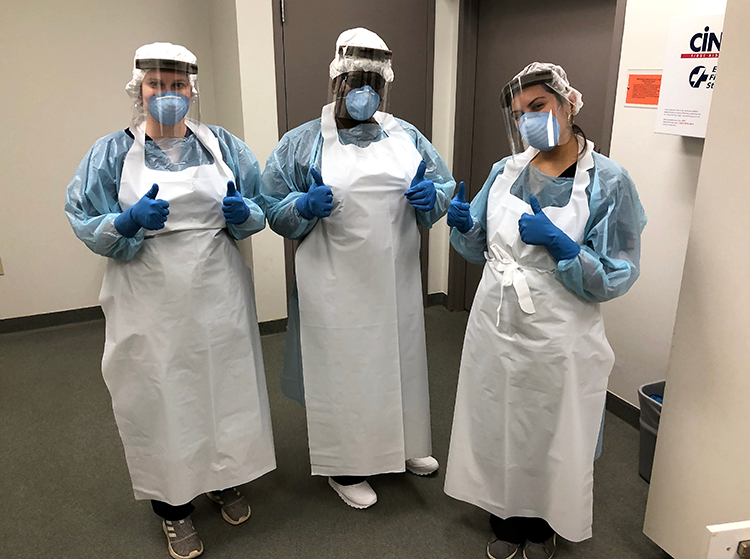 An MATC instructor found himself advocating for his program far beyond the classroom last year, regularly traveling to Madison to push for new state legislation.
Program coordinator and instructor Gabriel Schauf was a key driver in the legislature's approval of an improved set of requirements for students entering the college's Funeral Service program.
MATC's Funeral Service program only one in state
MATC offers Wisconsin's only associate degree program that prepares individuals for a mortuary career. The new requirements mean students need fewer credits to start the program and will ensure graduates have the classes they truly need to succeed in the field. Graduates also will be able to enter the workforce more quickly, ultimately meeting the need for qualified individuals to fill open positions.
Prior to this change, a student who wanted to earn MATC's Funeral Service degree needed over 60 prerequisite credits, and approximately 30 additional credits to complete the program. This previous state requirement forced students to complete more credits than most programs at the college; associate degree programs generally require 60 to 64 total credits.
"The average amount of credits that students were walking out with was about 93 to 94 by the time it was all said and done," Schauf said. "That's a hard thing to sell when a student comes in and says that they want to be a funeral director. They say, well, I can be a nurse or a dental technician with a lot less credits."
Schauf and other mortuary science professionals statewide identified the deterrence of requiring students to enroll in so many electives. The goal was to remove barriers of entry without compromising the integrity of the program. This would help attract prospective students across the region.
We wanted to help fast track this process without losing sight of the integrity of the program.
Faculty, Advisory Committee members and alumni collaborate
To ensure that all of MATC's career-preparation programs meet industry needs, the college has established Advisory Committees that include local employers as members. Each semester, more than 900 business and community representatives volunteer to serve on these committees to share their insights regarding education, job-readiness skills and industry trends.
For the Funeral Service program, the need for change voiced by funeral directors and other professionals led to a team of MATC faculty and Advisory Committee members collaborating to form a strategic plan.
By the spring of 2019, the group began drafting amendments to the state statutes. From October until December 2019, Schauf traveled to Madison, where he spoke with a multitude of politicians to explain the goals for MATC's Funeral Service program.
"It was a lot of knocking on doors and talking to state legislators about what we're trying to do and looking for their support on it," Schauf said.
MATC graduate Todd Michael, funeral director for Cornerstone Funeral & Cremation Services, was one of the Advisory Committee members who testified in support of the legislation.
"Fewer people have been choosing to go into mortuary sciences due to the extensive requirements," Michael said. "We wanted to help fast track this process without losing sight of the integrity of the program."
The legislation passed unanimously and garnered bipartisan support. Most importantly, for Schauf, Michael and others involved, there were no compromises to the program's curriculum. The credit reduction officially went into effect this Fall semester.
Funeral service apprenticeship program
Michael and Schauf became acquainted years prior through their work on a funeral service apprenticeship program, a 16-credit two-day course that MATC offers for people to get a certification to be an apprentice.
"Gabe has been a tremendous asset for us for the funeral service program," Michael said. "We couldn't have done these things without him."
To learn more about how MATC's Advisory Committees help ensure the college has the most up-to-date curricula that match skills employers seek, visit matc.edu/advisory.