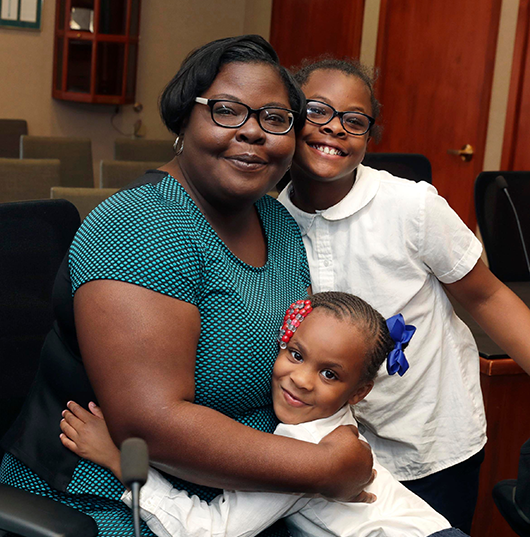 MATC Promise for Adults
Promise program helps student pursue her dream
Latoya Onuchuku returned to MATC last fall, determined to finish what she started. Earning an associate degree was the first major milestone in her long-term goal to run a care-based residential facility for teen mothers. MATC's Promise for Adults program offered her free tuition to complete her degree.

Onuchuku understands the challenges faced by young, single mothers. Her son Reginald was born when she was only 14 years old.

"I had grandparents to help me, but everyone doesn't have that," she said. "Some people will write you off if you have kids when you are young. They think you won't amount to anything. It's not true. That's why I want to work with teen mothers. I want to be sure they have a good support system."

Onuchuku looks back fondly on her family's support and encouragement. Her grandparents, aunts and uncles all agreed on one thing: They wanted her to graduate from college. "At times, I think they wanted it for me even more than I did," she said. "I want my grandparents to know that the work and effort they put into me wasn't in vain."
Finances were the biggest barrier to earning my degree. If it hadn't been for the Promise, I couldn't have graduated last May.
Family is of paramount importance to Onuchuku. In addition to her son, she has two daughters, Ya'shimah and Za'mya, born 15 years apart, and also is helping to raise 6-year-old granddaughter, Zai'ema.

In May 2019, the family's collective dream of Onuchuku's graduation came to fruition when she became one of the first students to graduate from the college with the help of the MATC Promise for Adults.
Promise program leads to college success
The road to finishing her degree began in summer 2018. Bus signs announcing the new MATC Promise for Adults program — which offers free tuition for eligible students — captured her attention. When Onuchuku came to campus to register for fall classes, advisors were quick to tell her more about it. The MATC Promise for Adults seemed tailor-made for her.

She lived in the MATC district, was at least 24 years old, earned less than $56,000 annually, had at least six college credits but no degree, and wanted to return to college to earn an associate degree in an in-demand career after at least a two-year absence from college. After applying past credits earned at MATC and Madison College, Onuchuku only needed 13 credits to complete her Human Service Associate degree.

MATC's Promise for Adults is an expansion of the college's first-in-the-state Promise for New High School Graduates, which launched in 2015. Together, the programs have served more than 1,200 qualified students. In a few short years, 119 MATC Promise students have already earned certificates, technical diplomas and associate degrees.

The innovative public-private partnership relies upon private donations to fill the gap between what federal and state financial aid provide and the cost of tuition. To date, the MATC Foundation Inc. has raised more than $2 million from more than 230 private donors in support of the MATC Promise.
MATC Promise programs meet community needs
"We are offering this program in direct response to the urgent needs of our community — where area employers are desperate to fill middle-skill jobs, while at the same time many local residents lack the resources and support to gain the degrees necessary for these positions," MATC President Vicki J. Martin said in launching the program.

Nationally, 60 percent of adults who start college but did not earn degrees want to return, according to the Lumina Foundation.

The MATC Promise provided Onuchuku that opportunity. "Finances were the biggest barrier to earning my degree," she said. "If it hadn't been for the Promise, I couldn't have graduated last May."

Onuchuku is particularly grateful for instructors Latrice Buck Hogan and Sandra Chavez. "They really get to know their students and they really want to see you go forth and succeed," the new graduate said.

After earning her bachelor's degree in social work – she is currently on her way at the University of Wisconsin-Milwaukee – Onuchuku plans to eventually pursue a master's degree.

She has advice for others considering following her path and completing a degree: "Just do it. The MATC Promise can open doors to that great feeling that you've completed your degree. It's a very good program. It can help you get what you need. You just have to be willing to put in the work."
To learn how you can donate and support the MATC Promise, contact Donor & Alumni Relations Coordinator Bob Holland at 414-297-6825 or hollanrj@matc.edu, or Donate Now.