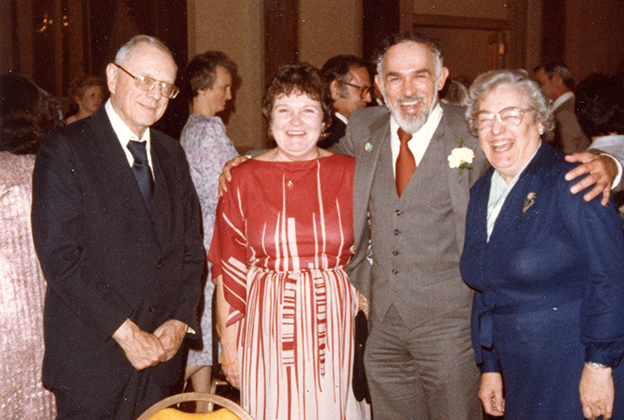 Longtime Instructor Shares Blessings of a Full Life
Giving back to MATC
After obtaining his bachelor's degree from Marquette University in 1952, Phil Blank, who would go on to teach and work at MATC for 35 years, began graduate school. But his life took another turn and he was drafted into military service.

Blank served as a weather officer in the U.S. Air Force. He recalls the day he was sitting in his office at the Air Force base in Lubbock, Texas, and noticed paperwork stuck to a shrub outside the window. He ventured outside to retrieve the stray paper and discovered news that would change his life — the papers were the documents authorizing his honorable discharge from active duty.

Blank then resumed his education. "I was bound and determined to finish my master's degree on the GI Bill," he said. He also spent time as an Air National Guard member and Air Force reservist.

He began teaching at the college (then called Milwaukee Vocational School) in 1957 while continuing his studies. Blank worked as a math instructor and later became an advisor for international students. He retired from MATC in 1992.
The best job in my life taught me that cultural diversity strengthens all of us.
Blank witnessed several milestone events at the college including the creation of what would become Milwaukee PBS. In 1957, WMVS Channel 10 began broadcasting as the nation's 28th educational TV station.

He recalled that, "Frank Zeidler fought against seemingly impossible commercial odds to acquire the spectrum, and he won! He was a strong advocate for our school and believed not only should there be such a station in our area, but that it should be at the vocational school." Zeidler served as Milwaukee's mayor from 1948 to 1960, and later became Blank's friend and mentor. Blank helped establish the Zeidler lecture series honoring the late mayor and currently is a lecture series committee volunteer.

Fulbright experiences informed international advising
A personal highlight for Blank was a prestigious Fulbright experience in Turkey from September 1963 through June 1964. The Fulbright Program is administered by the Bureau of Educational and Cultural Affairs of the United States Department of State in cooperation with foreign countries. He enjoyed a second Fulbright experience in the spring of 1982, in the country then called West Germany, to observe and consult on foreign-student-exchange administration. The scholarly time abroad helped elevate Blank's work as an international student advisor.

"The best job in my life taught me that cultural diversity strengthens all of us," he said. Diversity is a core value at MATC, which is one of the most diverse higher educational institutions in the Midwest.

Blank remains in touch with many of his former students, following their careers and educational pursuits. Like many of them, Blank also continued his studies; he earned a leadership in vocational and technical education doctoral degree from Michigan State University in 1979.
Supporting scholarship
Blank continues to actively support MATC. Blank worked with the MATC Foundation Inc. to establish an endowed scholarship fund in honor of his late wife and mother, the MATC Beatrice Martin Kershner and Lucille Neuhaus Blank Memorial Scholarship, which supports the costs of student textbooks. He continues to donate to this scholarship fund as well as supporting the FAST Fund that helps students with short-term financial needs.

He is generous with his time, regularly volunteering for the American Federation of Teachers Local 212 through the Committee on Political Education. He was president of Local 212 in 1962 through 1963, and helped it win collective bargaining rights in June 1963.

Business Management student Virginia Bell, a recipient of the memorial scholarship funded by Blank's donations, shared how much the scholarship helped her. Like many students, Bell did not come to MATC directly from high school; instead, she returned after entering the workforce.

"We all have untapped potential, gifts and abilities to excel beyond the mediocre life," she said. "I myself wanted to graduate from college debt-free, no loans. This can be a barrier for many people. Scholarships and grants make a huge burden lifted, especially when someone considers going back to school later in life, who has a family and full-time or part-time job."

Blank is grateful as he reflects back on his personal and professional life. "My late wife was the greatest blessing I ever had … I have been blessed with more situations, people and experiences than anyone deserves to be!"
To establish a scholarship to support students, contact Donor & Alumni Relations Coordinator Bob Holland at 414-297-6825, hollanrj@matc.edu, or Donate Now.