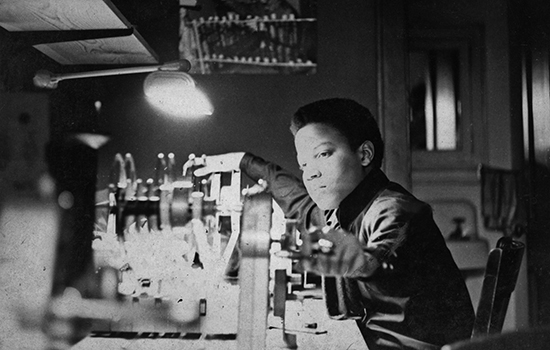 WISN-TV Retiree Cary Edwards, a Cinematography Alum, Focuses on the Positive and Supports Students
Desire to Give Back to MATC Leads to Establishing New Fund in His Mother's Honor
As a teenager in Milwaukee, Cary Edwards knew the career he wanted – making major motion pictures in Hollywood.
Fittingly, while a Cinematography student at MATC in the 1970s, he planned ambitious productions. One film assignment he wrote and directed required creating a set in a gritty Milwaukee pool hall, filming a chase scene through Chicago streets, and setting up a shot of an attaché case filled with real $100 bills at a bank.
"I only needed a tight shot of that attaché, but there were several armed guards there as they brought me the bag full of the $100 bills – I had never seen so much money!" Edwards said. "It was a great experience to do a film with those complex production needs. My MATC instructors helped me understand the concepts behind good filmmaking and helped me be creative."
His talent for storytelling through film was first recognized at the Milwaukee Inner City Film Workshop, a program for urban children and teens to learn filmmaking and photography, which he joined as a 14-year-old. Edwards is the youngest of six children raised by a single mother and the program gave him positive male role models. "Tom Harris, who created the film workshop with many of his own resources, gave young people like myself a chance to make something positive of their lives," he added.
Edwards wanted to be successful to "make my mother proud," he said. "She worked so hard as a hotel maid and was a source of strength for me."
When he retired in 2015, Edwards had achieved 40 years of success behind the camera. His life "script" didn't lead to Hollywood movie studios; instead, Edwards was a photojournalist. Working for WISN-TV Channel 12 for most of his career, his camera captured events that Milwaukee-area residents experienced via their TV screens. He has been inducted into the Milwaukee Press Club Media Hall of Fame and the Wisconsin Silver Circle honoring broadcasters. Edwards also earned a Peabody Award, which is given for outstanding broadcast stories.
"This career let me be there when history happened," he noted. Memorable assignments include being in the locker room after the Milwaukee Brewers won the American League Championship at County Stadium in 1982, and touring Israel in 1997 with National Football League Hall of Famer Reggie White, when the legendary defensive end played for the Green Bay Packers.
My MATC instructors helped me understand the concepts behind good filmmaking and helped me be creative.
Focused on Learning
Edwards participated in the film workshop as a teen for nearly four years and learned skills to make 16mm and Super 8 movies. By the time he graduated from high school, Edwards' portfolio included films that had garnered honors in national competitions.
He attended the University of Wisconsin-Madison for a year and then enrolled at MATC in 1974. "At Madison, the curriculum for filmmaking did not include hands-on work until you were three years into the program. I really wanted more hands-on experience and I knew MATC provided that," he said.
Not long after beginning at MATC he landed a part-time position at WISN-TV. "Jeff Thomas, who believed in me and gave me this first professional opportunity, was a major influence on my career," Edwards said. When he graduated in 1976, the station offered him a full-time news photographer/editor job, but Edwards had been planning to attend Southern Illinois University to complete a bachelor's degree in filmmaking.
The small screen won, however; Edwards took the job. "That turned out to be the best decision," he said, "because in my career as a photojournalist I was able to be creative, and produce and create stories that impacted the community."
Rays of Hope
In 1979, Edwards moved to Boston to work for WBZ-TV. His job included working as a videographer/editor for "Coming Together," a prime-time show. The crew traveled throughout the United States interviewing politicians and celebrities, including Muhammad Ali, Ray Charles, Alex Haley and Bob Marley.
Edwards returned to WISN-TV in November 1980. His experience in Boston influenced his desire to produce a weekly segment for the station's news program. He called it "Rays of Hope."
"I wanted to balance all the negative news in the city with positive news," he explained. "The segments helped get recognition for people and programs doing good things in Milwaukee."
In 2001 Edwards was named WISN-TV's chief photojournalist, an administrative position he held for 14 years. He supervised the news department's photojournalists and crew, and often called MATC's Television/Video Production instructors to find candidates for part-time jobs at the station.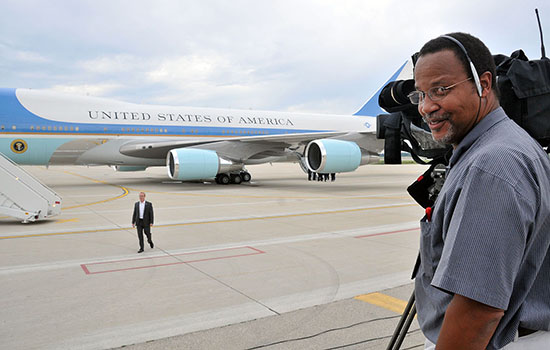 As a WISN-TV Channel 12 photojournalist, Cary Edwards captured
President Barack Obama's arrival on Air Force One at General Mitchell International Airport,
just one example of the variety of local and national events he covered.


Giving Back
Edwards gave back to MATC in another way too. He established the Nealie Mae Edwards Scholarship at the college in honor of his mother. The scholarship through the MATC Foundation will assist a deserving student in the School of Media and Creative Arts.
Another woman Edwards credits with helping him maintain his positive focus is his wife of 24 years, Bonnie. The couple has three adult children; Lisa, Mildred and Danny. On his last day at WISN-TV, Bonnie Edwards arranged for a limousine to pick up her husband from the studio, providing a Hollywood touch to wrap up a prominent career.

For more information on how you can donate and support MATC students' success, please contact us at 414-297-6825 or visit us online at Donate Now.
Are you an MATC alum? Join the MATC Alumni Network. Free sign up at Alumni Sign Up form.