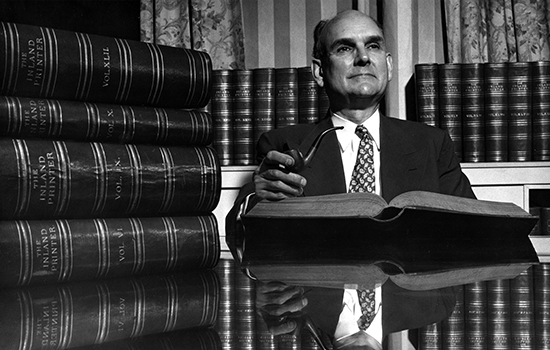 Donation Honors Longtime Employee, Local 212 Co-Founder and President
Patricia "Pat" Parsons was watching television when she thought of the perfect tribute for her father. The Milwaukee PBS series "Cook.Plate.Dine.TM" broadcast in May 2018 – featuring MATC's Culinary Arts and Baking and Pastry Arts students – inspired her.
"I had been wanting to do something for several years to honor my father and I thought, 'This is it. This is what I want to do,'" she explained.
Her father, Ira Pilliard, shared his talent with MATC as an employee for 45 years, retiring at age 70. He spent one year away from the college in military service for World War I.
The longtime MATC employee taught printing from 1913 to 1918, led the graphic arts department from 1919 to 1930 (while MATC was known as Milwaukee Vocational School), and supervised trades and industries for nine years.
He supported higher education for women at a time when that viewpoint was not mainstream. "He believed in female education and believed women were the intellectual equivalent of men but didn't receive the same opportunities and same kind of education. Back then, if they went to high school, they were lucky," his daughter explained.
In his personal time, Pilliard loved hunting, fishing, gardening and golf. He also supported expanded recreational opportunities for students. He started hobby clubs at the college, including the first classes for boys to learn the cooking skills that girls were learning in home economics classes. These hobby clubs on "camp cooking" and "yacht cooking" grew into classes, which eventually became the highly regarded Culinary Arts associate degree program featured in "Cook.Plate.Dine.TM"
While teaching and later serving as principal of a Missouri high school in the early 1900s – before his time at MATC – he started the first girls' basketball team, having been inspired by seeing girls play the sport at an exposition.
His daughter shares the ideals of expanding access to education and other opportunities, and appreciates MATC's current status as the largest majority-minority college in Wisconsin.
As MATC Student, Parsons Broke Gender Barriers
Ira Pilliard and his daughter
Pat (Pilliard) Parsons in 1946.
In the 1950s, she attended the college to prepare for a career change. The new direction was nontraditional: She was one of the first women to learn the trade of drafting.
Employers at the time faced a shortage of qualified workers because so many men were serving the military in the Korean War. A graduate of the University of Chicago who was working as a filing clerk, Parsons had significant art training and passed the test to take coursework at MATC (then known as Milwaukee Institute of Technology). Employers paid for a six-week training course and she became a "draftswoman" with AC Spark Plug, the AC Electronics Division of General Motors. She eventually progressed to the role of technical artist and worked on guidance systems for intercontinental ballistic missiles (ICBMs) and contributed to the nation's defense during the Cold War. She lived in Brooklyn, New York, for 45 years before returning to Milwaukee after the death of her husband.
Pilliard Served as Industry Leader
Pilliard exemplified the industry leadership still prevalent today among the college's expertly trained faculty and staff. He was president of the Milwaukee Club of the Printing House Craftsmen from 1929 to 1931 and chairman of the Educational Commission of the International Association of Printing House Craftsmen.
He also authored two publications – "Club Management" and "Educational Chats" – and spoke before trade and educational groups in 18 North American cities. Toward the end of his career, he was an editor-in-chief for college publications such as lesson sheets, advertising and catalogs. He even worked on an official cookbook.
Upon his passing in September 1975, Anthony Karpowitz, the dean of Graphic and Applied Arts, wrote, "He exemplified style – not in the sense of clothing or grooming, though he was meticulous in this, too, but in the concept of style as used by the printer or publisher: the selection of words to give clarity to meaning, the selection of typefaces to visualize the effects of words, the art of styling and spacing that give grammatical consistency and beauty to the layout and design. He was a product of that period of history that reflected the Rococo ornamentation – curved and flowing lines to embellish a page, a letterhead, or the introductory capital letters of a paragraph."
Pilliard Was Union Co-Founder
Pilliard learned printing as a boy and worked after school and during vacations for the local Missouri newspaper. He became a member of the Chicago Typographical Union in 1913, the first of many union memberships. After seeing firsthand the impact of unions, Pilliard and his colleague Dr. Colin Welles led the effort to organize MATC's faculty union, the American Federation of Teachers Local 212. Pilliard served as its first president and created scrapbooks of newspaper clippings from the controversial founding, which detailed a student walkout and his own dismissal and subsequent reinstatement.
These Depression-era scrapbooks were almost lost to time, but were discovered in floorboards of his prior home when a new owner was renovating. The homeowner, Phil Fendt, located Parsons and returned the timeworn memories to her. The union remains active today and has three bargaining units representing 1,400 full-time faculty and counselors, part-time faculty and professional staff.
Honoring Legacy Through Major Gift
To honor her father's legacy and in support of the practical, hands-on learning MATC provides and the college's core value of diversity, Parsons established the Ira D. Pilliard Memorial Endowed Scholarship fund with a $50,000 gift. The scholarship fund through the MATC Foundation will support students in the culinary arts, which evolved from Pilliard's work at MATC.
For more information on how you can donate and support MATC students' success, please contact us at 414-297-6825 or visit us online at Donate Now.
Are you an MATC alum? Join the MATC Alumni Network. Free sign up at Alumni Sign Up form.