As Bank Leader, Alum Shares Her MATC Success Story Throughout the Community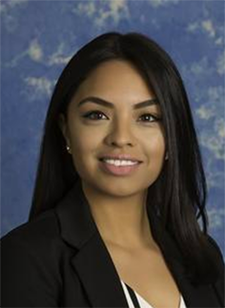 Jasmin Hernandez
Jasmin Hernandez has accomplished a lot since she graduated from MATC. She earned her bachelor's degree, rose to the role of community president at a local bank and now serves as a relationship management associate at BMO Harris Bank, among other achievements.
Yet her experience at the college remains the standard by which she judges her experience at other institutions.
"MATC really set the bar for me," she said. "Every faculty member that I have come across, everyone who worked in administration – everyone's just been really helpful."
The 2013 MATC Business Management alumna talks about the college in the present tense because she remains involved. She collaborates with Dr. Mark Felsheim, vice president of the Oak Creek Campus, through the South Suburban Chamber of Commerce and serves on the Advisory Committee for the Entrepreneurship technical diploma program with Armen Hadjinian, the program's coordinator.
"Armen has been a great mentor in my life," Hernandez said. "He taught me the importance of mentorship and networking – and introduced me to people who have been helpful in my career."
Her career journey began to accelerate when she first visited the Oak Creek Campus at the recommendation of friends who suggested she start at MATC, where the credits she earned would easily transfer to one of more than 35 four-year college and university partners.
Hernandez vividly remembers walking into the campus and looking at the 200 program options displayed on the walls near the Admissions office, represented by program cards that outline connected careers, courses and the skills students will master.
Success and Support Through Accelerated Learning
Working in an entry-level banking position at the time, she enjoyed the business aspect of her career and decided to start in the Business Management associate degree program. As time passed, Hernandez, a single parent, decided she needed an option to graduate more quickly.
She spoke with Judy Reinders, one of her instructors and her faculty advisor, who recommended an accelerated option.
"She said it would be a good program for someone at my stage in life, so I went into my program and I graduated more quickly than I would have otherwise," Hernandez said.
Her classmates were "almost like a family because we were going from course to course with each other. We were able to share our struggles and our successes, work together and build camaraderie and support each other."
Hernandez said Reinders helped many classmates land internships and permanent positions. The instructor helped Hernandez beyond that first recommendation as well.
Reinders called Hernandez one evening, making a point to call after normal work hours because she knew that her student had a full-time job.
"She just wanted to check in on me. She went over my academics and where I was – where I wanted to go," Hernandez said. Reinders recommended some upcoming course options and contacts to help her succeed moving forward. "I thought that was really unique."
It was a level of personal support that Hernandez greatly valued, along with the smaller class sizes MATC offers. Balancing college, her career and her son, though, was never easy.
"When I came home from school, I helped my son with his schoolwork, got him dinner and put him to bed, and then worked on my homework from 8:30 p.m. probably up until midnight," she said. "Then I would get up early to go work."
Hernandez knew she had to spend less time than she might have liked with family and friends. She knew she had to stay focused to succeed. And she did.
"Jasmin displayed a lot of determination and always strived to exceed expectations, which has led to her success in life and in career promotions," Reinders said. "It is students like Jasmin that make my job so rewarding!"
After completing her associate degree, she ultimately transferred to the University of Wisconsin-Milwaukee (UWM), one of MATC's four-year partners.
"They worked to match up credit so I didn't have to take everything again," Hernandez noted.
At UWM, she earned a bachelor's degree in communications, building upon the business skills she learned at MATC.
The combination helped advance her career trajectory at two local banks, advancing from her entry-level banking job to a higher level position, a leadership development program and a branch manager role before beginning her work as a community president for WaterStone Bank in Greenfield in 2016. In August 2018, Hernandez joined BMO Harris Bank as a relationship associate for commercial equipment financing.
As she works throughout the community, she asks younger students about their college and career plans. Many are unsure of their next steps and are tight on funds.
"I always recommend MATC to them – and I share my story with them as well," Hernandez said.

For more information on accelerated learning options and four-year transfer programs, visit matc.edu.
Are you an MATC alum? Join the MATC Alumni Network. Free sign up at Alumni Sign Up form.