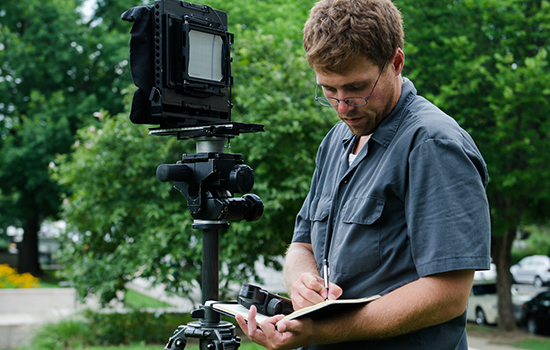 Alum Tops 4,000 Applicants for Coveted Photography Job With National Park Service
While enrolled in MATC's Photography associate degree program, Jarob Ortiz was consumed with photographing the ruins of abandoned steel mills and manufacturing sites using special equipment rarely used these days: a large format view camera. The marriage of skill, passion and ability to use the "Zone System" developed by legendary photographer Ansel Adams led Ortiz to a stunning achievement in the summer of 2016. He was chosen from a field of approximately 4,000 applicants for a prestigious job as a National Park Service photographer.
"I couldn't believe it when they told me I had the job," Ortiz said. "I broke down and wept. I always do my best. I tried my hardest, but I never thought I'd land this job. It's a dream job for me. I will never leave."
Working for the National Park Service's Heritage Documentation Programs, Ortiz travels the country using film and light to capture images of buildings, engineering and sites of historical significance that will be preserved in the Library of Congress.
Credits MATC Instructors for His Success
Ortiz is quick to credit MATC's Photography program and instructors John Glembin, Mark Saxon and the late Duane Manthei for his success. Manthei taught him the Zone System, which uses mathematical calculations in zones of the photo to best capture light to evoke emotion in the viewer and to capture detail.
"I give my MATC instructors the most credit," Ortiz said. "This wouldn't be possible without everything they taught me. They were a tough group of instructors. When you messed up, they let you know. I appreciated that." Ortiz graduated from MATC in 2013.
Glembin, who keeps in contact with Ortiz, remembers that, as a student, "he was a 'hungry kid.' He always wanted to learn more, to perfect his skills. He was meticulous. Jarob was very careful to record information correctly and be faithful to his subject matter." Ortiz's skills and dedication to documenting history make him perfect for this job, according to Glembin.
Ortiz became fascinated with city architecture as a youth. His father took him and Ortiz's brother Nate to see old building sites in Milwaukee. Among the places they visited were Jones Island and the Menomonee Valley. Years later, Ortiz's stepfather introduced him to photography by buying him his first camera, an Olympus OM-2 35mm.
Obsessed With Photography, Day and Night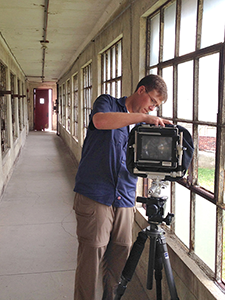 Jarob Ortiz uses a large format view
camera in his work for the National
Park Service's Heritage Documentation
Programs. (Photo by Robert Arzola)
"As soon as I started taking photos in 2009, it was over," Ortiz said. "I lost touch with all my friends. It was all about photography. I was at it every day and night."
Ortiz's passion for photography continued to grow. After a stint in the Air Force and a job in California, Ortiz returned to Wisconsin. He and his brother began documenting the ruins of steel mills and hotels in Gary, Indiana, "just because it needed to be done," Ortiz said. "No one paid us to do that."
The brothers both wanted to study photography, but Jarob Ortiz wanted to use the large format view camera. It is like the ones used in the earliest days of photography, he said.
"It has a front board, a back standard and you can move it like an accordion. I use 4'' x 5'' film. It gives you so much control of perspective and allows you to adjust the focal plane," Ortiz said.
Drawn to MATC's Unique Photography Curriculum
"I came to Milwaukee Area Technical College's program in 2010 because MATC still taught the use of the large format camera, in addition to digital cameras," Ortiz said. "The only other way I could have studied that camera would have been to go to a $40,000-a-year art school.
"The resolution is so much better with film than with digital cameras," Ortiz further explained. "Resolution is what counts. The native file has more tonal range, a clearer image."
Preserving History for Future Generations
Ortiz works more than 60 hours a week, traveling from site to site, documenting scenes before they are lost to history. "I consider this a service to my country," he said. "I'm recording this so future generations can see what we had at this time. Every photograph is a reference for the future. My legacy is in the work and what I leave behind. No amount of money could substitute for the feeling I get doing this work."
See a gallery of Jarob Ortiz's photos at tinyurl.com/Ortizphotos.
Are you an MATC alum? Join the MATC Alumni Network. Free sign up at Alumni Sign Up form.