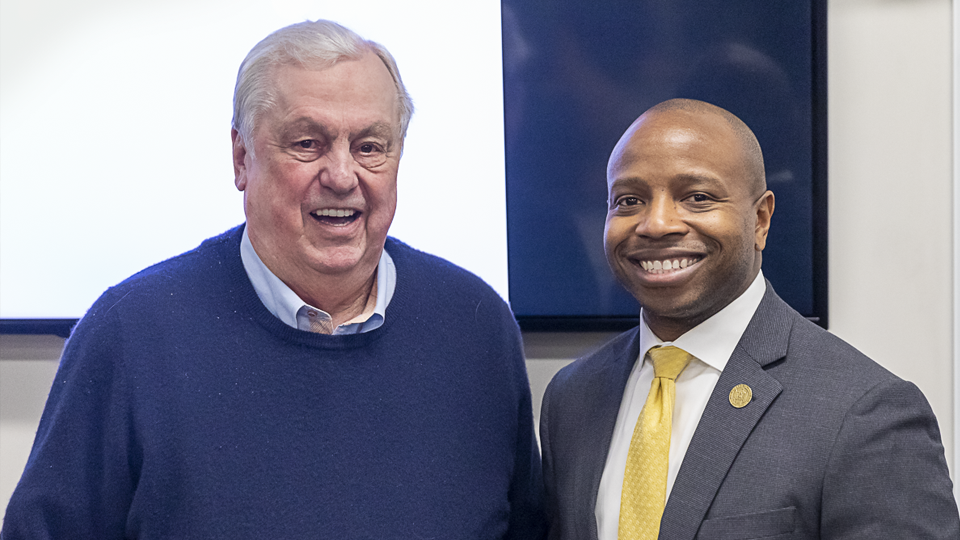 New scholarship program serves hundreds of students in first year
The Ellen and Joe Checota MATC Scholarship Program hit the ground running last year.
Unveiled in August 2022, the scholarship program helps eligible students pursuing technical diplomas and certificates earn their credentials and enter the workforce quickly within 18 months or less. Students can achieve their goals quickly thanks to comprehensive support. It is MATC's first full-ride scholarship that covers tuition, fees, books, equipment, a meal plan, transportation, child care at a licensed facility or
MATC Children's Center and housing at MATC's Westown Green student apartments.
Last fall, 123 current MATC students received the first batch of Checota scholarships; 48 graduated in December 2022, ready to enter the workforce.
The scholarship program was opened to new MATC students for the first time for the Spring 2023 semester with 251 students receiving scholarships for a total of 290 in the current cohort.
We want students to know that if you make the effort, we will continue to support you.
The scholarship program is driven by a charitable gift expected to grow to $5 million from the Checotas, longtime residents of Milwaukee. Ellen Checota is an artist, and Joe Checota is the chairman and CEO of Landmark Healthcare Facilities LLC, a national developer, owner and manager of outpatient medical buildings.
The $5 million from the Checotas is contingent on gaining matching gifts from other donors. For every dollar contributed, the Checotas provide a two-for-one match.
The Checotas' gift, when combined with $2.5 million in matched donations, will create a $7.5 million scholarship fund, the largest ever in the 110-year history of MATC.
"We have always wanted to find a way to help trade and technical students, the people who want to dig in and work and make a better life for themselves and their families but might need a leg up," said Joe Checota. "We want students to know that if you make the effort, we will continue to support you. We're trying to change lives one life at a time in Milwaukee."
More than 90+ MATC short-term programs are scholarship eligible programs to accelerate careers in the areas of manufacturing, information technology, business management, and trade and technical fields. Here's a look at how three lives have changed:
Going Back to School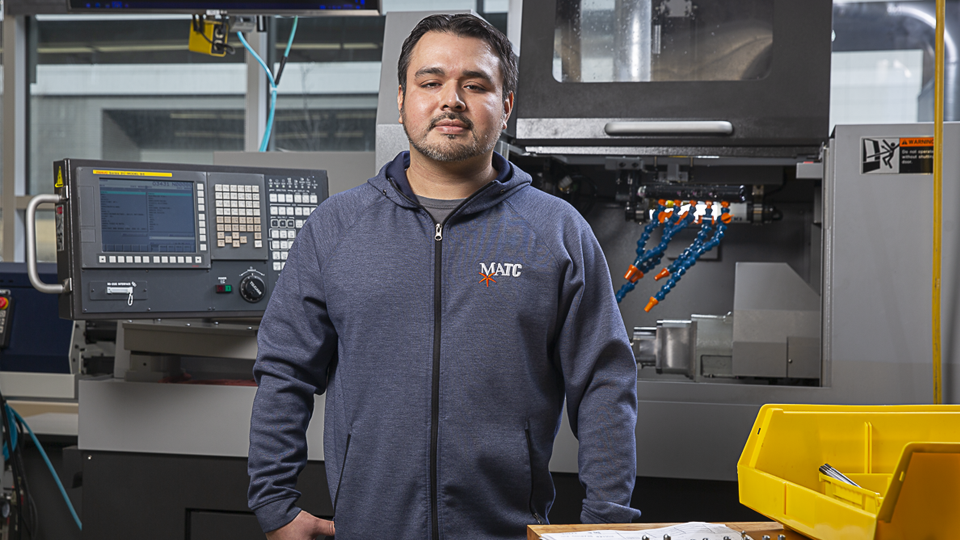 Without a Checota scholarship, Jorge Alvarez would still be thinking about going back to school, still be trying to find a better job and still be waiting to start a good career.
Born in Vera Cruz, Mexico, Alvarez came to the United States when he was 3 years old. His family moved to Milwaukee when he was 12. After graduating from Milwaukee Public Schools' Pulaski High School, he thought about going to college but ended up working for the next 10 years.
"I was working entry-level, menial jobs," Alvarez said.
He wanted something better. In 2019, after saving money for several years, he started Computer Numerical Control (CNC) machining classes at MATC. In Spring 2022, he started the CNC turning machine courses. He planned to finish in Fall 2022 but ran out of money.
"At that point, I didn't really think I was coming back to school," Alvarez said. "I figured I would work, save money and go back when I could."
That's when Chris Chomicki, MATC machine shop instructor, and Erik Riley, an advisor in the Manufacturing, Construction & Transportation Pathway, stepped in.
"I keep in contact with my students to make sure they will be enrolling in the next semester's classes," Chomicki said. "When I saw Jorge was not enrolling, I reached out to him. The Checota scholarship had just been implemented. I reached out to him and said this may be an opportunity that he might qualify for."
Alvarez talked to Riley and applied for the Checota scholarship.
"Checota has opened the doors to many opportunities for our students who are interested in pursuing the trades," Riley said. "Not only has it provided financial assistance, but it also removes barriers and allows students to focus on what means most — learning."
Thanks to the Checota scholarship, Alvarez went back to school. While still a student in the fall, he got a job as a trainee at Alliance Manufacturing Group in South Milwaukee. That turned into a full-time CNC technician position when he completed classes in December 2022.
"Getting this scholarship was more than a big help," Alvarez said. "Without it, I would be stuck in the same place. Now I have finished school and have a full-time job."
Free to Pursue a Better, Brighter Future
Terry Davis (above) gave college a try in 2007 after graduating from Milwaukee Public Schools' Washington High School. He headed north, playing football and studying carpentry at Rochester Community and Technical College in Minnesota.
However, he left Rochester before completing a degree; he returned to Wisconsin, worked and started a family.
Now he has the time, the desire and — thanks to a Checota scholarship — the financial assistance to earn a technical diploma in MATC's Power Engineering and Boiler Operator program and start a fulfilling, family-sustaining career.
"Getting this scholarship is a huge relief," Davis said. "It has really helped out with everything. The scholarship gives me time to focus on schoolwork and not how I will find a way to pay for all these things. This scholarship helps take away a lot of those kinds of distractions."
At the Energy Conservation and Advanced Manufacturing Center at the college's Oak Creek Campus, Davis is learning how to operate, control and repair low-pressure and high-pressure boilers and auxiliary systems used in factories and other buildings.
"It can always be challenging when you're learning something new," Davis said, "The instructors here have been very, very supportive. I have always enjoyed working with my hands. Any types of tools have intrigued me. When I was growing up, I was always fixing stuff around the house."
Davis's lifelong love of tinkering and the expertise he's learning at MATC will hopefully help him start a promising career in a field where the average annual salary ranges between $50,000 to $60,000.
"I think this scholarship program is wonderful," said Christin Cech, one of Davis' instructors. "Everything these days is so expensive. So giving students the help they need to learn, to get ahead and to have a career is great."
Making the World a More Beautiful Place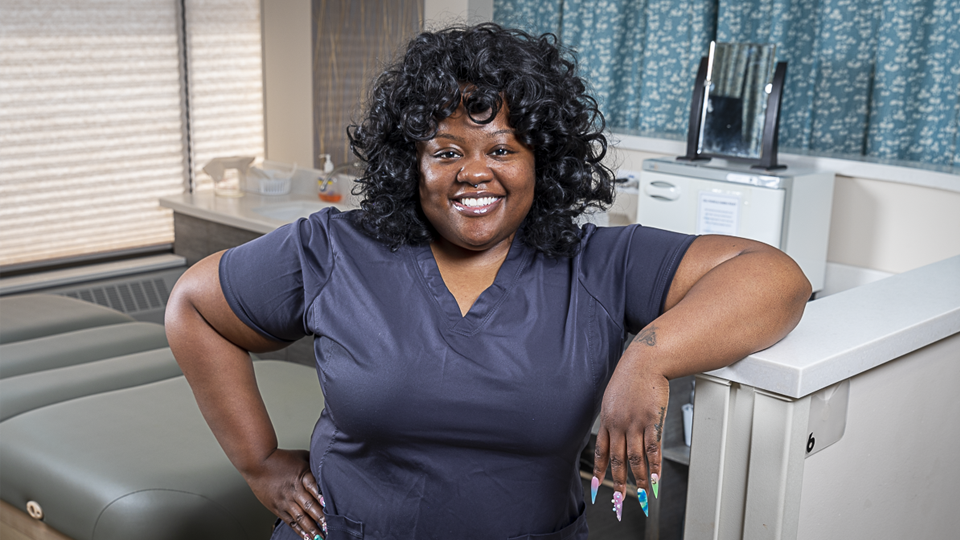 Sonia Gholson wants to make the world healthier and happier.
In December 2022, Gholson received a technical diploma in the aesthetician program thanks to a Checota scholarship, and she plans to own and operate a full-service salon and spa — a place where people can put aside the inconveniences of everyday life and indulge themselves, even if for a few hours.
"We need more places where people can treat themselves," Gholson said. "I'd like to have a one-stop shop, a place where people can treat themselves for an hour or even for a whole day with facials, manicures, pedicures and massages."
Gholson used her Checota scholarship to pay tuition, buy some supplies and have a meal plan. She drove to school so she also got reimbursed for her mileage, which covered her fuel costs.
"The scholarship was a complete blessing," Gholson said. "I have been really surprised how many things it has covered."
Gholson heard about the Checota scholarship during the summer and applied knowing she would need financial help.
"I have been trying to go to school and not have a balance at the end," Gholson said. "But the funds I had really weren't lining up. I will always try to find a way. I got an email about the Checota, and I saw that the program had way better benefits than other scholarships."
Learn more about the Checota Scholarship at matc.edu/scholarships