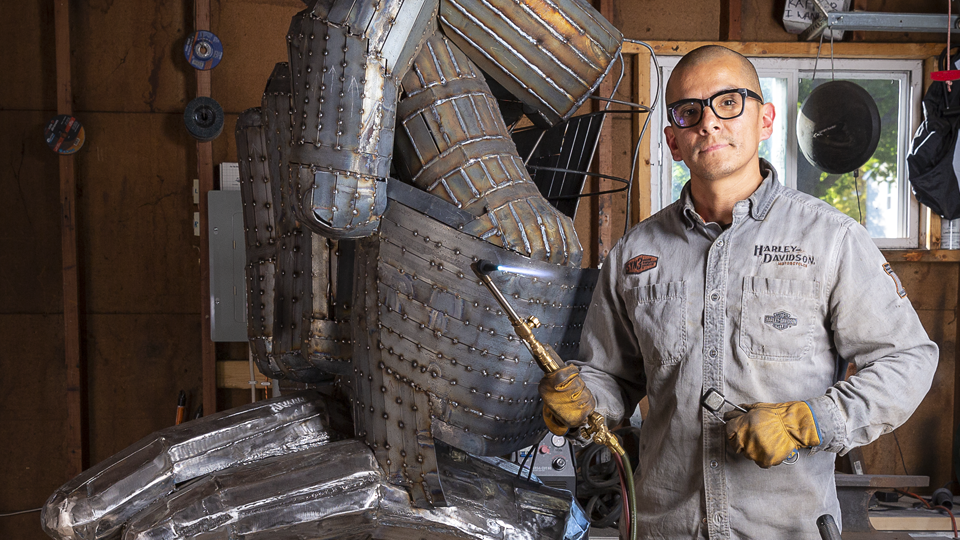 Welding student fabricates steel sculpture for Technical Building, forges career as community artist.
Artist or artisan?
Sublime creator or simple craftsman?
David Perez mulls those questions in the detached garage of his tidy south side Milwaukee home that serves as a studio. Colorful paintings, charcoal sketches, vivid graphics and intricate metalworks adorn the wall. He wears sturdy work clothes, a welding helmet and thick safety glasses.
"Sometimes I don't really feel like an artist," said Perez, a Milwaukee native. "I always thought I was at a disadvantage because I didn't really know art history. I didn't have that kind of training."
Instead, as the son of a blacksmith and welder, Perez learned the basics of metal fabricating. He also was entranced by pictures drawn by an uncle. The images inspired Perez to sketch superhero characters, monsters, vampires and other fantastic creatures.
Perez studied architectural drafting and commercial art at what was then Milwaukee Trade and Technical High School, now Bradley Tech, and graduated in 2000. On his father's advice — and with money his mother took out of her savings — Perez enrolled in welding classes at MATC.
"When I was young I honestly didn't know what I wanted to do," Perez continued. "My dad told me I should take some welding classes. I also wanted to do art, but I never really thought there'd be any way to make money in art. I took the classes my dad told me about and combined those with art. And now we have this."
"This" is an impressive and growing collection of murals, pictures, images and pieces he's created over the past 15 years that showcase his skill as a craftsman and his talent as an artist.
And now Perez, who signs his art with the name Wet Paint Chango, is creating his biggest project yet — a large-scale steel sculpture for MATC that fully fuses the functional and the artful.
The committee wanted the sculpture to be inclusive and to help create a sense of belonging for our community. It was David's idea to have the hands use American Sign Language to spell 'MATC' — he felt very strongly about that.
The sculpture shows intertwined hands making the four letters that spell "MATC" in American Sign Language. The inspiration came from several members of his family who are hearing impaired and a cousin who teaches American Sign Language. The piece, which Perez calls "Persistence," illustrates the inclusive environment that MATC provides for the community.
"We can challenge ourselves by taking on things that make us uncomfortable," Perez wrote about his project. "That is where the growth is, where I find my true self and where my gift from God is allowed to shine."
The sculpture is one of a dozen projects chosen by MATC's Community Arts Committee to beautify MATC's Downtown Milwaukee Campus. For the past two years, the committee has selected local artists, MATC faculty, students and alumni to create art for the college.
"The committee wanted the sculpture to be inclusive and to help create a sense of belonging for our community," said Julie Ashlock, director of MATC's Center for Teaching Excellence and co-chair of the Community Arts Committee. "It was David's idea to have the hands use American Sign Language to spell 'MATC' — he felt very strongly about that."
When completed, the sculpture will be installed at the north entrance of MATC's Technology and Applied Sciences Building — often called simply the T Building, it's a welltraveled location close to the Fiserv Forum and several bus stops used by students, faculty and staff every day.
Perez, who followed in his father's footsteps and has been an ironworker for the City of Milwaukee for the past 16 years, comes home at about 2:30 p.m. each day to spend time with his wife and five children. He then works on his art projects in his studio until 9 or 10 p.m.
"As a fellow artist, it's a real joy to see someone so committed to his craft and vision, and to balancing the extreme dedication of hours within his life as a full-time employee in a related field, as a husband and father," Ashlock said. "Many people have a misconception that artists live lives that are somehow different, footloose and fancy free with little money or responsibility, and that's just not true. Anyone can be an artist — it just takes dedication and vision."
And Perez is showing that dedication. In 2020, he participated in the Milwaukee Artist Resource Network (MARN) Mentors Program with visual artist and Milwaukee Institute of Art and Design Professor Brad Anthony Bernard. He also designed and created welcome art for the African American Chamber of Commerce's new Legacy Co- Working and Innovation Space, a unique, accessible and safe space for African American entrepreneurs in Milwaukee's Bronzeville neighborhood.
So despite some fleeting selfdoubt, Wet Paint Chango has arrived as an artist.
"The plan has always been to do this full time," Perez said. "I think it will happen soon. I think I'm getting close to making that leap. The goal has always been to get something in an art museum, many pieces in many museums, on college campuses, hotels, mansions — my own mansion — cruise ships. I want to do as much art as I can."
Are you an MATC alumnus? Visit matc.edu/alumni