Somerville-Skinner scholarship recipient finds joy as traveling nurse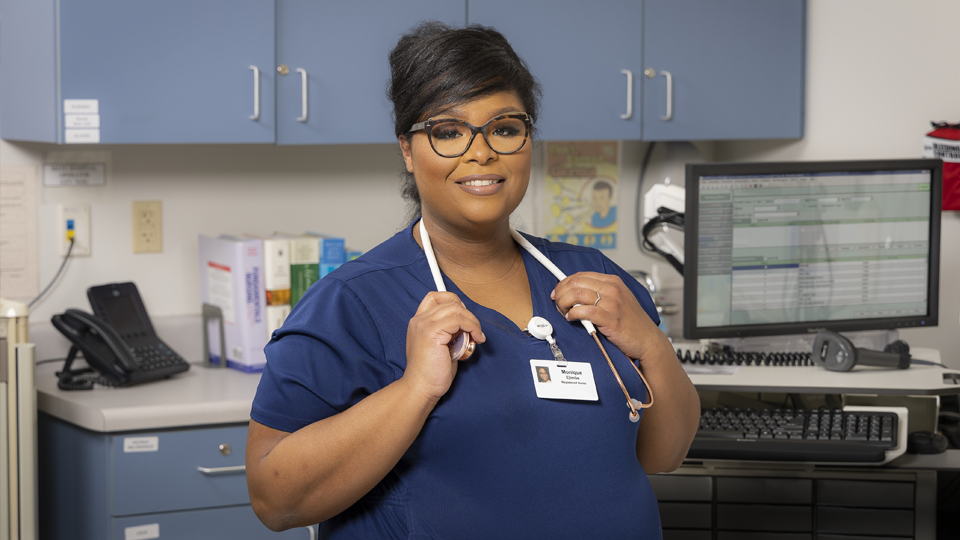 A promising career in high finance afforded Monique Stewart Ejimbe a substantial paycheck, a private office and a chance to associate with prosperous, wealthy clients.
It also meant a slog of never-ending paperwork, a worklife balance heavily tilted toward work and little personal satisfaction.
"I'd finish up doing my work one day and the next day there would be another pile of paper on my desk," said Ejimbe. "There was not a lot of gratification."
So when a friend opened a group home, Ejimbe volunteered, working for free as her friend established the business.
"I found I really, truly enjoyed that," she said. "Talking to the residents, helping them as much as I could. I have always thought that if you follow your passion, success will follow."
Ejimbe followed her passion. She quit her finance job, switched careers and enrolled in MATC's Practical Nursing program in 2011.
Having already borrowed money to complete her business degree, Ejimbe had to work while attending MATC to pay for classes. She also was raising a 2-year-old daughter as a single mother.
She received some much-needed assistance by earning the Edie L. Somerville and Eddie Myrtle Skinner Nursing Scholarship, awarded to Black nursing students at MATC through the MATC Foundation. The scholarship, started in 2004, is named for two women who exhibited a commitment to nursing and community involvement.
Edie L. Somerville, who was born in 1909 and died in 2004, was one of the first African Americans to graduate from MATC's Practical Nursing program. She became the first African American to be hired on staff at St. Michael's Hospital, Children's Hospital and Lakeview Hospital.
That scholarship helped me so very much. I honestly believe I wouldn't be where I am today without it.
Her daughter, Eddie Myrtle Skinner, followed in her mother's footsteps and graduated from MATC's Practical Nursing program in 1962. She joined the nursing staff at Zablocki Veterans' Administration Medical Center, where she worked for 25 years. She retired in 1995 and turned 90 years old in October.
"That scholarship helped me so very much," Ejimbe recalled. "That helped me pay for food and keep a roof over our heads. It was just a lifesaver and I cannot thank the people who gave that to me enough. I honestly believe I wouldn't be where I am today without it.
Ejimbe also found her voice through her time at MATC, recalled nursing instructor Melba Redmond. Ejimbe served as president of the Future Black Nurses Student Nursing Association and spoke at the national nurses day event at the state capitol in Madison.
"I knew when she turned to me prior to going up to the microphone and asked respectfully, 'Mrs. Redmond, can I go up and speak?' that her leadership skills were plainly evident," Redmond said. "My colleagues and I were left in awe and feeling so proud that she was a brick component of the MATC nursing program."
After graduating, Ejimbe worked at Aurora Sinai Medical Center in Milwaukee for four years. When the COVID-19 pandemic hit, she became a traveling nurse and earned her bachelor's degree in nursing from Chamberlain University in Illinois, Ejimbe plans to earn a master's degree and become a nurse practitioner with a focus on mental health and wellness. She remarried and had a second daughter in 2022.
As a traveling nurse, Ejimbe has worked in almost every healthcare system in the Milwaukee region. She likes the flexibility and the pay of travel nursing, and someday wants to start her own scholarship fund for nursing students who are single mothers.
And she absolutely does not miss her private office.
"No regrets at all," Ejimbe said. "When you see gratefulness in a patient's eyes, and when you see someone who is sick and might get better as a direct result of what you have done, that brings me joy that I never felt in any other job."