MATC Promise empowers graduate to become businesswoman and community leader.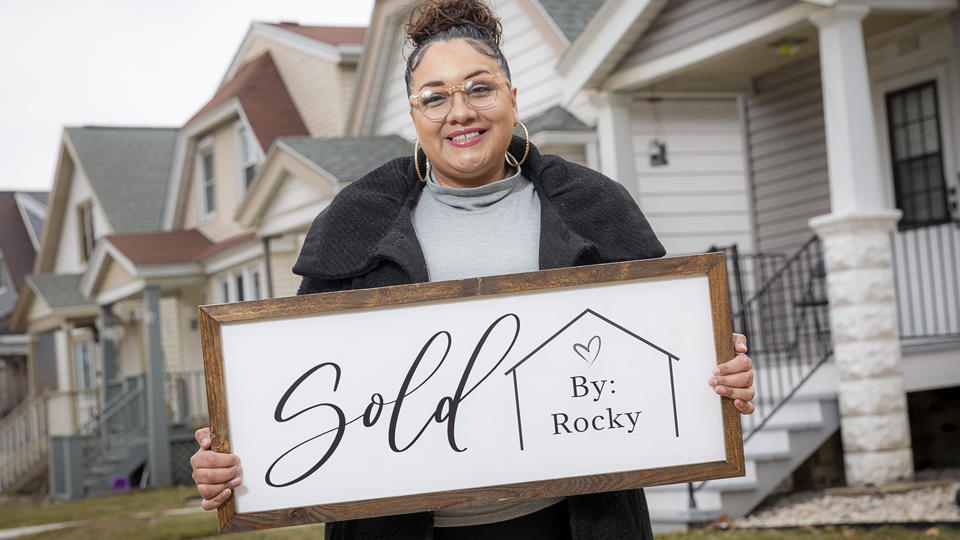 Everything could have turned out so differently for Raquel Aleman.
While growing up on Milwaukee's south side, Aleman said her father flitted in and out of her life. Her mother worked three jobs and raised her mostly alone. They constantly moved and lived in 18 places. Aleman graduated from Milwaukee Public Schools' Bay View High School in 2003, walking across the commencement stage two months pregnant with her first son — with no idea what she was going to do.
"If you look at the statistics, I should either be dead or in jail," Aleman said. "I probably shouldn't be where I am today, but here I am. I've taken a lot of little steps along the way that got me here."
For Aleman, here means being an MATC graduate, a successful real estate agent, a respected community organization leader and a devoted mother of three sons.
Aleman relied on her determination and work ethic to succeed.
"In high school, I really had no plan, or any kind of guidance, and that was a problem," she said.
After graduation she worked several jobs, then started business management courses at MATC in 2005 but soon quit. She had her second son and went back to work.
"It was all work, work, work," she said. "Inside myself I always had a passion for business. I always wanted to run my own business. But having an incomplete degree weighed on me."
I use what I learned at MATC every day. Going back really kicked me into gear.
In 2018, her mother was working at MATC and told Aleman about the MATC Promise for Adults program, which provides free tuition for eligible students who have earned some college credits but have not completed a degree. Eligible students earn up to 75 credits of free tuition — after other scholarships and grants are applied — to complete an associate degree or technical diploma related to an in-demand career.
Aleman finished her business courses, attained an associate degree in business management and, at the same time, earned a real estate certificate.
MATC SPOTLIGHT
MATC Promise
In addition to Promise for Adults, MATC offers a Promise program for recent high school completers. The MATC Promise for New High School Graduates was the first Promise program in Wisconsin.
MATC's Promise programs have served more than 2,800 qualified students and 600 have completed an associate degree, technical diploma or certificate program. The MATC Promise is made possible by the generosity of more than 514 donors. Through a public-private partnership, private donations support the gap between the cost of tuition and what financial aid provides.
The Promise program provides access to career-focused education, helps break cycles of poverty and builds the skilled, diverse workforce our regional economy needs.
She also became involved in the Hip-Hop Chess Club in Milwaukee, part of a national effort to show youths ages 9 to 19 years old how to use chess strategy and music-making techniques to navigate complicated life situations.
In February 2020, Aleman helped transform the club into a nonprofit organization called Your Move MKE which she now leads as executive director. Over the last two years, Aleman has connected with hundreds of pre-teens and teens over games of chess.
"I'm sitting at the same table with them, I'm sitting at the same board with them," Aleman said. "It brings you down to the same level, and it's a lot easier to build a rapport with them at that point.
"We offer a laid-back environment, very informal," she added. "There's no membership fee. So many government programs make people feel like a number and that wears people down."
Right now Your Move MKE hosts its events at a variety of locations on the south side. Aleman is helping the organization raise money to have its own building to better serve the community.
"My long-term goal is to help redevelop the city's south side," she said. "Everything I do is community based. It all ties into making the south side a better place for everyone. My heart is tied to this area."
She strengthened those ties in February 2022, when she activated her real estate license and joined Realty ONE Group. In three months she closed four deals, then listed one house and got 12 offers. By the end of the year, she went on her own, opening Raquel Realty LLC.
"I've sold everything and anything. I've been selling since I was 11 years old. I can sell," she said. "I love doing it."
Aleman said she would love to keep working in business and for a nonprofit organization. And she knows she can move forward because she decided to go back to MATC.
"Things are working out very well for me. I use what I learned at MATC every day," she said. "MATC gets you to make smart decisions about your future, and they have so many options. Going back really kicked me into gear."
Support MATC Promise students at matc.edu/donate